Ethernet cable (either CAT5e or CAT6) is the gold standard of home-networking technology. If you can string cable from your router to everywhere you need Internet access, do it. You'll get out-of-this-world speed and impeccable reliability.
That's easier said than done, of course, which is why there are alternatives. Wi-Fi is the easiest to deploy, but its range can be limited and you might have areas that wireless signals can't reach at all. That leaves you with two other courses of action, both of which piggyback on your home's existing wiring: Powerline network adapters (which use electrical wiring) and MoCA network adapters (Multimedia over Coax, which use the same cable as your TV). So which is the better alternative?
To answer that question, I compared the performance of one of the fastest powerline network adapter kits, ZyXel's PLA5405KIT (based on the HomePlug AV2 MIMO standard) to one of the few MoCA adapter kits on the market: Actiontec's Coax Network Adapter Kit (model number ECB2500CK01).
I have a network homerun in my equipment closet, meaning all of my home's telephone, Ethernet, and coax cables terminate there. This is where my DSL modem, Wi-Fi router, Ethernet switches, six-way coax splitter, and uninterruptible power supply are all located, so this where I conducted my tests. I installed the second adapters in my home theater.
First up: Powerline adapters
I plugged one of ZyXel's PLA5405 adapters directly into the wall at my homerun and connected it to my router using a CAT5e cable. I plugged a second PLA5405 into a receptacle in my home theater and connected it to my home-theater PC for measuring TCP throughput.
As with all the products in its class, ZyXel's adapters require grounded electrical receptacles because they transmits data on any two pairs of wires on a three-wire electrical cable: Line/Neutral, Line/Ground, Neutral/Ground, and so on. Non-MIMO powerline adapters have just two-prong adapters, but they deliver much lower performance, as you'll see in this product roundup, which also contains much more information on the technology.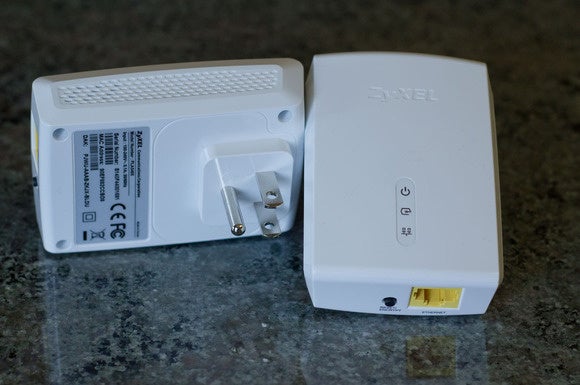 One of the other drawbacks of powerline adapters is that they shouldn't be plugged into a surge suppressor (the surge suppressor will identify data traveling over the powerline as noise and try to filter it out). It's easy enough to plug the adapter straight into the wall, versus a power strip, but I have a whole-house surge suppressor installed in my circuit-breaker panel. When I tested the PLA5405, I saw disappointingly slow performance: Where TechHive freelance reviewer Denny Arar saw TCP throughput of more than 100Mbps while benchmarking this adapter in her home, I got a miserly 27.4Mbps (and that dropped to just 22.7Mbps when I enabled encryption between the two adapters).
I can't easily uninstall the whole-house surge suppressor (nor would I want to), so I walked over to the other side of my property and retested the pair of PLA5405 adapters in the house where my daughter lives. This is an older home, built in 1954, and most of its wiring is not grounded. But when we had a devastating water leak a couple of years ago, I took the opportunity to rewire the half of the house that needed its drywall replaced. If I'd been more sensible, of course, I would have hard-wired Ethernet cable through those walls so that I could get closer to gigabit speeds (coulda, woulda, shoulda…).
Anyway, when I plugged the PLA5405 adapters into my daughter's router, I saw TCP throughput of 91.8Mbps with encryption enabled. Not having a whole-house surge protector at that location made a huge difference in powerline-networking performance.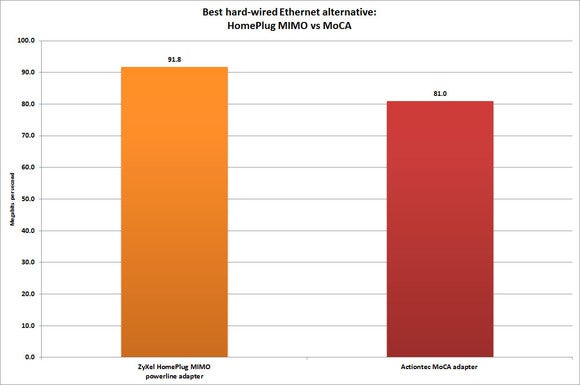 Let's see what MoCA can do
I went back to my own house to test Actiontec's MoCA adapters. These draw power from two-prong wall warts, so you don't need to have grounded wiring. Each adapter (the kit includes two) has one F connector that sends data and video over coax cable, a second F connector that outputs video to your TV or set-top box, and an RJ-45 jack for Ethernet. Here again, I connected one MoCA adapter to my router with an Ethernet cable, but I also connected the adapter's F connector to the six-way coax splitter that carries satellite TV signals throughout my home.
In my home theater, I disconnected the incoming coax cable from my satellite set-top box and connected it to the Coax-in F connector on the second MoCA adapter. I then ran an Ethernet cable from the adapter to my home-theater PC and verified that it was now connected to my network. But I got no signal from my satellite dish when I connected my set-top box to the MoCA adapter's TV/STB Out F connector. Hmm.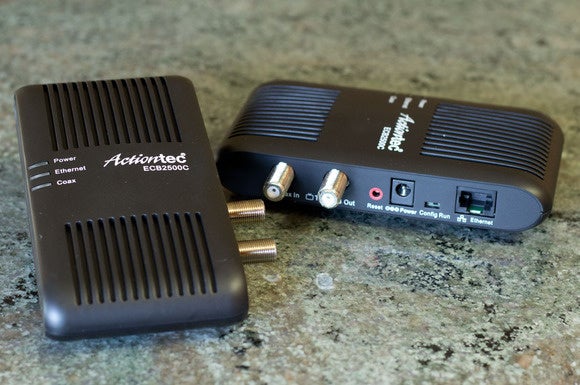 A quick look at the back of Actiontec's box revealed the problem: Actiontec says its MoCA adapters are compatible with most cable and FiOS installations, but that they're not compatible with most satellite installations. And since the DirecTV whole-home DVR system that I use depends on the primary set-top box feeding the rest of the TVs in my home, that meant I didn't get video anywhere else, either.
As for TCP throughput, Actiontec's kit delivered 62.9Mbps when run through the second splitter in my home theater (the second splitter is needed for DirecTV's whole-home DVR system). When I connected a laptop PC to other rooms with F connectors on the wall, TCP throughput increased to an average of 81.0Mbps.
So which is better? Powerline or MoCA?
Powerline and MoCA are both ingenious technologies that allow you to use your home's existing wiring for a second purpose; namely, extending the range of your home network. They're both very easy to install, and there's no configuration required other than connecting cables. If your Wi-Fi router can't deliver enough range, and you can't string Ethernet cable, either powerline or MoCA might do the trick.
Deciding which is better will depend on your home's infrastructure. HomePlug MIMO (and its powerline rival, G.hn) require that your home have grounded wiring. That's not a problem for newer homes, since that's now part of the electrical code, but it could be an issue in older construction. If your home doesn't have grounded wiring, you could fall back to one of the older HomePlug standards that don't require a ground wire, but you'll get much less performance (again, refer to this roundup for details). But if your home has a whole-house surge suppressor installed, be aware that it will put a major damper on any powerline adapter's performance.
MoCA can be a terrific alternative because there's a whole lot less activity on a coax cable than there is in your home's electrical wiring. Refrigerators, hair dryers, air conditioners, washing machines, and other appliances can inject all kinds of noise into your home's electrical system when they cycle on and off, and that can wreak havoc on data traveling over those same wires. MoCA is also immune to power-conditioning devices such as surge suppressors.
I think those factors render MoCA the superior alternative networking technology; but if you rely on satellite TV, versus cable or an over-the-air antenna, MoCA could be a no-go (any adapter kit you buy should be clearly labeled as to whether it's suitable for use in a satellite home). The other drawback is that many older homes aren't pre-wired with coax. You can be assured that almost any room in your home will have an electrical outlet; you can't be as sure it will have an F connector for coax.
Editor's note: The MoCA Alliance asked me to clarify that we tested MoCA version 1.1, and that MoCA 2.0 adapter kits should be available soon. I'll retest with a MoCA 2.0 kit as soon as we can get one in. I also added a note to the conclusion that some MoCA adapter kits are compatible with satellite TV installations.