At a Glance
Expert's Rating
Pros
Gorgeous minimalist logo and design
Great sense of directionality for a stereo headset
Cons
Heavy and oversized
Doesn't get very loud in-game
Our Verdict
The Mionix Nash 20 is a bit heavy and oversized, but in return you get an excellent sense of presence.
Best Prices Today: Mionix Nash 20
Mionix is one of those companies that's slowly earning a reputation for putting out really solid gaming products without the massive advertising presence or name recognition of a company like, say, Astro or SteelSeries or Logitech. I loved the company's NAOS 7000 earlier this year, and while its Nash 20 headset falls a bit short of that mark I'd still say it's a solid piece of hardware.
Honestly, most of my quibbles with the Nash 20 concern its design. This thing is the epitome of the air traffic controller-style gaming headset. It's massive, to the extent it's goofy. The Mionix mouse I reviewed was the same way, but there it's understandable—some people have big hands and want a big mouse. With a headset, it's just unnecessarily heavy and cumbersome. To give you an idea, the earcups on the Nash 20 stretch all the way from an inch or so above my ears down past my jawline, coming to rest on my neck. The situation gets even more ridiculous when you pull the Nash 20 down to hang around your shoulders, at which point you might as well be wearing a medical neck brace.
And it's heavy. At no point while wearing the Nash 20 did I forget I was wearing the Nash 20, which is an annoyance when you just want to immerse yourself in a game like Alien: Isolation but you're subconsciously noticing the weight tugging on your ears.
This review is part of our roundup of best gaming headsets. Go there for details on competing products and how we tested them.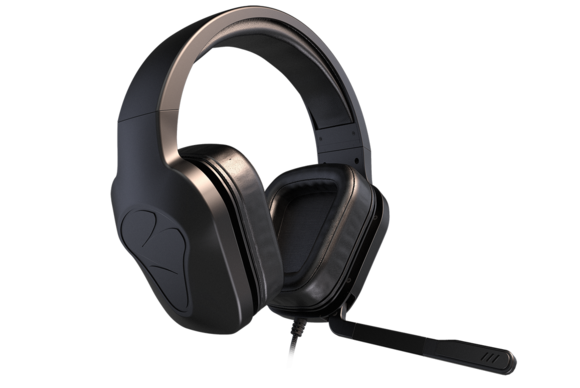 The headset is also arranged in a tight V-shape, like a snake's mouth or the grip end of one of those robot claw toys. In conjunction with the oversized earcups, this caused an uncomfortable pressure on the sides of my neck.
It's not all bad, though. I understand why Mionix made the earcups so expansive when I listen to the headset. This is without a doubt one of the best out-of-the-box gaming experiences on a headset, especially when it comes to directionality. Playing shooters on the Nash 20 is a treat, with an expansive stereo soundscape that's one of the best on the market. It's not a surround sound-enabled headset, but in many ways it's comparable to Corsair's fully-surround H1500 and H2100.
The Nash 20 is tuned tightly for games though, rendering it pretty useless for music and (to some extent) movies. The same directionality that's so great for gaming is obnoxious when listening to music, with everything sounding distant and reverberant when you want loud and present. The effect isn't helped by the Nash 20's stubborn refusal to get loud—at multiple points I tried to ratchet up the volume during a particularly explosive sequence only to find I was already maxed out. I can't think of a more disappointing feeling.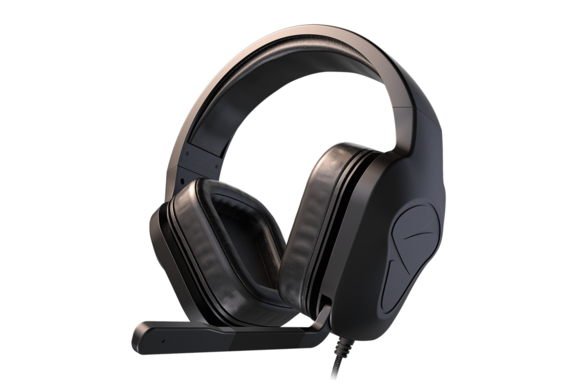 The Nash 20 makes gestures towards its $150 price tag with a few extra features. The extra-lengthy cable is covered in braided fabric with a piece of Velcro when you need to wrap the set for travel. You get a volume knob on the left ear, which is always welcome, and the microphone flips up to mute. The Nash 20 microphone also gives you excellent voice reproduction and decent noise-gating—it barely even picked up my ultra-loud Cherry Blue keyboard, which was a relief. I wish I could reposition the microphone a bit closer to my mouth, but like Corsair's H1500 it's more of a stiff rod you can slowly guide into place.
And like Mionix's mouse offerings, the Nash 20 is coated in soft-touch rubber. It feels great, but I can't help but worry about the coating's durability. Unlike a mouse, which you're constantly touching, a soft-touch coating on a headset is completely extraneous. After throwing the headset in my bag a few times I noticed some light scratches on the earcups, which somewhat undermines the luxurious design. I'd much rather forego the soft-touch coating for normal matte plastic if it meant more durability.
Bottom line
The Mionix Nash 20 is a competent headset that ultimately does little to justify its $150 price tag (though you can easily find it cheaper). I really enjoyed the sense of presence I got from gaming on the Nash 20, but the added directionality is undercut by a lack of volume and the massive heft of the device itself.
It's a great first step for Mionix, but I expect whatever they do next will be a much stronger contender.
Best Prices Today: Mionix Nash 20