The Xbox One is strong video-game platform, and it's a conduit to all sorts of fabulous online entertainment for those looking to cut the cord. But did you know you can also use Microsoft's gaming console to control your cable- or satellite-TV set-top box using voice and gesture commands? Allow me to show you how.
Xbox in the middle
The Xbox One has an HDMI output. No surprise, right? So does every other device you plug into your TV. But the Xbox One also has an HDMI input. Unplug the HDMI cable going from your cable- or satellite-TV set-top to your TV (or A/V receiver, as the case may be) and plug it into the HDMI input on your Xbox One.
The back of the Xbox One clearly labels what goes where. Once that's done, double check that your Xbox's HDMI output is connected to your TV. The next step is to launch an onscreen wizard that will feed your channel information into the Xbox OneGuide.
Getting going with the TV app
Launch the TV app from the Xbox One's main screen. Your Xbox will then inform you that it's "Looking for your TV picture." Be patient here. The wizard indicates this might take up to 12 seconds, but it has taken me longer in my experience.
If all goes well, then you'll see your live TV inside of a mock television screen. If you have a Kinect, you'll be prompted to set up voice commands. This lets you turn the TV on and off, change the channel, and do a number of other tasks by simply talking to your Xbox.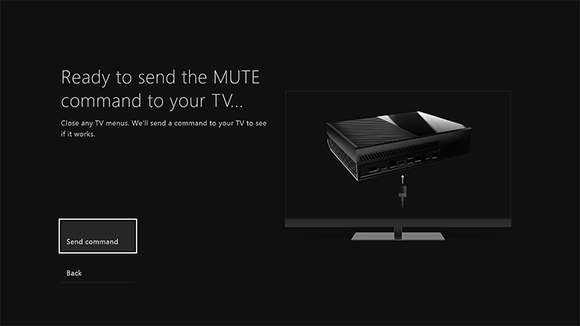 It sounds weird, but it's actually pretty cool to be able to walk into the room and say, "Xbox, on" and have your Xbox and TV system start up. You can also configure whether it launches directly into your Xbox menu or starts with live TV. Your preference will probably depend on how much gaming or TV watching you do.
Skip this step if you don't have a Kinect, or if you just don't want to get caught talking to your entertainment center.
To OneGuide or not to OneGuide
Every set-top box has an electronic program guide that tells you what's playing on TV now and for a limited time in the future (useful mostly when you want to time-shift your viewing). Microsoft's OneGuide is an alternative to the program guide your cable or satellite provider offers with their equipment, and I like it very much. It has a a very clean look and is much faster at switching through channels and displaying show descriptions.
To set it up, your Xbox will ask for your zip code and then spit out a list of TV providers. Choose yours from the drop-down list, and then wait as the Xbox downloads all the information. Select Broadcast TV if you only watch over-the-air channels.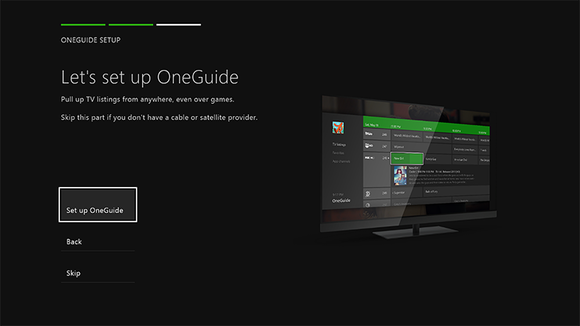 Next you'll be presented with a channel guide, showing the details for each program. Links to other categories are displayed on on the left-hand side.
In the last couple of years I have switched between DirecTV, U-Verse, and Comcast. OneGuide looks better than any of them. It does have its limitations, however; the biggest issue is that you can't use it to initiate a recording on your service-provider's DVR or call a program you've previously recorded on that DVR.
You'll navigate the OneGuide using your voice, Xbox game controller, or the Xbox One Media Remote. You'll be able to select a channel to watch and pause live TV or a recording you're watching, but that's about it.
So why do I think OneGuide holds value? Because it provides useful information other guides don't, including a list of trending TV shows and quick access to any Xbox One entertainment apps. It's smarter than other guides, even if it can't control your DVR.
But my favorite feature is being able to the Home button on my Xbox controller (the button with the Xbox logo) to minimize the TV and call up the main Xbox screen when I'm ready to game.