At a Glance
Expert's Rating
Pros
Good audio for an All-in-One
Cons
Slow, slow hard drive performance
Mediocre corded keyboard and mouse are standard.
The HP Envy 23xt Beats Special Edition All-in-one is red. Beat-red, if you'll pardon the pun. I liked the color and it reminded me just how boring electronic black has become. Intended to inspire the budding DJ with good audio and some creative music applications such as eDJing, and Music Maker Jam, the Beats AIO has a very nice 1080p IPS touchscreen display and fine-sounding Beats Audio speakers. Fine enough to make up for the unit's slow hard drive? Not in my book. Even the Hybrid SSD/HD offered as a $50 upgrade on this unit won't cut the mustard for me. And with this AIO costing close to a grand…
The Beats AIO's major strength is audio. Let's start there. The hardest thing to do in audio is accurately reproduce mid-range frequencies, which along with transients and overtones, is where the individual character of musical instruments resides. The speakers in the Beats AIO actually do a surprisingly good job; sound is distortion-free and relatively uncolored. There's a decent amount of bass, but it's not rumble-y like a sub-woofer, and the high-end is as clear as anything I've heard in integrated PC speakers.
Component-wise, the $899 (discounted from $999) base model of the Beats AIO we tested also has some strong points, including an Intel Core i5 4460T, 8GB of DDR3/1600 memory, and the aforementioned 1920×1080 display which renders movies nicely. It's prone to glare as all touch displays are, so you'll want to decrease the ambient lighting a bit for optimal viewing. There's also a DVD burner on board. Options include faster processors (the Core i5 4590t and Core i7 4785T), a Blu-Ray burner, and up to 16GB of system memory.
The weak point is the storage subsystem. Our unit shipped with a 5,400 rpm Seagate ST1000LM024. That's a 2.5-inch laptop drive and CrystalDiskMark rated it at around 106MBps reading and writing, which is slow, but it seemed even slower in actual use—the system booted slowly and labored when opening and closing programs. There's the aforementioned option for hybrid SSD/HD which would probably help some, but in PCWorld's testing, hybrid drives never deliver the goods, either subjectively or objectively. Trust me on this, what you really want is an SSD and unfortunately, you can't get one with this AIO.
PCMark rated the Beats AIO at 2704 in the un-accelerated Work test and 2376 in the Creative test. Gaming was typical Intel HD 4600—OK for older or less realistic stuff, but unsuitable for any modern game. Only Ice Storm Extreme had acceptable frame rates, and that's the sixth most intensive 3D Mark test designed for far weaker mobile devices. Encoding a 30GB MKV/H.264 file to Android tablet format took 2 hours and 6 minutes. About average for this CPU—with a slow hard drive.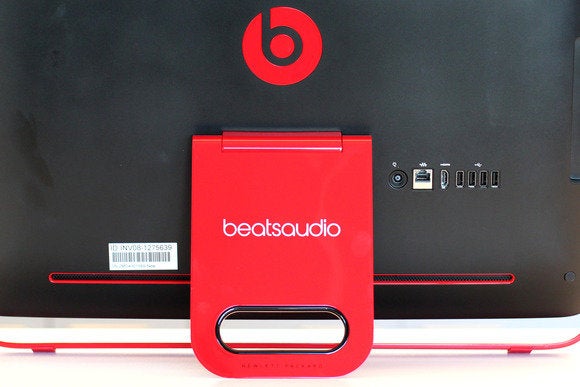 Design-wise, the Beats AIO is a good-looking unit with a hefty kickstand, and as I mentioned up top, the red grows on you. There's even a handy hook that pulls out from the left side for you to hang your matching Beats headphones on. I wish a pair were part of the package, but apparently, this is an up-sell opportunity for your local box store.
Any time you create an AIO that prohibits access to the desktop space behind it, you've missed the point, which is increasing your usable desk space by reducing your computer's footprint. The wedge AIO design looks sexy and facilitates easy touchscreen use, but with no VESA mount point, you'll need to dedicate it its own 2-foot square area. Sigh. HP isn't alone in this faux pas, but it should know better.
Additionally, the keyboard and mouse that HP shipped with our Beats AIO weren't styled to match, and their quality was OK at best. The keyboard is short throw, but only the space bar provides any aural feedback, which I'm guessing from the overall quality, was an accident. Also, both peripherals are wired, which knocks down the available USB connectivity from six to four ports. There are wireless upgrades, but HP didn't send us any so I can't tell you if they're styled to match or battery hogs. But for a mere $10, I say go for them.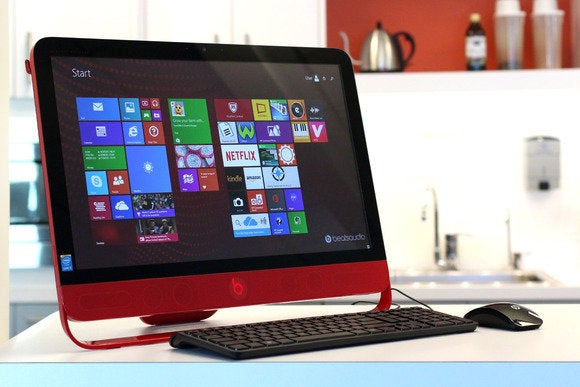 While I'm sort of on the subject, additional ports include an SD card slot, a headset jack, and an HDMI output. Wi-Fi on our unit was 802.11 b/g/n, but an AC upgrade is only $10. What's with the $10 deal? Go for that one as well.
Fire engine red, Christmas red, beat-read, if only HP had put an SSD in this PC. It's nice-looking, sounds good and the screen is nice. But the overriding impression I took away from it was how slow it booted and programs installed and loaded. I've belabored the point, but with a PC this expensive, a slow hard drive will cause buyer remorse. Add an SSD option HP!