At a Glance
Expert's Rating
Pros
Attractive compact design
Haptic vibration feedback on soft keys
Cons
Soft keys are hard to find in a rush
Uneven backlighting
Our Verdict
The Rapoo KX is a dainty little device, perfect for the mechanical keyboard snob on the road. Desk use? Not so much.
Mechanical keyboards are typically such beastly devices, I'm always surprised when I pull one out of a box and it's a dainty little thing. The Rapoo KX fits that bill, occupying a mere 13 x 6 inches of desk real estate thanks to a no-frills, tenkeyless (no number pad) design. For mechanical keyboard snobs needing something on the road, the KX would fit into a backpack easily. And thanks to its attractive brushed-aluminum top and solid plastic casing, you could do so without worrying about its durability.
It's also a dual-mode wired/wireless keyboard. Embedded in the back are a MicroUSB jack, a power switch, and then a slot to hold the KX's small wireless USB dongle. As I type this I'm using the KX wired because the battery was low, but there's a lithium battery inside that held about a week's worth of charge for me.
Flicking on the power switch triggers the keyboard to vibrate briefly, and all the backlighting activates. The backlighting is a soft Apple-like white with three levels of brightness (including "Off"). You can cycle the brightness by holding the Fn key and tapping Tab.
Instead of a standard row of mechanical Function keys across the top, the KX opts for a set of soft keys that vibrate when touched. In normal Function mode the keys are white. Hit the Fn key and the backlighting on that strip turns blue, indicating that you can trigger the media keys, volume controls, et cetera. It's not a fully moddable touchpad like the Razer Blade Pro's Switchblade interface, although you can use Rapoo's application to change some of the alternate functions.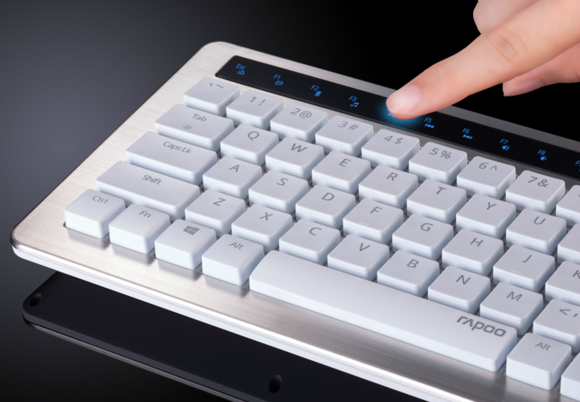 It's attractive, but I don't really know why they did it this way otherwise. Soft keys are always finicky. Sometimes the KX doesn't register multiple taps in a short period (say, if you're rapidly hitting the volume keys) and they're not particularly convenient to use by touch if you're playing a game that maps the Function keys (or just trying to feel for F12 in Steam to take a screenshot).
And unlike the rest of the keyboard, you can't adjust the backlighting of this strip. To my eyes it seemed pretty dim, especially when sitting back a bit from the keyboard. How much any of that bothers you probably depends on how much you use the Function keys, but I use them a fair amount for my job.
Another quibble: The backlighting on the KX could be more even. Especially at the lower brightness setting the letters have an ugly variance in luminescence. The top bit of the "R" key for instance is brightly lit while the bottom isn't lit at all.
Then there are the keys themselves. I don't mind the switches in the Rapoo KX. I'm not a huge fan of linear switches, preferring to use Cherry MX Blues for that clickety-clackety sound that drives some people to madness, but the resistance of the KX's Kailh Yellow switches (somewhere between Cherry Reds and Blacks) feels smooth and high-end. The only switch I really don't like is in the Backspace key, which feels about twice as resistant as the rest of the keyboard.

The design of the keyboard leaves more to be desired though. The keys are broader than a standard keyboard by a few millimeters, and I found myself fat-fingering a bunch of mistakes even after a few days of use. Muscle memory is a huge part of touch-typing, and adding even a few millimeters onto the width of every key is enough to screw with my head apparently. I kept triggering wrong keys, triggering two keys at a time, double-tapping keys, and a whole host of other dumb errors.
I also dislike that the Menu key is so close to the Arrow keys instead of replacing the right-hand Windows or Alt keys. It's too easy to trigger the Menu by accident, which is even more of an annoyance when the Escape key is embedded in that soft-touch strip and thus not easy to immediately feel out blindly.
Bottom line
The Rapoo KX is an attractive, lightweight, and compact keyboard that would be perfect for use on the road, but I don't know how much I'd use it at a normal desk. There are better tenkeyless boards out there (including the WASD V2), and I don't really like fumbling for soft-keys no matter the reason behind it—especially when that includes something vital for normal usage, like the Escape key.
And especially when I'm plunking down for the list price of $120. If you can find it cheaper, it's a better bargain.
Note: When you purchase something after clicking links in our articles, we may earn a small commission. Read our affiliate link policy for more details.
Hayden writes about games for PCWorld and doubles as the resident Zork enthusiast.