For years, consumer technology has resided in two rooms: the office, and the living room. At CES 2015, expect it to colonize the rest of the home.
That's not to say that you won't find traditional PCs and televisions this week in Las Vegas. But consumer firms have moved beyond those mature, traditional markets into mobile technology, wearables, and cars—and they keep moving. This year, the theme of the show may very well be the connected home, as smartphones and tablets take on a new role as control devices for the Internet of Things.
Here are a few names to keep an eye out for: EchoStar (home automation), Dish (an over-the-top video service?), Intel (new Broadwell PCs), Ford (its new SYNC3 entertainment system) and Samsung (just about everything).
Staff from PCWorld, Macworld, Greenbot, and TechHive will be on the show floor at CES this week, scoping out the tech you'll want to know more about, then buy in 2015. Here's what we know so far.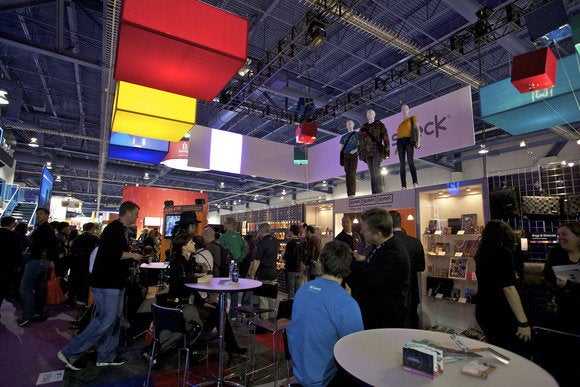 Smart home becomes a networked playground
In 1999, TiVo and DVRs defined CES. In 2014, so did wearables. In 2015, it'll be the connected home. There was a time when this technology was accessible only to hardcore hobbyists and wealthy households with the means to hire custom installers. That time has passed.
Until recently, most smart-home products depended on a central hub for control. That's the established way of doing things, and EchoStar, the company behind the Slingbox and Dish Network's Hopper set-top box, will be showing what looks to be a very complete connected-home system. Dubbed Sage, the set-top will be capable of handling lighting controls, door locks, security cameras, thermostats, and all manner of sensors. Despite that complexity, EchoStar is positioning Sage as a DIY system.
We also expect new additions to Belkin's WeMo home automation line, and possibly D-Link's connected-home ecosystem as well. Netgear is supposed to ship its new Arlo home-security camera. Note the trend: networking companies expanding into connected-home peripherals. On that front, we could also see more "Wave 2" 802.11ac routers join the ranks of the Asus RT-AC87U and Netgear Nighthawk X4.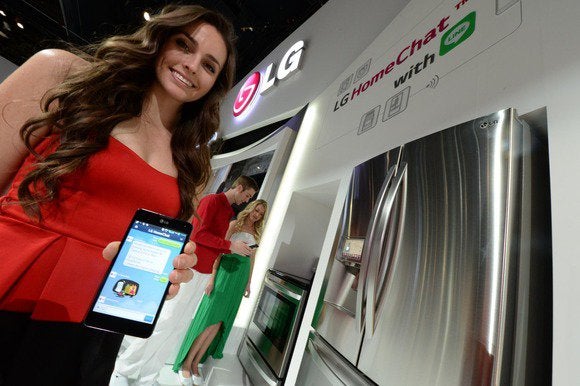 Meanwhile mobile devices like smartphones and tablets are stepping in to replace those hubs, controlling products like a new wave of smart LEDs we expect to compete with the Philips Hue product line.
In appliances, CES is a kind of dreamy futurescape, where manufacturers can take a break from staid metal boxes and show off gadget prototypes straight out of The Jetsons. In past years, the futuristic appliances we've seen at CES were all about connecting you to the Internet—but does anyone need to Facebook from their refrigerator? This year, expect to see function triumph over the outlandish, with integrated smart appliances that share information about your activities to make your home hum along seamlessly. Will the next Nest pop up at CES? We'll have to wait and see.
A breakout year for 4K TVs
We'll see 4K TVs—curved and flat, cheap and pricey—all over the show floor. Expect to see LG pushing its new OLED technology and joining Samsung, Sony, and other manufacturers in touting new displays based on "quantum dot" technology that promises to deliver a wider color gamut. And because no one will buy a 4K TV unless there's 4K programming to watch on it, look for service providers to announce new products to fill that niche.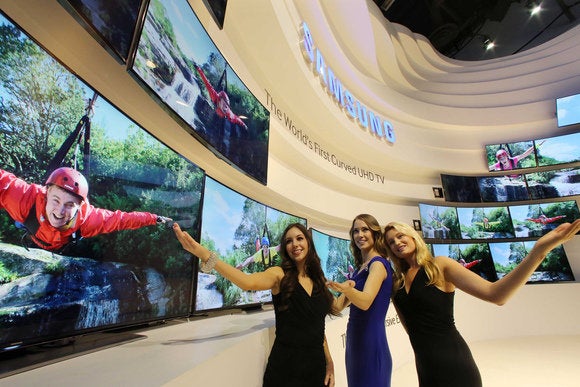 Speaking of service providers, Dish Network Chairman Charlie Ergen mentioned a self-imposed deadline to launch its over-the-top pay-TV service by the end of 2014, but instead we're expecting to hear more about the as-yet-unnamed service at Dish's CES press conference.
Wearables: Here we go again
It would be much too generous to say wearables are "growing up" this year, but clearly the consumer tech industry is advancing and expanding the definition of what a wearable can be. At this year's CES, expect a new generation of much more niche and mission-specific wearables—perhaps a reaction to the fact that activity trackers have become ho-hum commodity hardware; that Android Wear and Apple Watch have sucked all the oxygen out of the smartwatch space; and that all current-generation wearables are still struggling to find a receptive audience.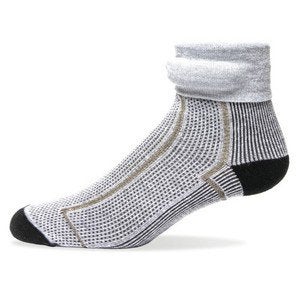 Among the highly specialized flights of fancy we anticipate seeing, a new wearable called Thync promises to alters one's mood, using "enhanced neurosignaling" to shift one's "vibe" to either an energized or relaxed state. Fuhu, meanwhile, is planning to demo a "child-friendly, gamified" pedometer, while Sensoria Fitness will show off new "smart socks" that help track cadence and center-of-balance while you run. We should also see Vert, a wearable that tracks your jumping stats (perfect for volleyball and basketball training); GoMore, which is being marketed as a "stamina sensor" that helps calibrate workout intensity; and Linx, a new head concussion monitor that could be great for anyone who competes in impact sports.
And those are just the niche players. We're already hearing that a number of much bigger-name companies will have wearable-tech announcements. The question is: Will they stick to traditional formulas like the conventional activity trackers, or will they go big with innovative risks?
Cars rev to catch up to phones
Smartphones change fast. Cars don't. That's made their relationship difficult, but CES 2015 will mark a milestone, where cars aren't just catching up to smartphones—they're converging.
We expect to see signs of Apple CarPlay, Android Auto, and MirrorLink, the three technologies moving in from the smartphone side. All offer mobile experiences adjusted for car safety. (It's one thing to walk into someone on the street while you're texting. It's another thing entirely to be that distracted while driving two tons of wheels and steel.)
Ford's completely revamped SYNC 3 infotainment platform will also make its first public debut. Announced in mid-December, it promises better touch, voice and app interfaces. But it's not just Ford: All the car companies and their technology suppliers are eager to show how connected and easy their systems are, now that smartphones have redefined what's intuitive and user-friendly.
We also expect to see advances in safety and autonomous-driving technologies: more sophisticated LiDAR and other sensors for seeing what's around the car, and more clued-in braking, steering and other systems for responding to what they see. This is great news in theory. In practice, it can be unsettling to see cars taking over major parts of the driving experience. But this is the future, folks.
In mobile, Sony might seize the moment
We don't usually expect too much from CES in the mobile space—at least not when it comes to Android smartphones and tablets. Intel and Nvidia typically announce Android-compatible mobile processors, but beyond that it's usually quiet until a few months later, when Mobile World Congress takes place in Barcelona.
However, rumors point to a fruitful 2015 for Android devices. Samsung may introduce new additions to its already extensive family of tablets. Acer and Asus remain prolific, and we expect to see both mid-range and high-end Android tablets from both manufacturers.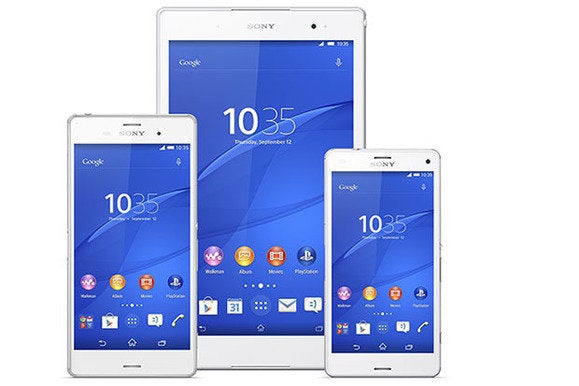 Perhaps the biggest rumor in the Android realm is that Sony will debut its next-generation flagship devices at CES 2015. We certainly hope that's not the case, however, because it feels like Sony just released the Xperia Z3 family. An Xperia Z3 Ultra of sorts seems more plausible.
There are also rumors that LG has something up its sleeve—supposedly a reprise of its curved smartphone, the G Flex, which debuted around the same time last year. We're also expecting to see some product announcements from low- and mid-range manufacturers like ZTE and Alcatel One, though their devices don't always make headlines because their products are not immediately available in the U.S.
And don't forget about the PC!
For PCs, the biggest news that will cut across all brands will be the unveiling of Intel's 5th-generation Broadwell-U chips. Consumers got a taste of Broadwell last year with the low-wattage Broadwell Y, otherwise known as the Core M. This time around, Broadwell U brings the new 14-nm process to more powerful Core i3, Core i5, and Core i7 chips. As we've seen with the Core M, the new process significantly reduces power consumption compared to the 4th-gen "Haswell" chip. The upshot? Notable increases in battery life on new laptops.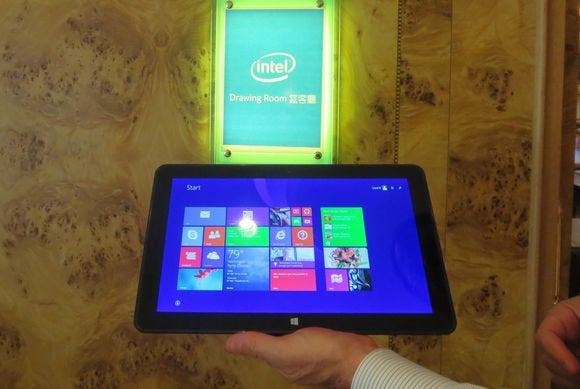 CES will see the usual conga line of new ultra-light laptops, convertibles and 2-in-1s, some of them debuting new technologies. Expect to see at least several tablets and laptops equipped with Intel's super-wicked RealSense depth-camera technology. Pen lovers who've glommed onto Microsoft Surface Pro series should also keep their eyes open for competing tablets with active pen support at CES.
Remember the monitors! Last year at CES, we saw 4K monitors dive to prices under $600. While we probably won't see that kind of aggressive pricing with 5K panels, expect to see more such models at prices that might finally have you reaching for your credit card. At least 30Hz 4K panels appear to be a thing of the past.
Making sense of it all
The problem with CES is that both reporters and readers can be quickly overwhelmed by the flood of new products. We're not going to waste your time on the minutiae. Look for us to identify the trends you need to know about, and the products you'll want to buy.
Are you ready? We are. Come join us.
Reporting by Michael Brown, Florence Ion, Caitlin McGarry, Susie Ochs, Jon Phillips, Melissa Riofrio, and Gordon Mah Ung.