At a Glance
Expert's Rating
Pros
Unique 360 degree interface
Easily moved about
Unique coffee table gaming abilities
Cons
Somewhat noisy fan
No SSD option
Less than 2-hour batter life
Our Verdict
The Horizon 2s is a wonderful concept–a mobile desktop that you can move about the house, as well as use a board-game replacement for the coffee table. But it's expensive, there's no SSD option, and it has a noisy fan. Regardless, it's well worth checking out for its Aura 360 degree interface alone.
What do you call a tablet that's large enough to serve as your desktop computer? A Lenovo Horizon 2s. What do you call a battery-powered all-in-one that's small enough to carry? A Lenovo Horizon 2s. What do you call a computer that lies on the table and offers an engaging experience for two or more people? Atari Pong! Or, the Lenovo Horizon 2s, of course.
Atari Pong, the first commerically successful arcade game, was available in a cocktail table version. Two people sat around it, sipping aperitifs while twisting a knob that moved a virtual paddle about the screen to whack an electronic pip. That socialize-around-the-table, board game-like functionality and interaction is part of what Lenovo's aiming for with the Horizon series, and in particular—the 2s. The company provides a 360-degree interface called Aura that makes a Horizon usable when it's lying flat, bundles special games, and will sell you striker paddles (think air hockey), joysticks, and e-Dice as options. The whole deal is pretty slick. Really.
The Horizon 2s, unlike its rather large and heavy 27-inch Horizon 2 cousin and others of its ilk, might strike users as a giant tablet. Though it's astoundingly light for the transportable all-in-one it actually is, at 5.45 pounds and with a 19.5-inch, 1920×1080 touch screen, it's not usable as a tablet by a normal-sized human being. However, once you start thinking of it as a desktop-to-go, the appeal is clear. Keep it in your office for work, then carry it at need to the kitchen, garage, or yes—coffee table. Recipes, DIY videos, Parcheesi, whatever.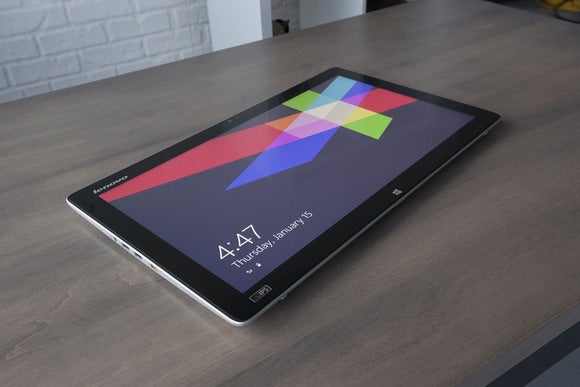 The Horizon 2s has an integrated kickstand to prop it up at a fixed angle, though the optional charging stand, which leaves the surrounding area unobstructed, is a far better solution for long-term use. Sadly, said handsome stand doesn't add any ports to the mix, and at $90, it sends the $949 Horizon 2s (our Best Buy SKU) over the $1000 mark. Gulp.
Getting back to the multi-user interactive role… The aforementioned Aura interface, which launches from Windows, features a wheel (think digital Lazy-Susan) in the center of the screen that you can rotate to bring any component (music, games, photos, etc.) in line with your personal horizon (no pun intended). You can tear off elements, drag them around, and rotate them as well. It raises some extremely interesting possibilities for games and even design, and some of the 21 games that Lenovo provides take good advantage of the metaphor. Aura U runs Android apps, so you there's a lot of stuff you can play with on the Horizon 2s. It's especially nice to see a computer function as something other than an electronic cocoon.
As much as I like Aura, when it comes to the Windows 8.1 operating system the Horizon 2s ships with, Lenovo, as do other vendors, slops on the "value-added" software utilities. Remove them. You don't need a bunch of stuff running in the background or popping up checking your hardware while you're in the middle of something else. Windows takes care of most everything you need, including anti-virus/malware protection, just fine—and more politely.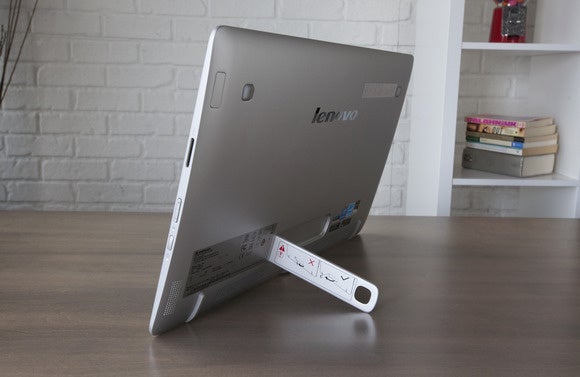 Hardware
I'm not a huge fan of glossy displays, but they make some sense when there's touch involved. Lenovo must feel my pain, because the company employs an anti-glare coating. It works decently well at reducing reflections and doesn't highlight fingerprints, however, it also makes the unlit display look as if it hadn't been cleaned in a while. A small price to pay, but don't go scrubbing it thinking it's dirty.
The Horizon 2s has only a few ports, though the selection is adequate for the intended usage. There's a docking port on the bottom; a card reader, volume rocker, and power switch on the right; plus a headset jack, two USB 3.0 ports, and the power jack on the left. Wireless communications are top-notch: 802.11ac, Bluetooth 4.0 and NFC. Both the keyboard and mouse are wireless. The keyboard types well, and the mouse is responsive, but the overt hump on the latter, while attractive, feels awkward.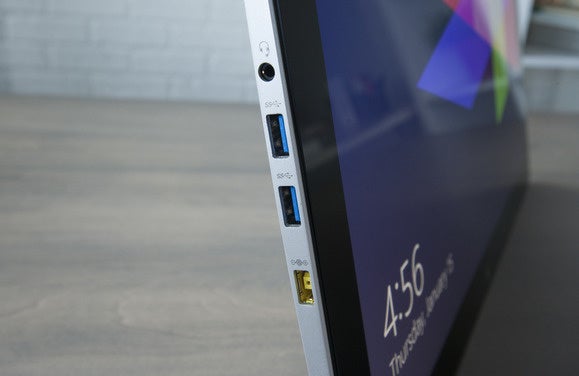 I wasn't a fan of the fan—or the hybrid drive
I really bought into the portable desktop/tabletop concept after just a few minutes with the Horizon 2s, but it was a bit disturbing to see Lenovo drop the ball on two fronts. The first was an irritatingly noisy fan. I know there's a Core i5 4210U and 4GB of memory in there, but the first unit Lenovo sent me whined ceaselessly at varying pitches—especially when a heavy computing load such as PCMark was applied. Lenovo sent me another which wasn't quite as noisy, but then my office was quite a bit cooler with a recent cold snap.
The second issue was the lack of a fast, shock-immune SSD option. The Best Buy SKU I tested had a 500GB Seagate ST500LX012-SSHD-8GB Hybrid (SSD/HD). Hybrid drives are marginally faster than hard drives, so I'd rather pay another $50 for an SSD. At $749, I wouldn't complain about a hybrid drive. At nearly a thousand bucks, I am.
Performance
During my subjective testing there wasn't a lot to complain about with the Horizon 2s. Unlike the recently reviewed HP Beats AIO, Windows and programs open decently fast. Objectively, PCMark rated it at 2779 in the Work test and 2077 in the Creative test. It scored well in 3DMark's Ice Storm Extreme, a tablet test, but it performed as you'd expect from Intel HD 4400 graphics at higher resolutions and detail settings—not very well. Encoding a 30GB MKV file to tablet format took about 2 hours and 13 minutes. Not bad. Not great. By comparison, PCWorld's reference system, with its quad-core Core i7 4770K chip, takes about 36 minutes. That's not a desktop system you can carry with you, though.
A minor issue is the Horizon 2s's short 1-hour, 43-minute battery life. Admittedly, it's not that hard to plug in an AC adapter, and the Horizon 2s isn't really a travel computer, but social gaming can be addictive. Just saying—there's a chance for annoyance there.
Not to beat on the lack of an SSD, but CrystalDiskMark rated the hybrid drive at 116MBps reading and about 106MBps writing. it illustrates the marginal benefit of hybrid drives, and it's only one-third the performance you'll see from even a cheap SSD. Tests can sometimes be misleading, but it definitely lacks that SSD rush.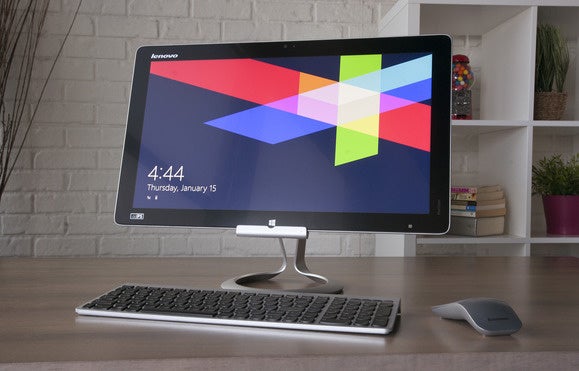 Conclusion
I didn't expect to like the Horizon 2s as much as I did. Mostly because I was thinking of it as an oversized tablet instead of a svelte, portable all-in-one. Forgive me, Lenovo. Now I can easily see it functioning at need about the house and yard, and on the coffee table in the den or living room. If my apartment had a den or living room.
So conceptually, the Horizon 2s is a winner. Lenovo marred the reality slightly with a noisy fan and bean-counter nonsense like the hybrid drive. Still, major kudos for going someplace new with Aura—even if that place is actually quite old.