Uber wants to get you out of hibernation and back on the streets. The ride-sharing service says it will cut ride rates in 48 U.S. cities for the winter season. Uber is restricting the price cuts to cities where the service most recently rolled out, though the company didn't say whether the price cuts will also extend to so-called "surge pricing" when the cost of an Uber ride goes up during peak demand.
Uber made a similar move in early 2014, when the company lowered prices in select cities to get users requesting rides during the winter slump.
The impact on you at home: If you need to get around town this winter and can't stomach the idea of driving yourself, Uber may be a good alternative. The company hasn't said by how much the fares will be cut, but the company recently dropped prices in Chicago by 23 percent, which may be a clue.
What about the drivers?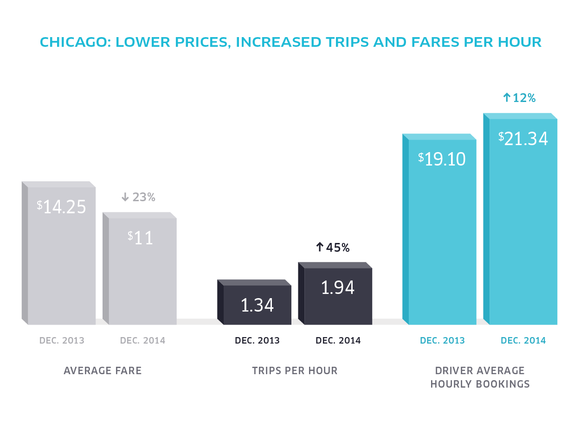 Dropping prices has an obvious benefit for users, but Uber says it hasn't forgotten about the drivers either. The company argues that price cuts during the winter slump tend to mean that drivers will earn more than they would have otherwise—the rationale being that price cuts means more rides per hour, which increases earnings. In Chicago, for example, Uber says the 23 percent price cut turned into a 12 percent increase in fares per hour.
Just in case some drivers are left out in the cold, however, Uber says it plans to guarantee earnings in cities where price cuts are taking effect. During the 2014 price cut, Uber also helped drivers out by lowering the company's commission on each fare, The Wall Street Journal reported last January.
Similar to the price cut, Uber did not share any details about what the earnings guarantees will mean for drivers, or what they will have to do to qualify.
Uber has been criticized in recent months for its claims that Uber drivers make a good wage with several reports saying the reality doesn't live up to the hype. Guaranteeing earnings for some drivers may help improve Uber's reputation for how it treats drivers. But without any specifics it's hard to know just how good Uber's earnings guarantee is.
Uber's price cut cities:
Albuquerque Atlanta Austin Baltimore Baton Rouge Charlotte Cincinnati Cleveland Columbus Connecticut Corpus Christi Dallas Denver Detroit Fayetteville, NC Fresno Grand Rapids Hampton Roads Indianapolis Inland Empire Jacksonville Kansas City Lansing Lexington Lincoln Louisville Madison Miami Milwaukee Minneapolis Modesto Oklahoma City Orlando Palm Springs Portland, ME Providence Raleigh-Durham Richmond Sacramento Salt Lake City San Antonio San Diego Santa Barbara Spokane Toledo Tucson Tulsa Wilmington, NC