At a Glance
Expert's Rating
Pros
Super light
Very compact
Extremely fast for an external USB drive
Cons
Pricy compared to hard drive
Our Verdict
Game-changing performance and portability highlight this external USB 3.0 drive. It uses Samsung's 3D NAND and is a true featherweight.
Quote: "It overcomes the limits of existing options by dramatically boosting mobility, performance, responsiveness and capacity." Wow. Veteran storage dude and professional cynic that I am, I supposed Samsung's claims for their new T1 external USB 3.0 SSD were hyperbole. Well dye my hair red and call me Harpo—they're not. I want one.
Your reaction when unveiling the T1 might well be "Is that all?" Apply the best possible connotation. The T1 is less than three inches long, a little over two inches wide, and a mere third of an inch thick—71 x 53.2 x 9.2 millimeters, to be metrically precise. Horizontally, that's smaller than a credit card. Even better—the T1 weighs practically nothing. Indeed, the 512GB model's 26 grams of heft is so inconsequential, it's easy to forget you have it in your pocket. It's only slightly heavier than the five-inch USB 3.0 cable that ships with it! If you've been contemplating a large-capacity USB stick, you might want to check out the T1.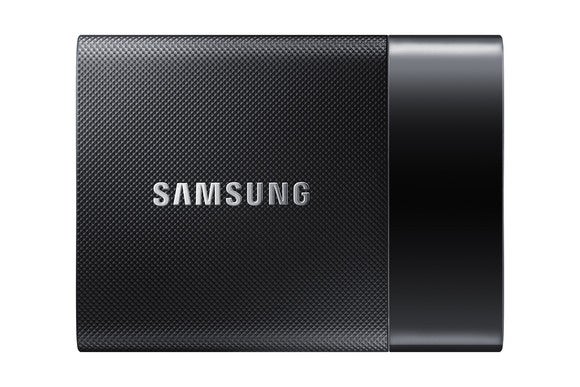 If tiny and feather-light don't sell you, how about fast? CrystalDiskMark rated the drive at around 300MBps to 450MBps reading depending on the system I tested it on, with commensurately fast IOP ratings. In my real-world transfer tests using my own Core i7 system with an OCZ Revo drive, the T1's writing averaged 113MBps with 10GB's worth of average-sized files and folders, and 135MBps with a single large 10GB file. The big news is that first figure. I've seen external SSDs that manage the same write pace with the large file, but many go in the dumper with the 10GB file and folder mix.
As for reading, perhaps CrystalDiskMark wasn't overly optimistic after all. How does 192MBps with the file and folder mix and 263MBps with the single 10GB file sound to you? For an external USB 3.0 drive, that's excellent real-world performance. The T1 uses the same MGX controller introduced with the 850 EVO and a SATA-to-USB bridge.
Aside from blazing speed, you'll likely get better-than-average longevity. The T1 uses the same 3D or stacked NAND as the company's 850-series SSDs.
Note: During use over the last four years, the T1 is still running, however, twice it has inconveniently become unreadable. This has also happened with its successor, the T3 and several other external USB SSDs. Spurious USB voltage or improper removal is suspected, but we have no hard data. Don't rely on any external SSD as the sole repository of your data. 03/12/2019
You can read up on the niceties of 3D NAND in those reviews, but to make a long story short—it provides greater data density than current single-layer SLC or MLC. The T1 carries a three-year warranty, which is good for an external drive that's likely to be subjected to a lot of physical abuse. Samsung hasn't assigned the drive a TBW (TeraBytes Written, i.e. the amount of data that can be written before drive failure.) rating yet, but best guess is that it should be similar to the 850EVO—75TBW for the 250GB and 150TBW for the larger models.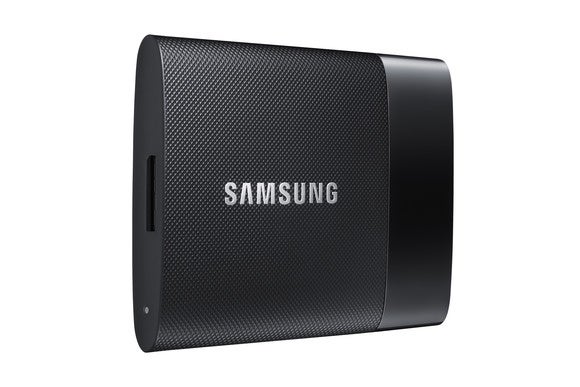 Now for the somewhat bad news. The T1, though average-priced in SSD terms, is still 60 cents a gigabyte. The 250GB version is $179.99, the 500GB is $299.99, and the 1TB model is $599.99. That's far more than a portable hard drive. If you're looking for capacity on the cheap, the venerable spinning platters are still your best bet.
One other complaint. Samsung likes to play games with software such as the RAPID disk caching provided with their internal SSDs. When you first run the T1, you must run a utility that sets up the drive and enables/disables the onboard encryption. No problem. However, I wound up with something called the Samsung Portable SSD Daemon running in the background on my computer. It was located in a subfolder in the Program Data folder area—not where executables are supposed to run from.
Worse, there was no uninstall option. I'm a great believer in less is more when it comes to background applications and this did not make me happy. Stopping the process and deleting it manually solved the issue, but not every user will know how, or feel comfortable doing this. Samsung had no answer about the software at the time this article published.
Rogue software or not, I'd trade any external flash drive I have for a T1. Scratch that. I'd trade all of them and most of my hard drives for a T1. Tiny, light, very fast for USB 3.0. Having to carry a cable around with you is a small price to pay for such performance. Small indeed.
Updated: An earlier version of our review indicated the incorrect capacity of the T1. It is 512GB. We regret the error.
Note that this review was edited on 03/12/2019 to correct errors and relate subsequent experience.