This is the opinion of an IDG News Service correspondent who acquired a Pono by participating in the product's crowd-funding campaign. PCWorld will publish it's full review of the digital music player after it becomes more widely available for purchase.
Have you ever experienced something that strikes you as extraordinary, but later leaves you unsure of how much of its wonder was real and how much was in your mind? A flash of light in the sky? A ghost? A flaming guitar solo? That's what listening to music on Neil Young's Pono is like.
Pono, which comes from the Hawaiian word for "righteous," is a portable music player, the brainchild of rocker Neil Young. It's designed, he says, to restore magic to the music listening experience—magic that Young claims has been lost due to the "garbage" of today's poor quality MP3s and other digital music files. Pono, at US$399, plays "high resolution" music that, according to Young's company, PonoMusic, sounds much better than music streamed on Spotify, bought on iTunes, or heard on CD.
After years of hype by Young, the Pono can now be ordered from the PonoMusic website, for delivery next month. It's bulky, shaped like a Toblerone chocolate bar, and it comes in black and yellow. The device clearly has generated interest, having blown through its earlier goal of $800,000 on Kickstarter, where it ended up raising over $6 million.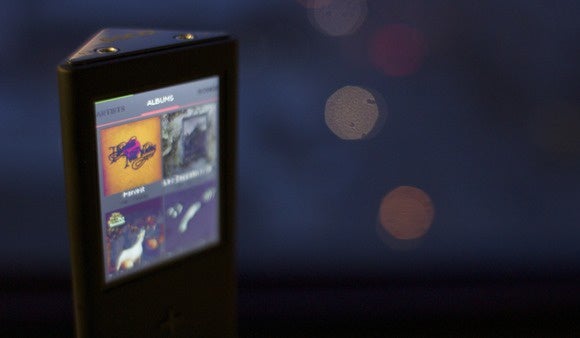 Hands-on impressions
I was one of those interested people. An early Kickstarter backer, I've been playing with the Pono for a little while, listening to a bunch of high-resolution albums purchased from the online Pono store. (We'll get to what "high resolution" means later.)
Pono really does sound great. Music is crystal clear, with details bursting out. In at least one album—"The Queen Is Dead," by The Smiths—I heard guitar parts and stringed instruments I thought I had never heard before. The whole album, if I could put a single word on it, shined. Led Zeppelin's "IV" album from 1971 sounded epic, bombastic and fresh. John Bonham's drums thundered with deep, resonant tones. And Michael Jackson's "Thriller" was a sonic treat, its 80s synthesizers, and Jackson's vocals, blaring. The dynamic compression that typically kills digital pop songs seemed to be all gone.
The device sounded best with external speakers, as opposed to earbuds or headphones. I tested it using all three forms of output, but listening through two stereo speakers and a subwoofer made by Altec Lansing sounded the best by far.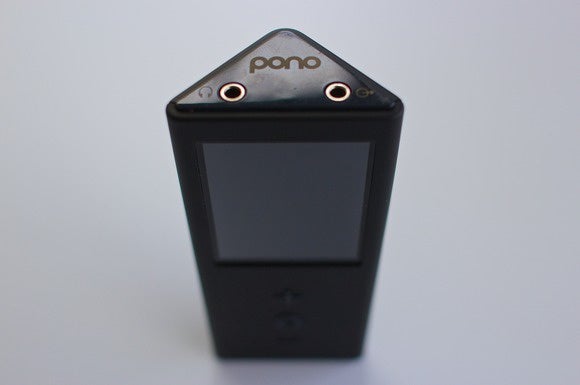 Is it real, or is it…
And yet I wondered: How much of an improvement was this over those same albums—and others—I had previously purchased on iTunes, or ripped from CDs? The iTunes and Google Play stores do not sell high-resolution files like Pono's; CD quality is the lowest level of quality offered in Pono's store.
So, I listened to Led Zeppelin's "IV" through the same speakers and subwoofer, but this time using the album version I had already purchased digitally through iTunes, on my computer, without Pono. I also listened to the other albums using various Pono-free configurations. Guess what: They also sounded great, perhaps as good as on Pono. Even comparing music on Pono to music on Spotify—streaming being the worst "garbage" of all, according to Young—some music sounded better on Pono, but other times I wasn't sure.
That's the biggest problem with Pono. The device does offer great sounding music. But the clearest thing about Pono is not the sound quality—it's that it plays tricks on your mind.
Judging sound quality can be frustratingly subjective. Maybe that Led Zeppelin album sounded epic on Pono because I was playing it at full blast. Maybe I heard new things on that Smiths album because I had forgotten they were there.
Or had 69-year-old Neil Young, with all his arguments, put a spell on me?
These are personal questions. But they're the types of questions other people will probably ask themselves when it comes to this device. The Pono only plays music. There's no texting, calling or Facebook on this. And if you want to get the most out of it, it could involve spending a lot buying albums you may already own. Many albums in Pono's store cost between $15 and $25, and individual songs cost at least a couple dollars or more.
The Pono store
Music in the Pono store starts at regular CD quality, or, to get technical, 44.1kHz/16-bit. That means the analog signal of the sound is sampled at 44.1 kilohertz, which is a unit of electromagnetic wave frequency. The 16-bit number is a way of representing the accuracy of how well the digital music was sampled. The higher the sampling and bit rates, according to PonoMusic, the better the sound.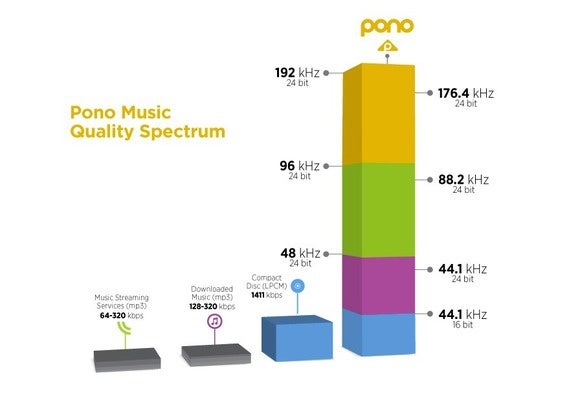 The albums I purchased in the Pono store were a few notches above CD quality, at 48kHz/24 bit, 88.2kHz/24 bit, and 96 kHz/24 bit. This higher-than-CD quality is what makes them high resolution. The tracks are derived from the original studio master recordings of songs. The company also says the hardware in the device, made in partnership with audio and video equipment maker Ayre Acoustics, makes the music sound better.
Pono's music tracks can reach as high as 192 kHz/24 bit, the company says. There are around 2 million tracks total available, the company says.
But you don't need Pono for high-resolution digital audio. Sites like HDtracks and iTrax sell high-resolution music. More smartphones like the Samsung Galaxy S5 and Galaxy Note 3 can play high-resolution audio, but not Apple's phones, yet. There's Sony's ZX2 Walkman, a high-resolution music player slated to go on sale this spring for more than $1,100, and the older ZX1. There's also Tidal, a new "high-fidelity" music-streaming service.
All those other options are worth considering for the reluctant Pono-er, or whatever you call someone who listens to Pono.
Going back to the player, the user interface is okay. It's not as fluid as navigating around, say, the music app for the iPhone. But it has a touch screen that's responsive enough and lets you swipe through albums and songs. There are three large buttons on the front of the unit, for power controls and volume. The remote controls on most headphone cords will not work with Pono. There's a headphone jack, and a line-out jack for connecting to a stereo or powered speakers.
The unit ships with a 64GB microSD card, which should hold dozens, but not hundreds, of high-resolution albums.
There's no Wi-Fi, Bluetooth, nor other bells and whistles on the device. Music must be loaded onto the player through the Pono music desktop application for Windows or Mac. It's a bit of a process. Downloading one album, depending on the Internet connection and resolution, can take more than an hour. Transferring the music to Pono is done via USB; transferring one album might take just a few minutes.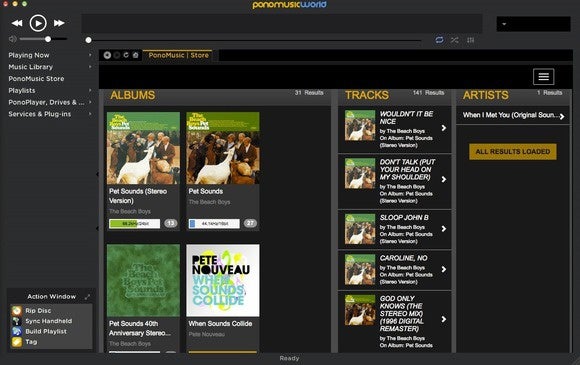 Battery life is decent but not outstanding. Listening to a few albums over a day or so is no problem at all, but the battery gets drained fairly easily when the device is off. Achieving a full charge takes a few hours at most.
The bottom line
Anyone considering buying the Pono should test it first. The company says the Pono will be sold in stores like Fry's Electronics starting next week. There are also roughly two dozen stores in cities like Portland, New York and Los Angeles that the company says have it available for demos.
Give it a listen, bring your regular music player and headphones, and try to compare the same songs on the different devices. You may decide that Pono sounds better. Or you might drive yourself crazy.