The battle for PC gaming's "sweet spot" has a new challenger. With the GeForce GTX 980 and 970 firmly in command of the premium graphics card market, Nvidia's setting its sights on the crucial 1080p enthusiast segment with the GTX 960, the first truly mainstream iteration of its powerful, yet stunningly power-efficient "Maxwell" processor architecture.
The GTX 960 delivers outstanding 1080p gaming capabilities, rocking a silky-smooth 60 frames per seconds in even demanding titles with most of the bells and whistles turned on. And priced at just $200, the GTX 960 is poised to make some waves.
Meet mainstream Maxwell
Let's take a quick, high-level look at the GTX 960's key points before diving into real-world benchmarks.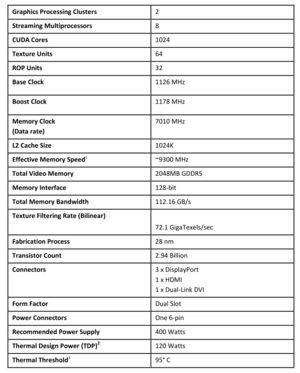 The GTX 960 uses a new "GM206" GPU built using the 28nm process, rather than the GM204 found in the GTX 970 and 980, but for many of the specs that matter it's essentially a GTX 980 cut in half. The GTX 960 packs 1024 CUDA cores, 16 streaming multiprocessors, 32 ROP units, and 64 texture units, while drawing power from a single 6-pin power connector—all exactly half of what GTX 980 claims. Nvidia's insanely efficient Maxwell architecture is put to good use once again: The GTX 960 has a scant 120 watt TDP, and it runs cool and quiet even under heavy loads, opening the door for nifty sound-saving tricks and beastly overclocks… which we'll get into later.
In reference form, the GTX 960 measures 9.5 inches long, taking up dual slots in your case and packing a dual-link DVI port, an HDMI 2.0 port, and a trio of DisplayPort connections.
One other thing jumps out staring at the spec sheet: The GTX 960 features only 2GB of GDDR5 memory with a 128-bit bus, which seems… paltry, to say the least. But Nvidia says that caching improvements in Maxwell, combined with the company's third-generation delta color compression engine, help the GM206 GPU use its memory bandwidth far more effectively than its predecessor, the GM106 "Kepler" CUDA core. As such, the "lack" of memory bandwidth wasn't an issue in our testing, and the limited RAM isn't likely to be an issue when you're gaming at 1080p, a.k.a. the target use for this card.
And really, what do you expect for $200, anyway? Nevertheless, it would've been nice to see 3GB or 4GB of memory, or at least a wider memory bus to more effectively future-proof the card.
Beyond the hardware, the GTX 960 boasts the same software tricks as its bigger 900-series brothers: the Voxel Global Illumination lighting technique, VR Direct, Dynamic Super Resolution, Multi-Frame Anti-aliasing, it's all there. Dynamic Super Resolution—which renders games at higher resolution than your monitor, then downsamples them to fit your monitor to improve visual fidelity—isn't quite as useful on the GTX 960 as it was on the GTX 980, because the performance penalty hurts far more on a midrange card. But it can provide a visual boost without dragging frame rates into the pits for more modest titles, like World of Warcraft or League of Legends.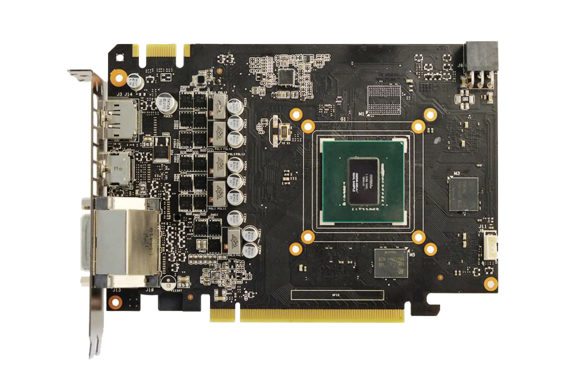 Nvidia's Multi-Frame Anti-aliasing technology is getting a big shot in the arm with the release of the GTX 960, however. Anti-aliasing smooths out visual jaggies in games, albeit with a performance cost. MFAA delivers visuals on par with multi-sample anti-aliasing, but with far less of an impact on frame rates. Testing has shown that compared to 4x MSAA, 4x MFAA delivers roughly the same level of visual fidelity at around 8- to 15-percent higher frame rates, depending on the title. That's none too shabby!
While our benchmarks don't leverage MFAA, as the technology isn't compatible with AMD cards, Nvidia's enabling the technology by default if you use the GeForce Experience app to automatically optimize your games. MFAA's rolling out in force to coincide with that: While the technology worked with only 20 or so games initially, it's now supported by every DirectX 10 and DirectX 11 game that supports MSAA, with the exception of Dead Rising 3, Dragon Age 2, and Max Payne 3.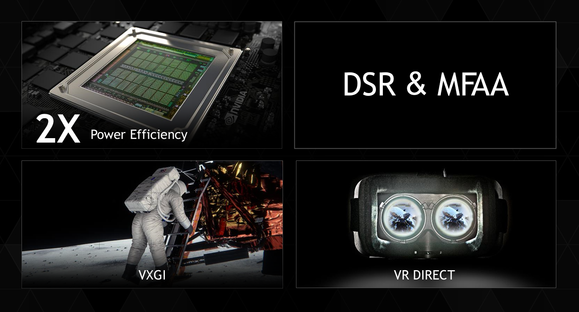 The GTX 960 and its GM206 chip also feature support for H.265 encoding and decoding. The GTX 970 and 980 support only H.265 encoding. The GTX 960 also supports HDCP 2.2 "content protection" over HDMI. In other words, the GTX 960 should be able to stream 4K Netflix streams like a champ—if 4K displays ever really become a big thing, that is.
Nvidia's new graphics card also includes support for DirectX 12, the next-generation, performance-enhancing gaming API coming with Windows 10.
Meet the Asus GTX 960 Strix and EVGA GTX 960 SSC
Now let's get into the fun stuff. We reviewed two GTX 960 samples: The Asus Strix with DirectCU II cooling and EVGA's GTX 960 SuperSC (SSC) edition with ACX 2.0+ cooling.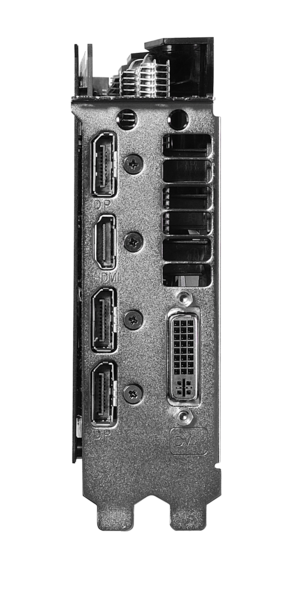 Remember I mentioned how coolly and efficiently the Maxwell architecture lets these new Nvidia cards run? Third-party graphics card makers are already putting that efficiency to tremendous use. Asus and EVGA's cards don't even activate their fans until temperatures hit 55 C and 60 C, respectively. And when you combine Maxwell's efficiency with the custom aftermarket cooling solutions found in these cards, you won't hit those temps often in more casual or modest games, like League of Legends, The Walking Dead, and many indie or 4x strategy games.
The Asus Strix topped out at 58 C in our tests, and that was only after applying a hefty overclock and running the Furmark benchmark, which Nvidia's press materials call a "power virus." The EVGA SSC hit max temperatures of around 75 C under extreme duress, but ran far cooler in normal scenarios. Both cards ran extremely quietly even when the fans were whirring, almost to the point of eeriness.
Both cards also feature impressively hefty overclocks out of the box. While Nvidia's GTX 960 reference clocks stand at 1126MHz stock and 1178MHz boost, the Asus Strix speeds along at 1253MHz/1317MHz out of the box; the EVGA SSC powers along at 1279MHz/1342MHz. I'd have liked to underclock one of them to stock speeds for reference, but I couldn't: The overclocking software that ships with these cards only let you reduce speeds by up to 90MHz. Asus and EVGA's cards were overclocked by 127MHz and 153Mhz out of the box, respectively. (Foreshadowing: We pushed it even further.)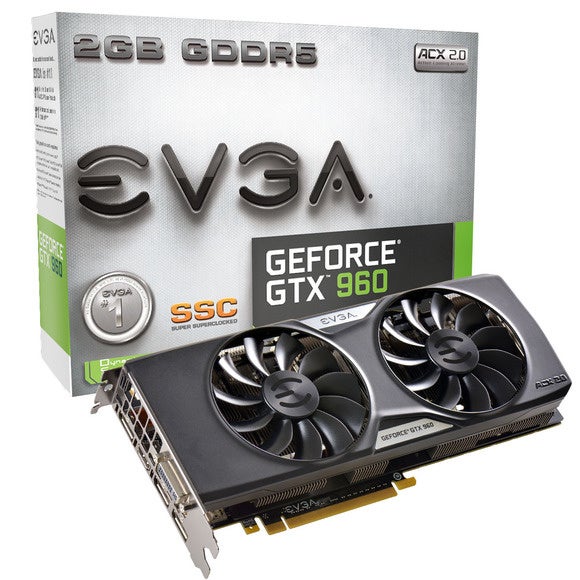 The $210 EVGA GTX 960 SSC with ACX 2.0+ cooling measures slightly longer than a reference GTX 960, at 10.25 inches. The card packs a thick heat sink underneath its dual fans, along with a cooling plate to keep your card's memory and MOSFET chilled, as well as straight—not curved—heat pipes, which EVGA says reduces GPU temperatures by an extra 5 C. The EVGA SSC requires an 8-pin power connector, rather than the reference card's 6-pin. In the box you'll find an 8-pin power cable, a DVI to VGA adapter, EVGA stickers, a poster, and a utility installation disc that includes EVGA's PrecisionX overclocking utility.
The EVGA GTX 960 SSC packs dual BIOSes, which you can toggle with the flick of a physical switch on the card. By default, the card uses the "dBi BIOS," which keeps the fans off until temps hit 60 C. Alternatively, you can use the "SSC Performance BIOS" for more oomph. Our test results below use the default dBI BIOS setting. Switching to the SSC Performance BIOS typically improved frame rates by 1 to 3 fps in our games suite, with one notable exception: The EVGA SSC hit 60.18 fps in Bioshock Infinite in dBi, but that leaped to a whopping 76.01 fps with the Performance BIOS.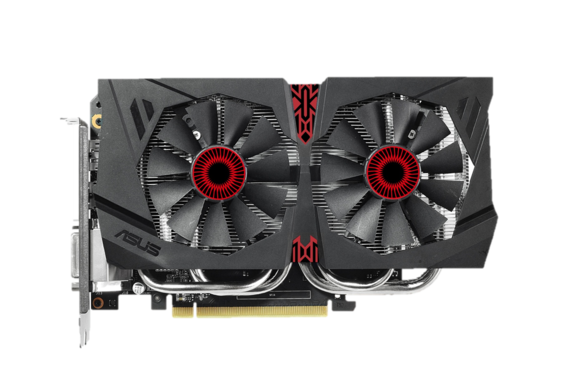 The nifty-looking $215 Asus Strix resembles an owl, with thick, snaking heat pipes almost taking the place of eyebrows. It measures a bit shorter than a stock GTX 960 at 8.5 inches and it includes thoughtful touches like labeled output connections and a full metallic backplate. You'll find a DVI to VGA converter inside its box, too, along with a disc containing Asus' own GPU Tweak overclocking tool.
Benchmarking the GTX 960
We tested the cards inside PCWorld's new benchmarking rig, which features a liquid-cooled Intel Core i7 5960X, 16GB of Corsair's high-end Vengeance LPX DDR4 memory, a 480GB Intel 730 series SSD, and more. You can read all the test rig details in PCWorld's build guide.
Next page: Benchmarks and more.
We're comparing the GTX 960 cards against a slew of similarly priced offerings: The EVGA GTX 970 FTW with ACX 2.0, a Zotac GTX 760 AMP! Edition, a Visiontek Radeon R9 270X, and an Asus R9 280X DirectCU II TOP. Nvidia's reviewer's guide compares the GTX 960 against the Radeon R9 285, but alas, I don't have one on hand.
Got it? Good. Let's dig into frame rates. You can click on any graph to enlarge it.
First up: Bioshock Infinite. Virtually all modern graphics cards handle Columbia's floating islands with aplomb, but it's a sterling representative of the Unreal 3 engine. One thing that raw frame rates don't show is how deeply GeForce cards can occasionally stutter running this game. Every Nvidia card we've tested recently dips into single-digit minimum frame rates during Bioshock Infinite's benchmark. It's rare for the frame rate to plunge so low, but it causes notable stuttering when it does happen.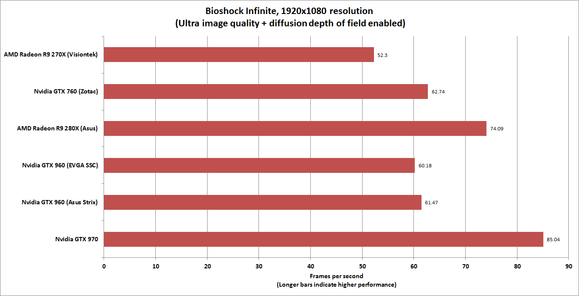 Next, we tested the cards with Sleeping Dogs: Definitive Edition's built-in benchmarking feature.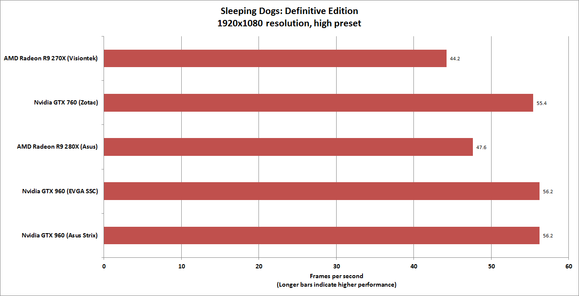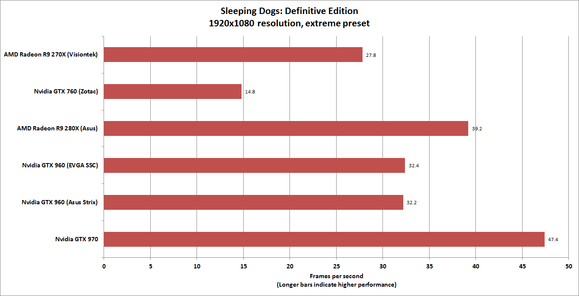 We test Metro: Last Light Redux with SSAA disabled, because it slashes frame rates in half and the game looks gorgeous enough without it. We also disable Advanced PhysX.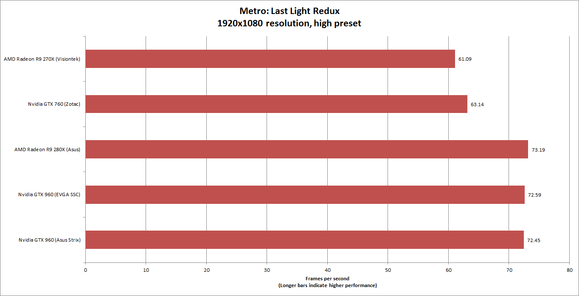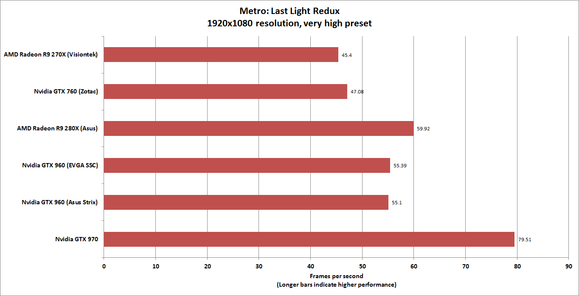 Alien: Isolation is a gorgeous, terrifying game with a built-in benchmark. It seems CPU-bound to some degree and scales well across all hardware configurations.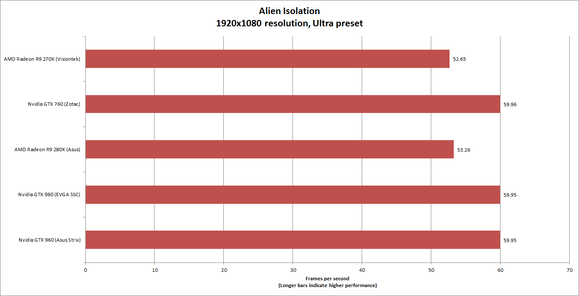 Finally, we also tested the GTX 960 cards using the Unigine Valley and 3DMark 11 Fire Strike tools, which were specifically designed for benchmarking graphics capabilities.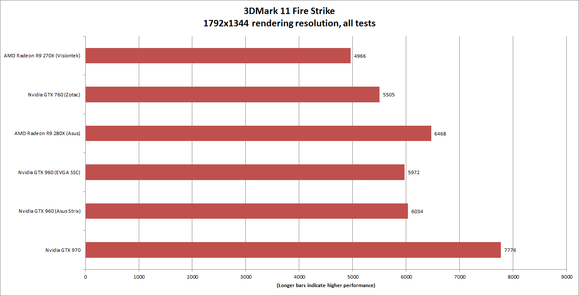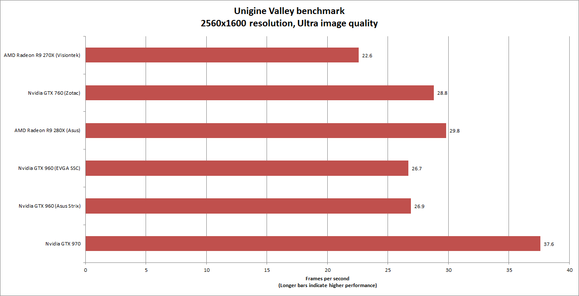 When you look at wattage use under full load, Maxwell's energy efficiency shines. The GTX 960 positively sips power.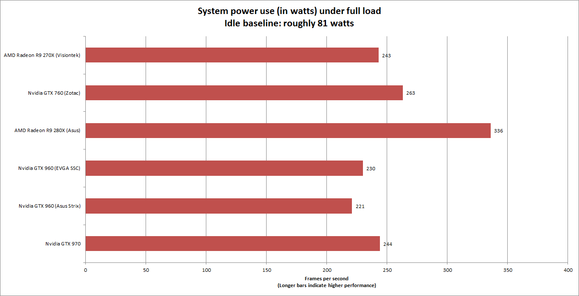 Which brings me to my next point…
Overclocking the GTX 960
Nvidia's press materials stress the GTX 960 is an overclocker's dream, and you know what? That's entirely accurate. I wasn't sure I'd be able to squeeze much extra out of the cards given the beefy overclocks Asus and EVGA apply out of the box, but boy, was I wrong.
Using the overclocking software included with each graphics card, but without touching temperature profiles or voltage, I was able to achieve significant additional overclocks on each card.
EVGA SSC clock speeds
Base: 1279MHz core, 1342MHz boost, 1753MHz memory
Overclocked: 1366MHz core, 1429MHz boost, 1940MHz memory
Asus Strix clock speeds
Base: 1253MHz core, 1317MHz boost, 1800MHz memory
Overclocked: 1400MHz core (!!!), 1464MHz boost, 1933MHz memory
Nvidia's press materials say it's been able to hit 1450MHz overclocks with the reference cooling design, all without tweaking card voltage or fan speeds. We didn't quite hit those lofty speeds, but a 1400MHz clock speed is still insane. Remember: The GTX 960's default reference speed is 1126MHz.
The Asus Strix and EVGA SSC could be pushed even further if you wanted to roll up your sleeves and start tweaking voltages and fan speeds—possibly a whole lot further. Both cards were still humming away happily at their stock load temperatures when they began demonstrating overclock instability. In other words, each should take a lot more heat if you wanted to apply more juice and crank the clock speeds even higher.
So what do those extra speeds get you in term of frame rate? I'm glad you asked. The frame rate leaps aren't mind-blowing, but again, remember that these cards had hefty overclocks out of the box. The gains would be much more dramatic on a GTX 760 that started at reference clock speeds—assuming it overclocked as well as these models.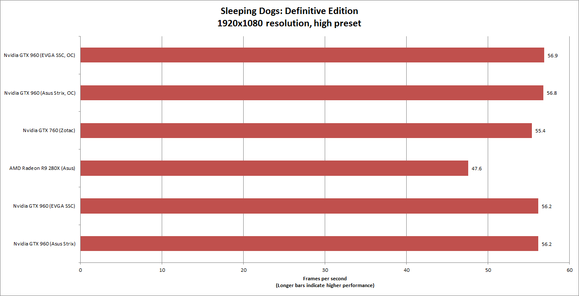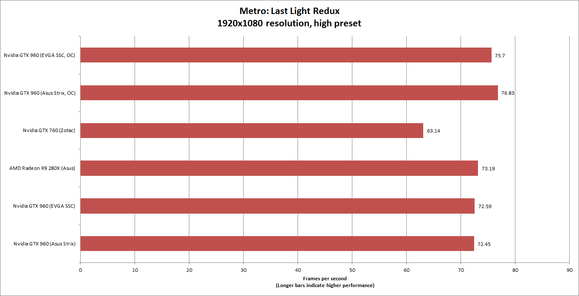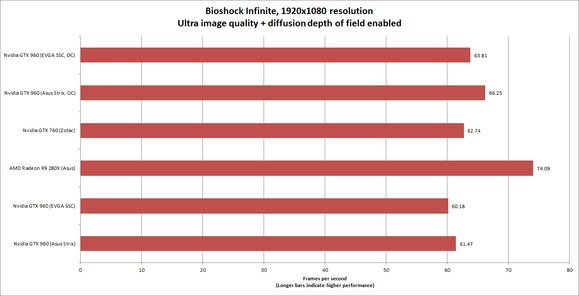 Nvidia GeForce GTX 960: Finding the sweet spot
The GTX 960 is everything you could ask for in a graphics card for the mainstream enthusiast. The models we tested delivered a firm 60 fps in every title tested with "high" graphics presets—and that should be boosted even higher when using MFAA. The GTX 960 runs cool. The GTX 960 runs amazingly quiet. And best of all, the GTX 960 is cheap.
Nvidia's positioning the GTX 960 as a killer upgrade for people currently rocking an older GTX 560 or 660, and compared to those the GTX 960 is clearly a vast step up in performance and power efficiency. (It's a less compelling upgrade if you already own a GTX 760, or even a GTX 670.) But really, the GTX 960 puts immense pressure on the next generation of AMD's Radeon graphics cards before the next generation of Radeon graphics cards has even been announced.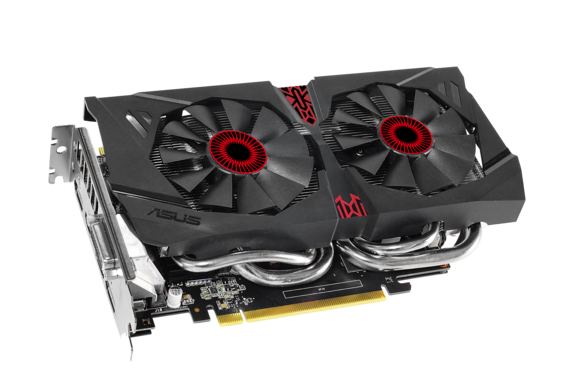 The technical superiority of the GTX 980 and especially the $330 GTX 970 have already forced AMD to dramatically slash prices on its highest-end graphics cards. The cost-cutting will very likely carry over to the mainstream pricing segment now that the GTX 960 is here. By pricing the GTX 960 at $200, rather than the $250 that enthusiast 1080p cards like the GTX 760 and Radeon R9 285 have typically cost at in the past, Nvidia's signaling that it's taking the battle for your wallet very seriously indeed.
AMD's GTX 960 counterpart, the Radeon R9 285, will have to drop to at least $200 to remain relevant—and likely lower, given the Nvidia card's overwhelming power efficiency dominance. (You can already find many, but not all, models at that price after rebates.) AMD's Never Settle game bundles don't appear in effect any more, either—at least on Amazon and Newegg—eliminating that differentiating Radeon benefit.
Would I have liked to see a bigger jump in performance from the GTX 760 to the GTX 960? Sure. And a larger memory frame buffer wouldn't hurt in an era of rapidly expanding games. But Nvidia's GTX 960 does what it's designed to do—play current games at playable rates and 1080p resolution with most graphical features enabled—very, very well indeed. You'd be very happy with either the Asus Strix or the EVGA SSC.