The Sprout, HP's innovative new PC, towered above my desk. An array of cameras and a projector (collectively called the Illuminator) loomed over its 23-inch touch display.
I put a toy on the Touch Mat, a work surface extending from the front of the Sprout like a huge mousepad. Lights flashed from the Illuminator.
Shortly thereafter, a vivid image of the toy appeared on the Touch Mat. Using my fingers, I slid it onto an existing image. I had just made a new picture, without ever touching a keyboard or a mouse.
With the Sprout, HP is inaugurating a new approach to computing called "blended reality." In plainer terms, it's a PC designed to work with imaging and touch technologies, paired with software that makes tasks more tactile and interactive. You can see how artists—and definitely kids—would enjoy working with their hands like this, even if the end results are still digital. Underneath it all lies a full-fledged computer that can run all the traditional programs with a keyboard and mouse.
Here's the most intriguing part: The Sprout can also create 3D images of scanned objects. You can rotate and move the object, just as you might in a professional program like AutoCAD. As HP continues to develop applications for the Sprout, you can see this capability figuring into, say augmented-reality applications, or even games.
I spent a few days with the Sprout before giving it over to our lab for a full review. It's a brand-new product and it definitely has some growing to do, but if HP is in this for the long haul—as I was assured when I previewed this PC last autumn—then it's got a big head start on its competitors, especially when it comes to 3D imaging.
The Touch Mat: A digital sketchpad
The Sprout's Touch Mat attaches to the main unit and acts like a second display. Its image is beamed from the overhead projector.
Think of it as a digital sketchpad. You control the Sprout's main imaging functions using the icons that appear along the top. Tools for specific activities appear along the left and right sides.
You can take the included Adonit Jot stylus and draw a picture using the pen tools. You can choose different pen tips—a fine line, a calligraphy pen, or a marker pen—and choose the ink color and line thickness.
It's somewhat like drawing on paper, except there's not much pressure sensitivity. Also, the overhead projector casts shadows underneath your hand, which could obscure the area where you're drawing.
Taking 2D and 3D images with the Illuminator
Drawing programs already exist, as do photo-editing applications. The Sprout's touch interface and especially the Touch Mat make these tools feel more intuitive, but I realize some people still won't be impressed. The Sprout's image-capture technology is completely unique, however, as is the way its Workspace software pulls it all together.
I downloaded a photo of gargoyles from Notre Dame cathedral in Paris. Once an image is in the Workspace on the main display, you can "flick" it onto the Touch Mat just as easily as it sounds: The image slides from the main display to the Touch Mat. You can move as many images there as you like and start using them to assemble your own creation.
Tool icons that appear on the right side of the Touch Mat let you move images to the "front" or the "back" (similar to the layering system in Photoshop), and tool icons on the left let you use ink and text tools to draw or write on the image.
In my case, I took the gargoyles image, then flicked down my image of the toy (the Twitter bird). I positioned it on the railing next to one of the gargoyles, and voila: The Twitter bird was photobombing the Notre Dame gargoyles.
This may seem gimmicky, but think about what the gimmick means. The combination of the imaging hardware and the image creation and manipulation features gives you a lot of freedom to make things as banal as birthday cards or as fun as digital murals, all with the more natural feel of using your hands or a stylus.
Looking ahead to 3D printing, augmented reality
The Sprout's 3D image capture technology is still in beta as of this writing. HP is supposed to release a final version this week, and we'll delve into it further when we do a full review.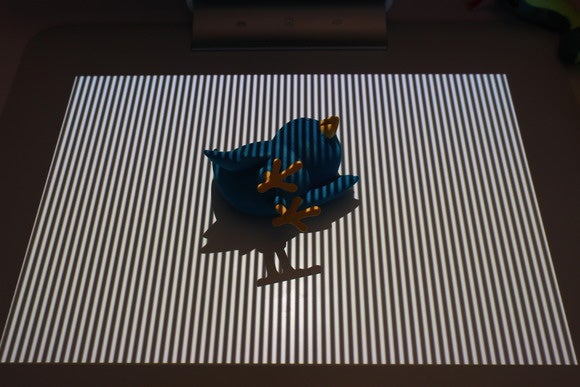 For now, the Illuminator can create a partial 3D image—basically, the top of an object. It comes out looking like a shell that you can rotate to see the underside.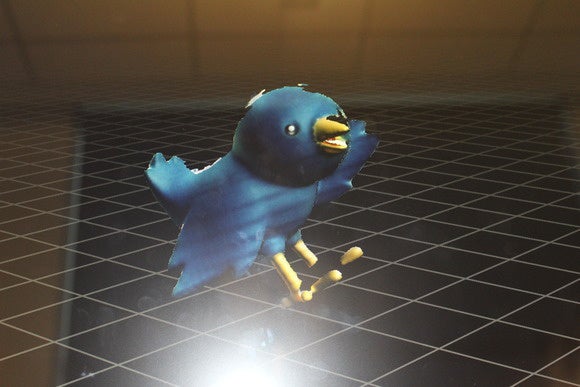 The early apps that come with the Sprout show further potential. There's the Story Producer game, based on the animated film How to Train Your Dragon 2: You choose different backdrops and characters, then their "motivations," such a cheer or anger. The characters act out a short scene accordingly.
You could get bored with this in two minutes, or you could see a future where you can put in your own backdrop, and 2D- or 3D-scan in your own characters, and set them in motion. Maybe you'd use the PowerDirector video editor that comes with Sprout, which currently lets you do rudimentary beginning/end cuts, and add various effects and transitions. It's nothing out of the ordinary, but packaged with the Sprout, you might someday be able to customize your videos, pulling in images or footage from other sources.
Let's be honest: Some of my coworkers who've tried the Sprout don't see the point. I can see where they're coming from, but I think it's because they don't see where the Sprout and its ideas are going. Traditional computing applications will be with us for a while, sure, but advances in imaging technology point to new kinds of computing on the horizon.
HP's recent hardware history has been unremarkable: decent machines, nothing too daring. But now we have the Sprout. It stretches the capabilities of a PC. Priced at $1900, it may not sell like hotcakes (it's way too early to tell). But it's HP's bid to have at least one kind of computer that's ahead of the game, and that's a good place to be.