There's a reason that desktop publishing software is called, well, "desktop" publishing software. It's because these resource-intensive applications often require the kind of processing horsepower and Internet bandwidth that mobile devices, like phones and tablets, simply don't have—or didn't have in the not-too-distant past.
Today's mobile devices are more powerful than ever. And while publishing and design apps for mobile devices remain rare, a decent selection of design apps is available for the iPad, and a few for Android tablets. (It may not surprise you to hear that design apps haven't taken off on smartphones, thanks in large part to their smaller screens.) Here's the lowdown on the apps we tested.
Apple Pages
Apple itself describes its Pages app as a word processing tool. And, technically, it is. But it's also an excellent, easy-to-use desktop publishing tool for the iPad – and, for those with supremely nimble fingers, the iPhone.
Pages offers a wide variety of templates to choose from when creating your document, ranging from a blank file to business cards, tabbed flyers, event posters, brochures, invitations, invoices and more. Whether you're working from a template or venturing on your own with a blank document, adding photos and text is a breeze, thanks to Pages' easily accessibly menus.
Pages saves all of your files in a neatly organized menu, and allows you to move them to another app's folder if you so desire. In addition, you can share a link to documents via iCloud, or send a copy to someone else. And thanks to its integration with iCloud, accessing documents created on another device is seamless.
At $10, Pages is pricey, but anyone who needs to create polished-looking documents while on the go will appreciate its features. Those with limited design sense, especially, will appreciate the guidance that the Pages templates offer, but truly creative types may feel a bit limited by Pages' lack of a finger- or template-drawing tool.
Publisher Master for iOS
I wasn't sure what to expect from Publisher Master for iOS, a $6 app for graphic design and layout, but in the end, I was pleasantly surprised. It's not the prettiest or slickest app you'll ever see, but it proved easy to use and capable of creating polished publications.
Publisher Master doesn't offer quite the same level of hand-holding that Apple's Pages features, nor does it offer the same kind of slick-looking layout. It offers just nine templates, plus a blank page that you can design to your liking.
Initially I thought there was no option to change the size of that page—a major drawback—but after digging through the app's options, I found the setting to change it.
Luckily, designing your flyer is much easier than finding that setting, as it's a breeze to add photos, text, shapes, and more. I especially like how you can embed a QR code to any website you'd like, and how you can use the drawing tool to doodle to your heart's content.
Saving your files is easy, and you can print files directly from the app. I wish Publisher Master had more options for creating different kinds of publications, like a foldable brochure or a multi-page document.
QuippeFlyer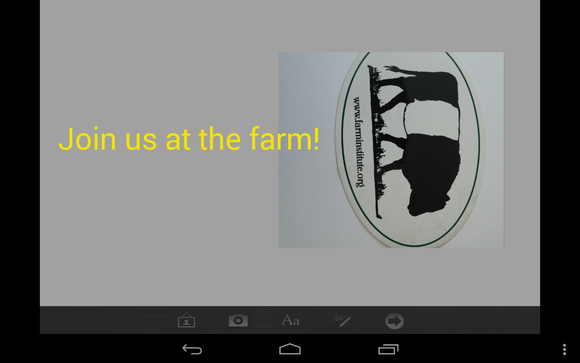 I struggled to find a design and publishing app that would work on an Android tablet. Finally, I came across QuippeFlyer. It promises to help you, "Release your creativity! Create flyers with images, photos, texts and drawings. Easy and intuitive, it's the indispensable application for everyone who wants to create flyers without using complex software."
After testing it out, I can safely say that QuippeFlyer delivered on none of those promises.
Start the app, and a document opens. There are no templates and no real options—just a blank page for you to make into your own.
The icons across the bottom of the screen seemed self-explanatory, allowing you to add a photo, capture a photo, insert text, or draw your own content. The drawing tool worked well, and I was able to enter text—though changing its location or size on the page proved difficult.
The capture photo tool took me to the camera as promised, but when my image was complete, QuippeFlyer altered its orientation, placing it sideways in my document. No amount of playing around with the app allowed me to change that. But it still worked better than the insert photo tool, which simply failed to insert a photo no matter how many times I tried.
All in all, QuippeFlyer was buggy, difficult to understand, and almost entirely useless. The only positive thing I can say about QuippeFlyer? It was free.