At a Glance
Expert's Rating
Pros
SLI 980M cards capable of 4K gaming
A mechnical keyboard!
Cons
Bulk and heavy
As expected, battery life is mediocre at best
Our Verdict
MSI's GT80 Titan SLI features an actual mechanical keyboard and a pair of GeForce GTX 980M GPUs in SLI. That makes this laptop actually faster than the majority of gaming desktops out there.
Ah, the eternal Internet argument: Can a gaming laptop really be faster than a gaming desktop? As admitted hardware snobs with a bias for gaming desktops, the easy answer has always been no. Never. Not in our lifetime.
That answer may have gotten far more complicated with MSI's insanely fast GT80 Titan SLI laptop. Believe it or not hardware snobs, it's faster than the vast majority of gaming desktops out there.
Even crazier, it's not the gaming performance of the GT80 Titan that grabs your attention—it's the inclusion of a mechanical keyboard that's the first the world has probably seen in a laptop since, well, the 1980s.
The keyboard isn't some knock-off clone, either. MSI tapped famed keyboard maker SteelSeries for a plank using genuine Cherry MX switches with replaceable keycaps. Even the most jaded laptop user will break out in a smile after hammering out a few sentences on the MSI's mechanical keyboard which imparts a solid feel.
Many will say the keyboard is a gimmick, but I have to say that after an afternoon with it I was hooked and it made me realize that I have been wrongly settling for the horrible, mushy laptop experience for too long. Will it spark a trend? Probably not.
There is a design cost to be paid for that keyboard. Mechanical keys suck up a huge amount of space—so much so that components that usually live underneath have to moved back, while the keyboard is pushed all the way to the edge. This means there's no palm rest to speak of, so MSI includes an old-style gel palm rest with the laptop. MSI also tosses in a lightly padded backpack, which is a nice touch because it's pretty hard to find bags that'll fit these monsters.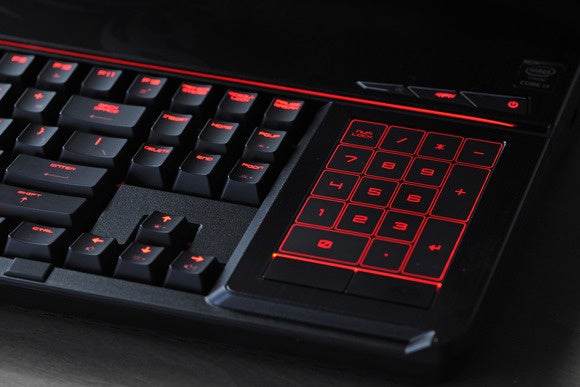 There's also no room for a trackpad, so MSI moves it off to the right side. Similar to what Razer did with its Razer Blade Pro 2014, it lets you use the trackpad as an ad-hoc mouse for gaming. It kinda works in a pinch, but it's no replacement for a real mouse. I see no point to building in a beautiful keyboard and then trying to live with a trackpad as a mouse for gaming. One interesting move that is definitely in the gimmick column: The trackpad converts into a virtual ten-key, with the numbers keys outlined in light at the push of a button.
The heart of any gaming laptop is its GPU. In this case, it's two GeForce GTX 980M units running in SLI. The desktop GeForce GTX 980 packs 2048 CUDA cores with a baseclock of 1.26MHz. The mobile version has 1,536 cores and a base clock of 1,038MHz.
What this means, according to Nvidia, is a mobile GPU that gives up about 80 percent of the performance of its desktop counterpart. To find just where the GT80 Titan falls, I first ran it against the HP Omen and Razer Blade Pro 2014. Yeah, I know, it's not exactly fair to put five-pound gaming notebooks against one that weighs 10 lbs. but it's worth seeing just what you're getting for the weight you're putting on your shoulders.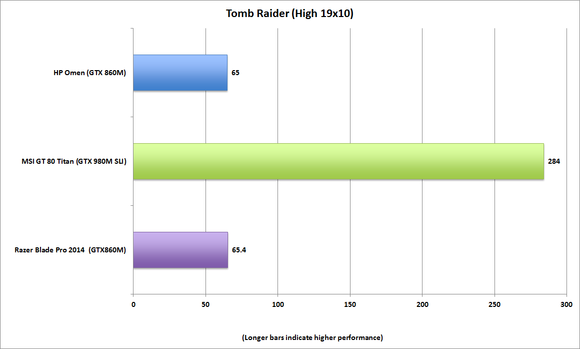 It's no surprise: The MSI GT80 Titan is unbelievably fast against more typical gaming notebooks. So to find out how the GT80 Titan does against real hardware, I decided to run the numbers against gaming desktops. I compared it against our zero-point reference system with a Core i7-4770K, 16GB of RAM and single GeForce GTX 980 card in it.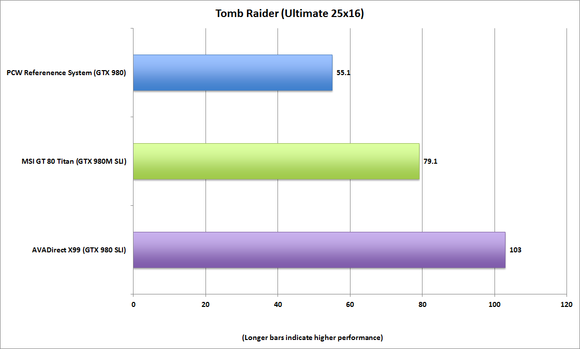 Because 1920×1080 is a fairly low resolution for two GeForce GTX 980Ms, I ran the laptop on an 30-inch external panel at 2560×1600. For comparison, I also threw in the AVADirect X99 rig. That machine packs two GeForce GTX 980 cards in SLI and an overclocked 8-core Intel Core i7 5960X aboard.
The results are fairly eye-opening. As someone who takes the supremacy of desktop graphics over mobile as an article of faith, it's a reality check to see the SLI 980Ms open such a sizable performance gap over the single GeForce GTX 980 card.
As to Nvidia's claims that the GeForce GTX 980M offers "80 percent" the performance of the GeForce GTX 980? We can confirm that, as the GT80 Titan gave us about 80 percent of the gaming performance of the AVADirect X99 rig with its pair of 980 cards. In the parlance of our times, the appropriate phrase is: Dayum.
4K gaming, too
I know you're going to wonder whether the MSI GT80 Titan can handle even heavier workloads, so I spooled up the MSI GT80 Titan on a 4K monitor for kicks. Running Tomb Raider set on Ultimate at 3840×2160, I saw from 40 to 50 fps. That's perhaps a little lacking for a first-person shooter, which usually demands 60 fps, but respectably good gaming performance from a laptop. I might tune the settings to get to a more consistent 60 fps, but there seems to be enough performance. The performance at 4K is likely helped by the 8GB of RAM per GPU that MSI uses in the GT80 Titan. For comparison, a typical desktop GeForce GTX 980 will pack 4GB of RAM.
There are a couple of weak points of the GT80 Titan, though some may disagree. The first is the panel. It's an 18.4-inch panel at a pedestrian resolution of 1920×1080. With this much graphics grunt, gaming at 1920×1080 practically handcuffs the pair of 980 cards. The good news is, the laptop is set up to support three monitors in surround mode using a pair of miniDP ports and an HDMI port.
The other weakness will bug those who intend to use the GT80 for CPU intensive tasks. Despite its bulk, the GT80 Titan is really no faster than the HP Omen and Razer Blade Pro 2014.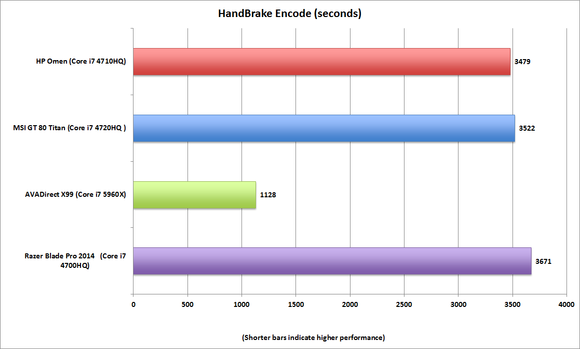 That's a little disappointing. For gaming loads, it's really no big deal. In fact, for someone who is primarily interested in a gaming laptop, I generally say skimp on the CPU and throw it all at the GPU. Still, to see the thick GT80 pull even with the thin-as- hell HP Omen is, well, a letdown. It's like stomping on the gas pedal in your vintage muscle car at a stop light, laying some rubber, and then arriving at the next light to see the funny electric car you thought you burned sitting right next to you. And yes, I included the encoding performance of the AVADirect X99 and its 8-core beast to show you who is large and in charge.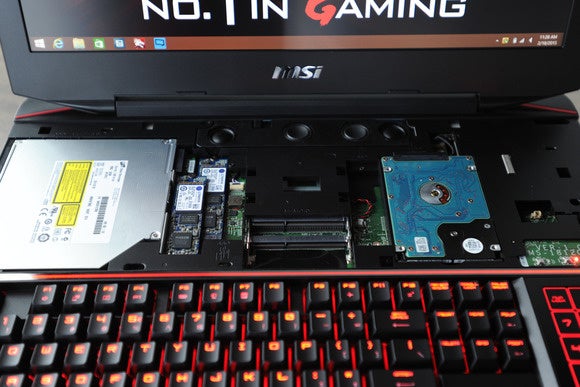 MSI may have skimped on CPU in our config, but it was generous with storage. The company takes advantage of the plentiful space to give you the ability to run up to four M.2 SATA drives in RAID 0. Our unit came with two Kingston 128GB M.2 SATA drives in RAID 0, and performance of both was a blistering 1,000MB/s reads and 600MB/s writes. Call us picky bastards, but we wonder what performance would be like with even faster drives, or with four.
Getting to those drives is easy, too. Just unscrew two Philips heads on the bottom and slide open to access all four M.2 slots, as well as two additional SO-DIMM slots for RAM, the optical drive (a Blu-ray burner in this case), and a 1TB Hitachi HDD.
It's also worth mentioning the acoustics of the GT80 Titan. Under a CPU load it's quiet, but after a long session of gaming the fans will spool up enough to let you know they're there. It's not loud, but it's right on the border at times. Fortunately it's a dull roar, not a shrill whine. There's even a button to spool the fans up to max rpm's, but with overclocking currently disabled on the mobile GTX 980 parts, I'm not sure what the point is.
The other big cost is the actual cost. Such an odd-duck laptop packed to the gills with hardware won't be cheap. The configuration I reviewed, the GT80 SLI-001, will set your credit card back $3,400. Most high-performance gaming notebooks with a single GeForce GTX 980 will set you back $2,300. That means you're definitely paying a hefty premium for the GT80 Titan SLI, but you're really getting desktop-like performance and that slick mechanical keyboard.