Two years is eons in tech time, and that's how long we've had to wait for a new Chromebook Pixel, which Google announced Wednesday. Yes, this is a new version of the super-premium, high-priced flagship that debuted to oohs, ahhs, and whys in early 2013, when most Chromebooks were little cheap plastic things, and desktop applications dominated. Not everyone saw the potential of a high-priced browser box.
Fast-forward two years: Chromebook sales are strong, and we're living more in the cloud than ever. As "Pixel 2" rumors swirled in recent weeks, we honestly wondered how much more this machine could have than it already does.
Now we have our answer. There's no sign of tablet-like functionality as rumored, but this new Pixel is once again touting a vision of greater online things to come. While we work on our full review, here's a closer look at the newest, fanciest Chromebook ever.
Mostly subtle changes on the outside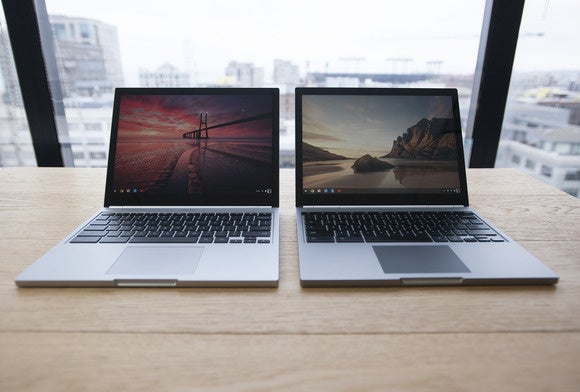 If you hefted the new Pixel, as I did, you might notice it's slightly lighter than before (3.3 pounds compared to 3.35 pounds) and even a scant millimeter thinner (15.3 compared to 16.2). Otherwise, it has the same sleek aluminum shell and gorgeous high-resolution display as the original, and its other outward changes are mostly subtle. Perhaps that's why Google chose, confusingly, not to give this new generation of its flagship a serial number 2.
The important changes are under the hood, and the biggest is the CPU. The first model's Intel Ivy Bridge chip had plenty of power but disappointing battery life—five hours by Google's spec, but barely more than three hours in our review of the original Pixel. Two years later, Intel's new Broadwell processors offer performance and battery life to spare. Here's a peek at the performance we're seeing so far.
As the chart above shows, the new Pixel is about 28 percent faster than its predecessor in Google's own Octane 2 Javascript test, which measures latency when running browser-based applications. We asked Andrew Bowers, Google's Director of Consumer Hardware, what kinds of apps would need all that power. "Gaming," he replied, naming Bastion as an example. "Or having 50 tabs open, or driving multiple displays," added Product Manager Adam Rodriguez.
Does that mean Chrome will be pushing for more game development? Rodriguez and Bowers exchanged looks before Bowers hedged, "not in particular, but it definitely enables new use cases." Uh-huh. We're continuing to run other tests and will include the gory details in our full review, but so far, so fast for this Pixel's new Broadwell CPU.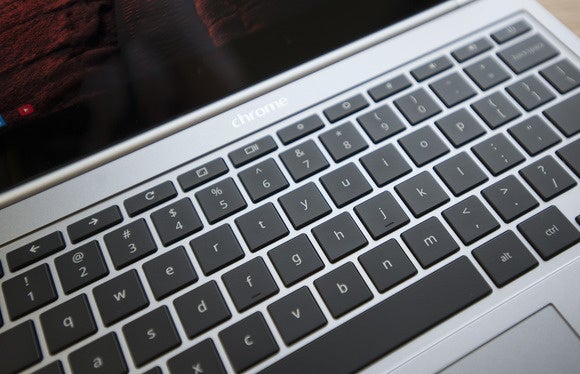 The new Pixel will have two CPU choices. We have the base unit, whose $999 price—$300 cheaper than the first-gen's base model—includes a Core i5 CPU, 8GB of RAM, and a 32GB SSD. For $1299, you can get the Pixel LS. The 'LS' stands, I kid you not, for "Ludicrous Speed." A Core i7 CPU, 16GB of RAM, and a 64GB SSD await the lucky owners of this high-flying machine (Google did not provide LS review units.)
Google claims up to 12 hours of battery life on the new Pixel. That's a big jump from before, and Google's tweaked the Pixel's behavior to help goose the number.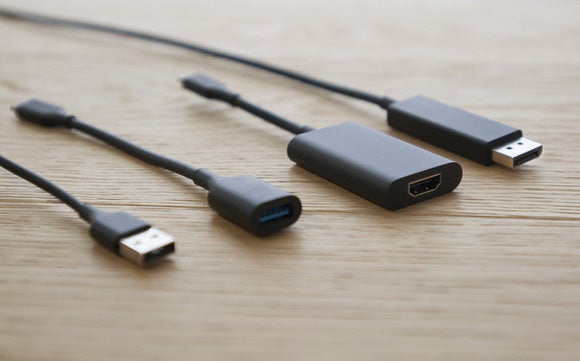 For instance, the backlight on the keyboard lights up only when it detects your hands hovering closely over the keyboard or trackpad. If your hands leave for more than 30 seconds, the backlight fades away, even when the Pixel is plugged in. The display also adjusts its brightness based on what's shown onscreen. Of course, a huge battery helps: Google told me it was a 72-watt-hour power pack. We'll tell you how this monster fared in our tests when we finish our full review.
Here's the last big change: Two USB-C ports, on the left and right sides near the back, deliver both power and connectivity. You can plug in the included USB-C standard power adapter ($60 to buy another) on either side, or one of Google's optional connectors for USB-C to HDMI ($40), DisplayPort ($40), or USB-A (adapter or cable, both $13). The mini-DisplayPort, and dual USB 2.0 ports on the original model are gone; the new model has two USB 3.1 ports, an SD card slot, and an audio jack.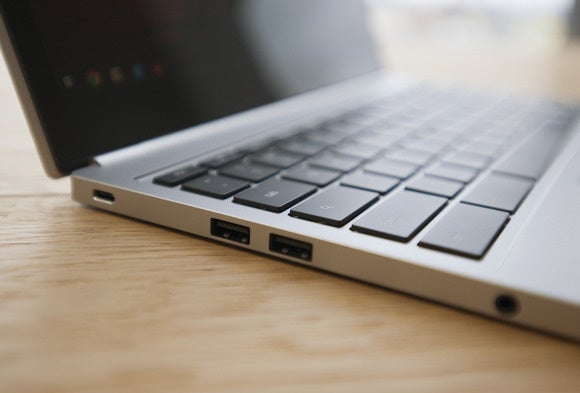 The other exterior changes are nice, if less noticeable. The display's piano-style hinge is a sturdier design. As a result there is noticeably less flex in the screen—always a good thing. A new trackpad (still etched glass) is bigger and more responsive, at least per Google, though I thought the old one worked fine.
The display changes slightly as well. It's still a 12.85-inch touchscreen with a stunning 2560×1700-pixel resolution and 400-nit brightness. For the new Pixel, Google also improved the color gamut. Most eyes may not notice the difference—to me, both the old and new screens are just plain gorgeous—but we'll tell you more after running some display tests.
So why no tablet functionality—say a hybrid form factor, or a 360-degree hinge? Bowers hedged again: "That's one of a few factors we're going to see more of." But he moved away from tablets to touch, which both the old and new Pixel support. "We're going to see touch become a more important factor."
Think of the Pixel as a dream machine. It's not something everyone will be able to afford, or need. But it symbolizes what the Chrome OS ecosystem could be, and it's a necessary standard-bearer against the competition—high-end MacBooks and Windows systems like Dell's XPS 13. Most likely it'll land in the hands of developers and power users who want to push that ecosystem into the future.
Do you think the Chrome ecosystem needs a flagship like the Pixel? Let us know in the comments. We'll have the full story on this premium laptop in our upcoming review.