At a Glance
Expert's Rating
Pros
Sexy milled aluminum chassis
Reasonably priced at $1,000
Cons
Throttles under heavy CPU loads
Big and heavy
Our Verdict
HP's Spectre x360 is one sexy convertible laptop with a full-sized comfortable keyboard and ultra-wide trackpad. Using Intel's latest 5th generation CPU, the Spectre x360 main Achilles's heel is its size, weight and slight thermal throttling under heavy workloads.
Best Prices Today: Spectre x360
HP's new Spectre x360 is a convertible, a branch of the laptop family tree born out of the belief that tablets will take over the world. Now that we know there's room for both laptops and tablets after all, convertibles still bridge the gap, with more sophisticated designs. In fact, one of the best features of the Spectre x360 is that you'd never know this sexy, milled-aluminum laptop was a convertible until you folded the screen all the way around to tablet mode.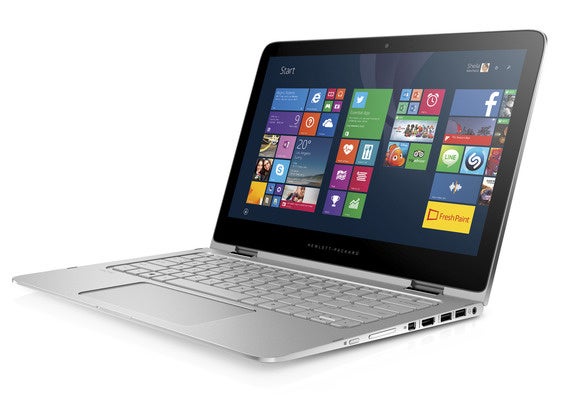 This may sound silly, but it's actually a key point for those who just don't believe in Microsoft's Surface Pro 3. Sure, the Surface's keyboard is pretty good, but the "lapability" of it is still very poor compared to the Spectre x360 or a traditional laptop.
A closer comparison to the Spectre x360 is Lenovo's super-thin-and-light Yoga 3 Pro. Rather than mask its convertible capabilities, the Yoga 3 Pro shows it off, with its distinctive, watchband-like hinge. For those who can't take that bling-style look, however, the Spectre's elegance may be more appealing.
The Spectre x360 is an important launch for HP. Everyone knows the PC (and printer) division will be on its own soon. The PC division needs to prove to the world that it has what it takes to survive on its own. The Spectre x360 brings no shame to the family, but it has at least one compromise that even HP apparently didn't see coming.
A close collaboration
The Spectre x360 is also distinctive for being the product of a close collaboration between HP and Microsoft. The two said that when the first prototypes arrived from the factory, Microsoft engineers received theirs at the same time as HP's engineers. Most OEMs don't cozy up that closely with Microsoft, but the software giant says its open to more partnerships.
The Microsoft partnership may also have emboldened HP to forsake the trialware that's usually loaded onto laptops. The Spectre x360 is amazingly clear of "bloatware," and of course there's no Superfish to worry about.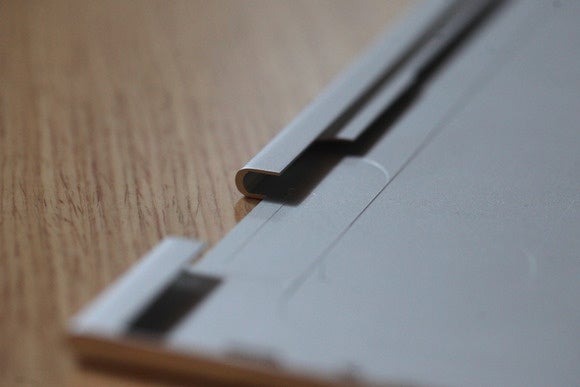 Speeds and feeds
The midrange x360 I reviewed featured Intel's popular 5th-generation "Broadwell" Core i5-5200U, 8GB of DDR3/1600, a 256GB M.2 SATA SSD and an IPS 1920×1080 screen. This configuration will set you back $1,000, but you can step it down to $900 by halving the SATA SSD and RAM. Personally, I'd say spend the extra $100. (For a closer look at all of HP's Spectre x360 offerings, you can check out different configurations at Amazon here.)
This configuration is actually fairly competitive. Outfitted with similar components, Dell's XPS 13, for example, is $800—but it's not a convertible and it even lacks the touchscreen at that price. Also, the XPS 13's smaller, lighter form factor feels great until you touch the keyboard. The Spectre x360's keyboard is far more comfortable to type on than the XPS 13's. Frankly, I'd probably trade the XPS 13's compact size for the Spectre x360's keyboard in a second if it were my everyday driver.
Other details of the Spectre x360 also impressed me. The tiny power button on the left side of the frame is a bit annoying—you have to hunt for it. However, it takes just enough pressure that you can't easily activate it by accident. On the convertible Yoga 3 Pro, I'd put the machine to sleep all the time just by picking up the chassis.
The clickable trackpad is superwide. While that can leads to false taps (I flail my thumbs when typing at full speed and mash my palms, too), I didn't have any issues with it—my measured typing speed was comparable to what I'd achieve on a full-size laptop keyboard. I can't say that about Dell's XPS 13. One issue on the Spectre x360 worth noting: On occasion, I found it didn't detect my right mouse-click.
In port selection, HP plays it safe and sane with three USB 3.0's, mini DisplayPort and a full-sized HDMI. There's also an SD card reader and a combo analog audio jack. Apparently HP doesn't live in that bizarro MacBook world, where you get lauded for eliminating consumer choice in ports and forcing people to carry a bag of dongles.
The shell is milled from a solid block of aluminum. To add pizzazz, HP polished the edges of the body and screen. It gives this convertible a beautiful look that sets it apart from any other unit we've seen this year.
Performance
The Core i5 isn't fanless, and HP says the hard work put into the design should make it as fast or faster than the competition. That's a big claim that only some of our tests prove out.
In our Handbrake encoding test, we take a 31GB MKV file and transcode it to a tablet-friendly format. It's a beast of a job, and some may say, too much for a laptop. With the performance and expectations of today's portables, however, we don't think it's asking too much.
In the Spectre x360's case, however, it delivered a surprising result. During this long encode its performance fell off quite a bit compared to the Dell XPS 2013's QHD+ unit, despite sharing the same CPU and RAM amount. Other performance tests put it right alongside the Dell.
HP blamed the SSD in the unit. The company said that it found Handbrake can be surprisingly disk-speed-sensitive, and it even saw sensitivities with the free encoder just by switching NAND types. I haven't found that in my previous experiences with this particular test. The good news: The company said it was looking at adding a configuration to the Spectre x360 that would support much faster M.2 PCIe SSDs.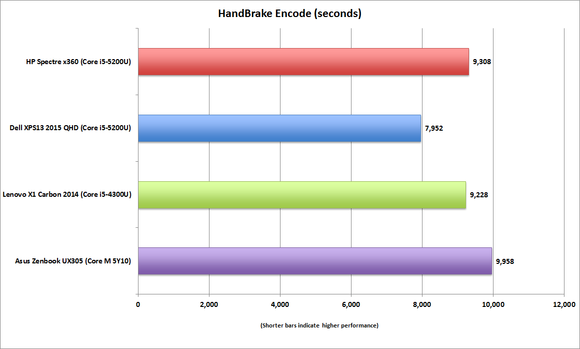 Thermal throttling? Probably
Still, it's hard to believe the fault lies completely with the speed of the M.2 inside the Spectre x360. My gut still says the problem might be the culprit I often see: CPU throttling from heat.
I subjected the Spectre x360 to several runs of Futuremark's 3DMark Sky Diver test. Rather than just run the overall benchmark, I left on the "demo" mode, which includes several minutes of "cool" graphics sequences. Most reviewers, including myself, usually uncheck this mode to save time. The result I saw for the Spectre x360 when I first tested it some weeks ago, for example, was 2,751—a little faster than the Dell XPS 13 2015 QHD+, which scored 2,650.
I know from previous reviews, however, that leaving the demo mode on heats up some laptops with borderline thermal solutions, or those that choose temperature or acoustics over performance, only to see their scores fall off. The first run of 3DMark on the Spectre x360 gave me 2,385. The second run: 2,327, and the third run hit 2,215. I then let the Spectre x360 sit for five minutes to cool down. I ran the same test but with the demo mode turned off. The result? 2,721.
Surely we'd see this with any Ultrabook pushed this hard, right? As a control, I broke out Dell's XPS 13 2015 QHD+ model and ran 3DMark three times with the demo mode on, barely giving it time to recover between runs. The first score: 2,707. The second: 2,708, and the final run: 2,715. I then let it sit for five minutes and ran it again with the demo mode switched off: 2,715.
This is a very roundabout way of saying the Spectre x360 exhibits some thermal throttling. Perhaps there's also some SSD sensitivity in Handbrake as HP says, but that's about a 14- to 15-percent difference in performance I'm seeing from heating up the CPU in 3DMark, and that does not touch the SSD.
This isn't a gaming test necessarily, it's a thermal load test. Any lengthy CPU or GPU load on the Spectre x360 would likely see performance fall off. How far down it'll throttle I didn't test, but Handbrake saw about an 18-percent difference between the XPS 13 and Spectre x360 during its 2-hour-plus encode.
To be fair, the XPS 13 is slightly thicker than the Spectre x360, and its fan curve is borderline obnoxious at times with its original BIOS. But it's pretty obvious there's no throttling issue on the XPS 13—Dell simply chose flat-out performance all the time. When you also consider that the XPS 13 is smaller, that puts it more in perspective.
Design choices
Keep in mind, laptop designs are all about balancing fan noise, shell thermals, and performance. Like the old saying goes, you can't have it all, especially in a thin laptop.
It's clear HP decided to let performance fall off rather than subject you to searing temps. I re-ran our encoding test at one hour in and recorded the highest temperature at 118 degrees Fahrenheit on the hottest point on back. At the same time with the XPS 13, I saw a similar 118 degrees in one spot of the laptop.
On the keyboard, though, the Dell would hit 109 degrees on part of it, with part of the hinge reaching 125 degrees. The hottest the HP would get is 100 degrees. Such a throttling hit isn't huge (I'm actually seeing far more in another laptop I'm testing), but it goes counter to HP's brag that the Spectre x360 offers the "best performance" possible. Perhaps the company should have said: "Best performance possible while balancing user experience in fan noise or skin temp." That I'd buy.
Impressive battery life
The good news for the Spectre x360 is its impressive battery life. The unit features a big 56-watt-hour battery, compared to the Dell's 52-watt-hour pack. HP says it also intentionally chose an IPS panel with PSR (panel self refresh technology). PSR works by essentially shutting off the graphics output as well as the embedded DisplayPort link to the panel.
The result: The Spectre x360 offers 1:45 more run time over the XPS 13, which uses a high-resolution, 3200×1800-pixel screen. Dell says that panel is IGZO-based, so it's more power-efficient than a typical IPS high-res panel; however, IGZO can't compensate for its 5.7 million pixels vs. the 2 million pixels in the HP. Only the Dell XPS 13 with the lower-resolution 1920×1080 panel beats the Spectre x360. (That model of the XPS 13 also lacks a touchscreen, another battery suck.)
The screen itself is quite gorgeous. It didn't exhibit excessive leakage nor compression banding. As a ten-point touchscreen, it's glass and and naturally reflective, which I've come to expect. It's beautiful, but at times it felt too reflective. The touchscreen is directly bonded to the panel, though, which brings the pixels as close to you as possible.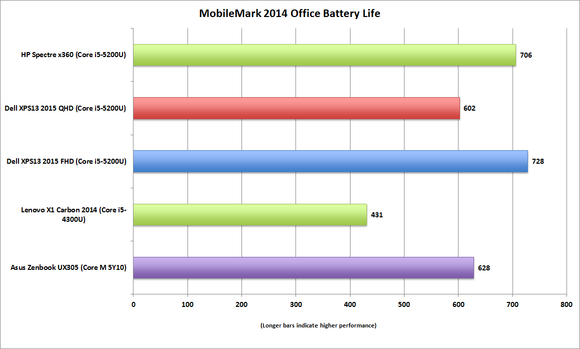 Conclusion
There's a lot to like in the Spectre x360. It offers a convertible's versatility and great "lapability." It's also flat-out gorgeous with its polished aluminum edges. The keyboard alone makes it superior to the Dell XPS 13.
But—and you knew the 'but' was coming—it's not the lightest convertible at 3.3 lbs, nor the smallest. I also nit-pick that HP sexed up everything about the Spectre x360 except the power brick, which is the same brick you'd get with the company's $199 Streambook! Even the company's drop-dead-gorgeous Omen used one boring block of a power supply. I know there's something to be said for uniform power bricks from the same company, but with the Spectre x360, it feels like you have a Rolls Royce with Yugo tires.
The other issue is that thermal throttling. Is it a big deal? For everyday users, it shouldn't be. You'll be hard-pressed to see a slowdown in most tasks. If, however, you intend to push the laptop as hard as you possibly can, know that you'll be giving up 15 percent in performance on some tasks.
Best Prices Today: Spectre x360