Here's the first Android Auto option short of buying an entire car: Pioneer's new generation of NEX receivers started shipping Monday, three models of which offer Android Auto support. This follows the release of Google's Android Auto app last Thursday.
The three compatible systems have MSRP prices ranging from high to somewhat reasonable—but all still cost far less than a new car! The top-of-the-line AVIC-8100NEX, with a capacitive touchscreen, costs $1,400. You can save a couple of C-notes by opting for the $1,200 AVIC-7100NEX (with its inferior resistive touchscreen). The most affordable model is the AVIC-4100NEX, for $700. All the displays have a 7-inch diagonal width.
The touchscreens obviously add to the cost of these receivers, but that feature is essential for bringing a pared-down, smartphone-like interface to your car.
Why this matters: Android Auto helps Google by bringing the Android ecosystem into the car. It helps Android users by letting them use core functions that benefit travel, like calls and texts, navigation, and Google Now, with an interface that's easier and safer to use while driving. There's still a lot to do—such as more app development—but Android Auto finally joins Apple CarPlay and MirrorLink in the race to marry smartphone with car.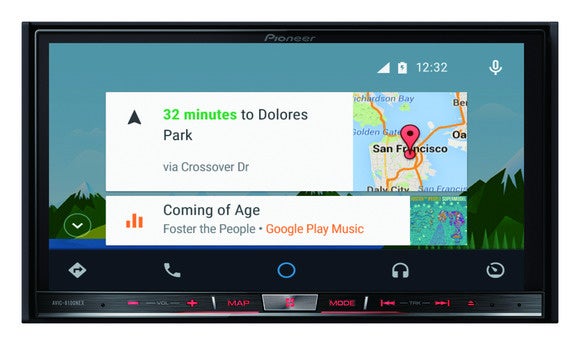 First glimpses of Android Auto
Android Auto won't be a straight translation of your phone to the car. In the beta versions of Android Auto that we tried at Google I/O 2014 and also at the LA Auto Show, the interface featured large-scale, clean, easy-to-skim designs aiming to minimize distraction while driving. Of course Android Auto also incorporates voice control.
Unlike Apple CarPlay, however, you won't be able to use your phone for other things while it's hooked up to Android Auto. While Apple decided to give its users a little leeway, Google decided to dedicate the phone exclusively to the car functions. We also expect that like Apple CarPlay, some particularly distracting features like the camera will be completely disabled while connected to Android Auto.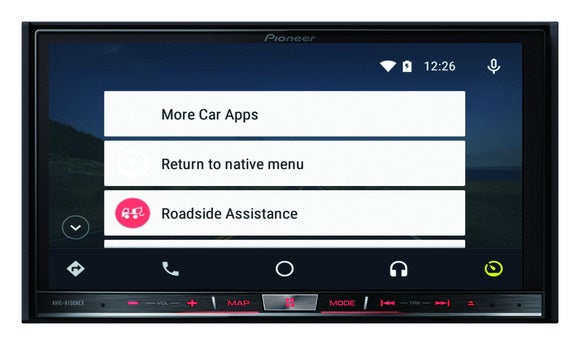 Don't expect to use all your Android apps, either. Google hasn't said much about its plans to build out an Android Auto app ecosystem, though it must be in the cards. Pioneer offers its own AppRadio collection of apps to use in the car, and it could include some of your favorites.
Android Auto will work with any Android devices using the 5.0 (Lollipop) OS version or later. You'll also need the appropriate cables to connect to your phone. All five NEX receivers will also support Apple CarPlay. The NEX receivers will be available through authorized Pioneer retailers.