If you're worried that the Apple Watch might be trying to do too much, Olio wants to be your high-end alternative.
The startup plans to launch a limited run of 1,000 smartwatches this summer, with a primary goal of looking sharp. Olio's watches have round designs, brushed stainless steel bodies, and either steel or leather straps. The steel version will cost $595, while a black model will cost $745 (plus another $50 for the metal watch band).
Just as crucially, they aren't going to do a whole lot.
While Olio's watches do have touch screens—these aren't like the "horological smartwatches" that some Swiss brands are working on—the company is essentially entering the market without an ecosystem. You won't see an expanding range of functions brought forth by third-party apps and partners, as you can expect with the Apple Watch, Pebble Time, and Android Wear.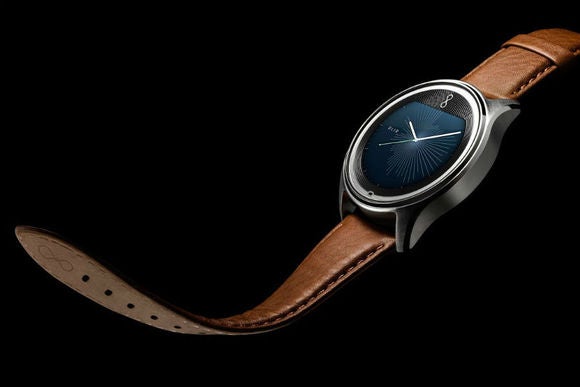 But Olio, unsurprisingly, is trying to pitch this as a feature, not a drawback. The company argues that current smartwatches are too overwhelming, so rather than trying to build up functionality over time, Olio is focusing on dealing with notifications in an intelligent way. The plan is to have a system that learns what you actually care about, and sorts alerts into two streams—past and future—that you can sift through.
Olio does want to offer controls for third-party connected home products, such as lights, thermostats, and door locks, but here the details are murky. An Olio spokesman said the company will tap into open APIs where available, and make partnerships in some cases. Otherwise, Olio will throw in some basic features like remote music controls, a stopwatch, and weather forecasts.
As for battery life, Olio will last for "multiple days," and has a magnetic coil for wireless charging on the body's back side. The watch is also waterproof, has a microphone for yet-undefined voice controls, and connects to Android or iOS over Bluetooth.
Olio says it will start taking pre-orders on its website soon.
Why this matters: This notion of not needing apps does seem convenient for a company that's too small to build its own platform, but Olio's watches could still be useful if the system for handling notifications is up to snuff. Besides, if we assume that everyone and their mother will soon be wearing the same handful of Apple Watch variants, the small-batch smartwatch is one way to maintain some individuality without spending $10,000.