At a Glance
Expert's Rating
Pros
Very fast
Top-shelf security and management features
Excellent IPS display
Cons
Somewhat thick
Touchpad on the optional keyboard is a bit finnicky
Our Verdict
This Windows tablet delivers laptop-like performance, enterprise-level security, and multiple docking options.
What happens when you put an Intel Core i5-4300Y in an 11-inch tablet like the Dell Venue 11 Pro? It gets really, really fast. Indeed, having used the previously-reviewed Atom-based version of the Venue 11 Pro, I can attest to a rather significant jump in performance.
The "Pro" suffix indicates that this tablet runs Windows (Dell's Venue tablets are Android devices), and the "7139 Security" tag adds a whole list of features not found in the more consumer-oriented Venue Pro. These include Intel vPro and TPM (Trusted Platform Module) support (for hardwired security and remote management), and a fingerprint scanner and smart card reader to keep the bad guys out.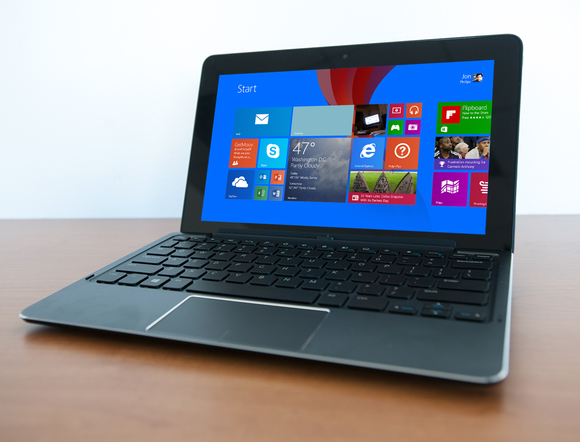 In its basic form, the Venue 11 Pro is a widescreen Windows 8 tablet with some clever docking options: A small keyboard, a super-thin keyboard, and a port-laden pedestal that can transform it into a high-powered Ultrabook or an under-screened, all-in-one desktop. I say under-screened, because as large as the 10.8-inch, 1920×1080 display seems when it's in your hand, it's rather tiny when you have a full-sized keyboard and mouse in front of it.
You might also be interested in Laptops for work and play: the differences that matter.
The Venue 11 Pro was only doable in AIO configuration for weak-eyed me with the keyboard tucked in a tray underneath my desk. Dell's Tablet Dock does support dual display configurations, however, and it's equipped with both HDMI (max resolution of 1920×108) and DisplayPort (max resolution of 2560×1600).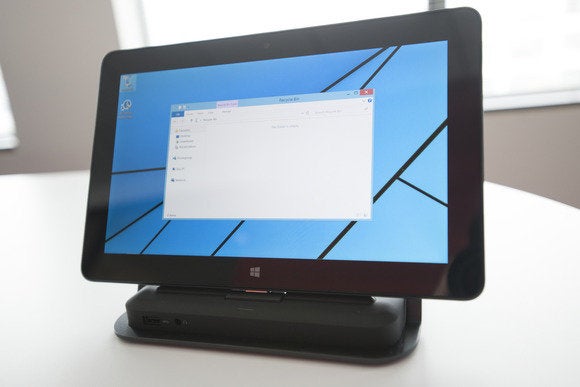 The 7139 (Security) model is a higher-end configuration priced at $1081. In addition to the aforementioned quad-core CPU and security features, it also comes with 4GB of DDR3/1600 memory and a SanDisk 128GB m.2 SSD. The tablet measures 0.6 inches thick and weighs in at 1.85 pounds sans keyboard. As tablets go, this one feels a bit thick, but I didn't find it overly heavy. Then again, I tend to prop a tablet on my chest while lying down, or rest my elbows on the counter while I hold the tablet. Folks who hold the tablet without extra support might disagree.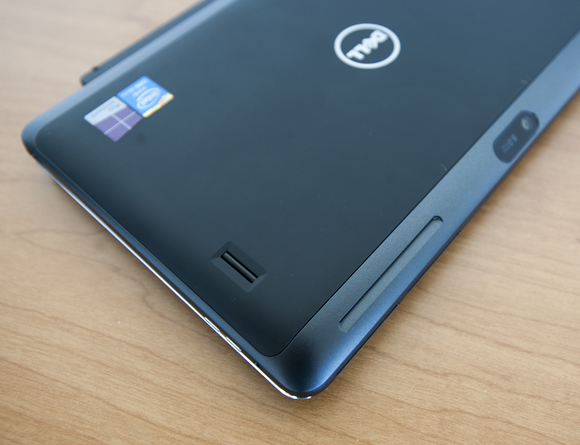 Lay of the land
The Venue 11 Pro 7139 features an 8MP rear-facing camera and a 2MP front-facing webcam. The right side is home to the power button, reset pinhole, microSD card slot (with a pinhole release), a micro-USB 2.0 port for charging the unit, and a mini-HDMI port. The lower edge of the tablet has only the docking port and auxiliary battery connection points. On the left are a full-sized USB 3.0 port, the volume control rocker, and the headset jack. The top is occupied solely by circulation vents—a Core i5 needs to breathe.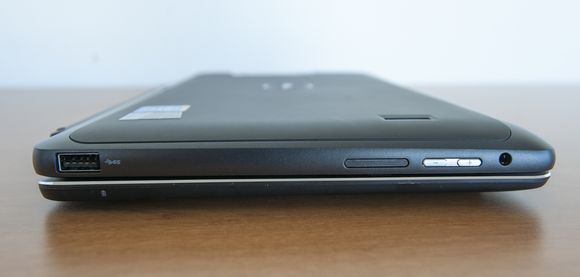 The bottom of the Venue 11 is largely given over to a pressure-fit plastic panel that pops off to reveal the 36-watt-hour battery. It also facilitates access to other components, though the only thing you can get to without further disassembly is the micro-SIM card for optional cellular broadband. The Venue 11 Pro 7139 also supports 802.11ac Wi-Fi (via an Intel Dual Band Wireless-AC 7260 adapter), Bluetooth 4.0, and WiDi/Miracast (for wireless video streaming to displays that support that standard).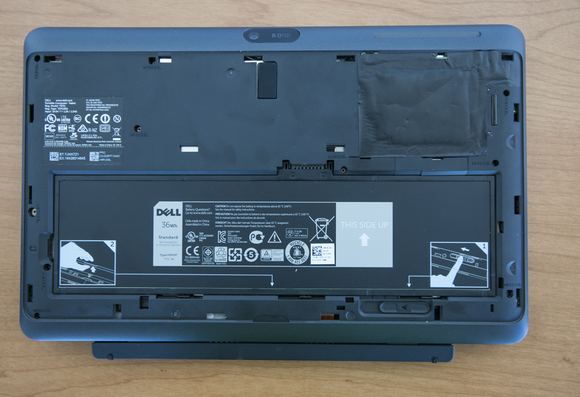 Our test unit came with the 1.5-pound Mobile Keyboard ($160), which also houses a supplementary 28-watt-hour battery. The significantly lighter (0.72-pound), Surface-style Slim keyboard is also available for $110, but it does not include a second battery.
The Mobile Keyboard types nicely for its size, and the keys have good bit of travel. The one-piece touchpad, however, proved idiosyncratic at registering clicks when pressed in the corners, versus the center of the click area. Swiping, cursor movement, and tapping, on the other hand, registered without a problem. Dell also shipped its $27 Active Stylus, which provides Wacom-like abilities to the unit.
This is one fast tablet
The Venue 11 Pro model 7139 scored a very un-tablet-like Laptop WorldBench 9 score of 52—a full 23 points higher than the Atom Z3770-based Venue 11 Pro we tested earlier this year. It felt super-lively in my hands-on and played even high bit-rate 1080p movies like butter. In spite of its faster CPU, the model 7139 managed to run for 4 hours and 48 minutes by its lonesome, and 7 hours, 46 minutes with the Mobile Keyboard keyboard/auxiliary battery attached.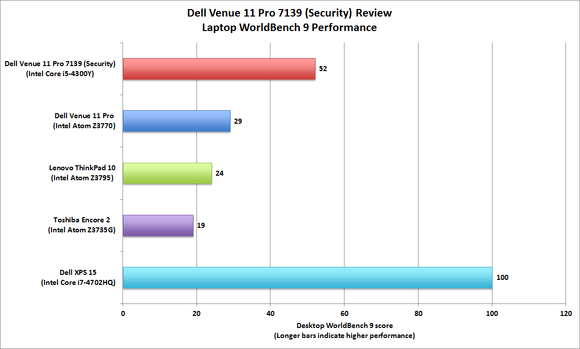 Sadly, the Core i5-4300Y's integrated graphics (Intel HD Graphics 4200) don't game. The tablet struggled to reach 15 frames per second with BioShock Infinite, even with the resolution dialed down to 1024×768 and image quality at low. Sound, on the other hand, was surprisingly good. Apparently the air spaces required to keep the i5 cool helps with bass response. The Venue 11 Pro sounds beefier than many full laptops I've reviewed. Yes, the games you can't play will sound great!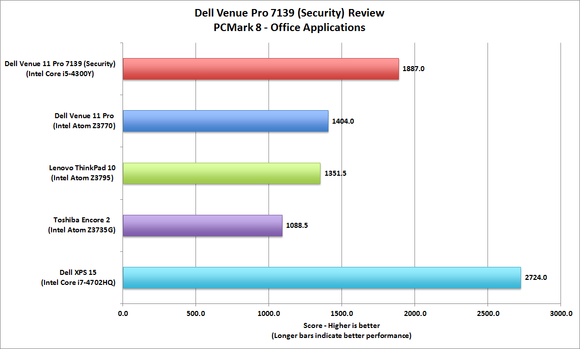 If you're into the Venue 11 Pro's form factor, versatility, and accessories, but don't care as much about—or can't afford—this model's performance and security features, a host of less-expensive configurations are also available. Dell's website is confusing to navigate, but you should be able to find a model that fits your budget if you dig around. The Venue 11 Pro is warrantied for a single year by default, but you can purchase up to three years—including onsite service—for $216.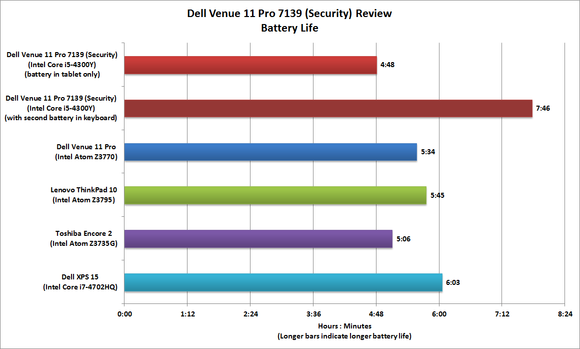 Expensive, but worth it
The Venue 11 Pro 7139 (Security) is a versatile business tablet/laptop/mini all-in-one that's surprisingly usable in all three orientations—provided you can live with the heft and smallish display (as a desktop without a second monitor, that is). This high-end model proved particularly adept at movies and presentations, but it's a highly capable, very secure Windows 8 tablet in nearly all aspects.
The package reviewed here, which includes several options including the stylus and keyboard dock with supplemental battery, costs $1081. That's a lot of green, but its performance justifies its price tag.