You don't need an electrical engineering degree to build a robot army. With the $35 Raspberry Pi B+, you can create robots and connected devices on the cheap, with little more than an Internet connection and a bunch of spare time.
The Raspberry Pi is a computer about the size of a credit card. The darling of the do-it-yourself electronics crowd, the Pi was originally designed to teach kids computer and programming skills without the need for expensive computer labs. People have used Raspberry Pis for everything from robots to cheap home media centers.
The Pi sports USB ports, HDMI video, and a host of other peripherals. The latest version, the B+, sports 512MB of RAM and uses a MicroSD card instead of a full-size card.
Most people install a Linux distribution called Raspbian onto the SD cards needed to boot the Pi. Raspbian is a version of Debian Linux (the distribution Ubuntu is based on) designed specifically for use on the Pi. Raspbian is also recommended for new Pi users to familiarize themselves with the device and the Linux operating system.
If the the big "L-word" scares you, rest easy knowing that Raspbian ships with a familiar graphical environment, complete with a web browser. And you can get your Pi up and running in less time than it takes to bake an edible raspberry pie.
Ready? Let's get cooking.
Raspbian Raspberry Pi
Yield: One web-ready 2.2-inch x 3.4-inch Raspberry Pi. Processing time: about 20 minutes. Prep time: about 20 minutes.
Before you start, gather everything you need in one place, preferably near your router.
Ingredients
1 Raspberry Pi B+, bare
1 USB mouse
1 USB keyboard
1 ethernet cable
1 monitor with HDMI (preferred) or DVI input
1 HDMI to DVI adaptor (optional)
1 USB cable with micro-USB connector (you can borrow this from an Android phone) and wall adapter
1 8GB MicroSD card with standard SD adapter
Required equipment
Windows PC with SD card reader and Internet connection
Directions
On the Windows PC, download Win32 Disk Imager from SourceForge and a copy of Raspbian from RaspberryPi.org. Set aside time for downloads to finish.

Win32 Disk Imager should only take about 30 seconds to download on a fast connection, while Raspbian will take about 12 minutes.

While files are downloading, combine the mouse, keyboard, HDMI cable and ethernet cable with the Raspberry Pi.

Connect other end of ethernet cable with your home router and the other end of the HDMI cable to your monitor. If you chose to use a monitor with DVI only, use the HDMI to DVI adaptor.

Alex Campbell

This Raspberry Pi has all the necessary peripherals connected with the exception of the USB power supply and the micro-USB card that houses the operating system.

Combine the micro-USB-tipped USB cable and wall adapter. Combine MicroSD card with SD card adapter. Set aside.

Once Win32 Disk Imager is finished downloading, install the software.

When Raspbian is done downloading, extract the IMG file to a handy location.

Insert the SD card adapter into the PC's SD card reader and start Win32 Disk Imager as an administrator. Click the folder icon to browse for the Raspbian IMG file, click the drop-down menu under Device and select the appropriate drive letter for the SD card. Click Write, and let the program run for about 7 ½ to 8 minutes.

When Win32 Disk Imager is finished writing, click OK and Exit.

Writing the Raspian image to the MiscroSD card will take about eight minutes.

Remove the SD card from your PC and pull out the MicroSD card from the SD card adapter. Insert the MicroSD card into the Raspberry Pi until it clicks securely.

Alex Campbell

The MicroSD card is inserted into a slot on the underside of the Raspberry Pi.

Plug USB power cable into the wall and into the Raspberry Pi to boot the computer.

The Raspberry Pi is powered by a micro-USB cable. The USB cable can be powered from a wall adapter or a PC that is turned on.

When the Pi boots, select the first option to format the remaining memory of the MicroSD card for use as storage.

Alex Campbell

In the Raspian setup system, use the arrow keys, the Tab key and the Enter key to navigate and select options.

Set your time-zone and keyboard layout. Raspbian is set to use a U.K. language and keyboard for layout, so be sure to set the keyboard and language to your local language. For most people in the U.S., the standard U.S. keyboard layout will work.

Once you've configured your options in the setup program, hit Tab and select Finish. On the next screens, select appropriate "compose" keys, which are used to create special characters. I used the right Ctrl and Alt keys as compose keys because I rarely use them.
Once the graphical environment starts, you're good to go. While the Pi can handle web applications like Google Apps, don't expect desktop-like performance. Remember that the Pi is running desktop software on really cheap hardware meant for mobile phones.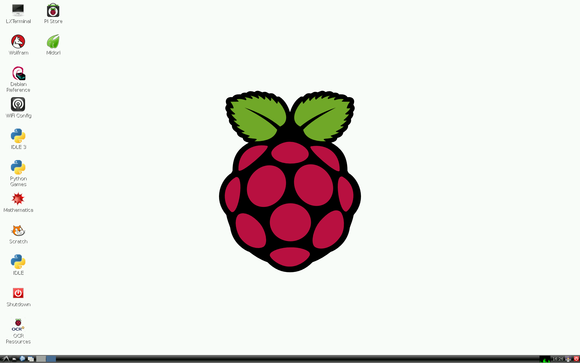 Raspbian comes preloaded with the Midori web browser. To install another browser like Chromium, you'll have to use a couple of commands with console program apt. But first, you'll have to update the list of packages available to apt. Type or paste the following into a console window:
sudo apt-get update
Next, open up a terminal and type sudo apt-get install <package name> to install the appropriate software package.
sudo apt-get install chromium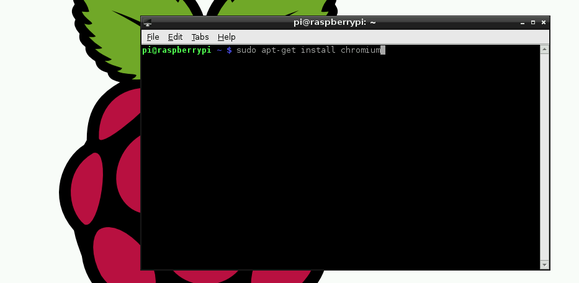 You can use the apt command to install everything from LibreOffice to the Apache web server. A full list of Debian packages available for Raspbian is available online.
To turn off your Pi, double-click Shutdown on the desktop. Once the Pi's screen has gone dark and is no longer showing text of any kind, simply unplug the Pi from its USB power supply.
Once you feel at home with Raspbian, you can try writing programs for the Raspberry Pi using Python, or try your hand at other distributions like Pidora (a Pi-friendly version of Red Hat's Fedora Linux) or the Raspberry Pi version of Arch Linux.
Because the Pi is so cheap, don't be afraid to experiment and break things. If you ever get in a situation where your Raspbian installation is unusable, simply use Win32 Disk Imager to flash a fresh copy of the operating system onto your MicroSD card and start anew.
Whether you have a big project in mind or just want to learn how to program in Python, the Pi is a great way to get a taste of what tiny computers can do.
Note: When you purchase something after clicking links in our articles, we may earn a small commission. Read our affiliate link policy for more details.