The first thing you notice about Alienware's new Area-51 refresh is that it's a freakin' triangle. Yeah, you heard me right—Alienware is bringing its Area-51 desktop line back from the dead, and the thing is shaped like a triangle. Pythagoras would be proud.
But let's talk the interior first. Underneath the hood, the 2014 incarnation of the Area-51 is a beastly machine. Alienware's announcement matches up with some other news you might've read this morning—Intel's new high-performance Haswell-E Core processors. The Area-51 has them, with both six- and eight-core Intel Haswell-E processors available. While many games still use only one or two cores and Intel's four cores have been the standard for PCs in recent years, we can expect that to change now that both the PlayStation 4 and Xbox One are eight-core machines.
On top of that, the new Area-51 features up to 32GB of top-of-the-line DDR4 memory and support for up to three Nvidia or AMD video cards. We haven't run any official benchmarks yet of course, having had only brief hands-on time with the Area 51 earlier this month in San Francisco. However, from the specs alone I can guarantee this is one powerful machine.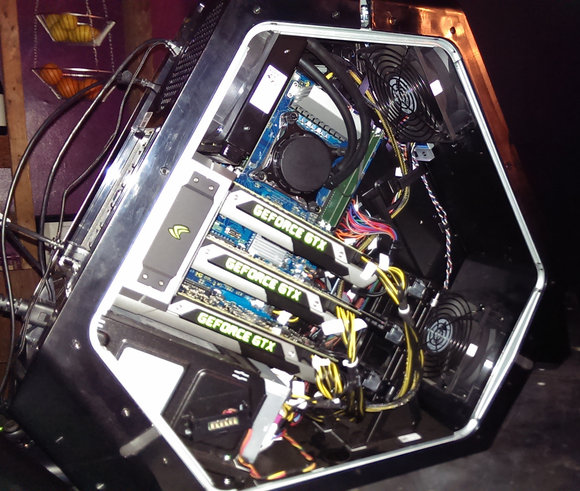 The system also features some standard high-end rig commodities: liquid cooling, nine different programmable lighting zones, and factory overclocking. The interior is surprisingly roomy, giving you plenty of room to upgrade components later (though you probably won't need to for a long while). You also get an updated Alienware Command Center, used to both monitor temperatures and adjust overclock settings, voltages, and the like. It's a relatively sleek presentation of something that's typically intimidating to non-enthusiasts.
About those angles…
But back to my first point—it's a for-the-love-of-all-things-holy triangle. I mean, not entirely. There are those little cut-outs at each angle which I guess makes it an awkwardly-shaped hexagon. Let's not lie to ourselves, though. This is a triangular computer.
I can hear you now: "Are you insane, Alienware? A triangle computer? What, are you too good for rectangles? Four sides just not aerodynamic for you to reach top speed on the Information Superhighway?"
After the initial shock wears off, however, it actually seems like a really cool design. Maybe.
There's a ritual in my apartment. It happens every day. Some USB device (I'm not even going to bother trying to pick one) needs to be plugged in, but my two front ports are occupied. I need to crawl under my desk, wonder why I don't sweep under my desk more often, pull my computer away from the wall, search for an open port, find the cable again, and then plug my clearly-made-up-for-this-example device in.
Further reading: Hands-on with Alienware's Alpha: PC gaming in the living room just got serious
No, but seriously, getting to a normal PC's rear I/O panel is a nightmare. The Area-51, by contrast, just tilts away from the wall. You grab onto the top handle and pull forward, rotating it up onto one of its corners and allowing easy access to the rear. As an added benefit, the sloped front panel is also easier to plug into than a traditional vertical panel.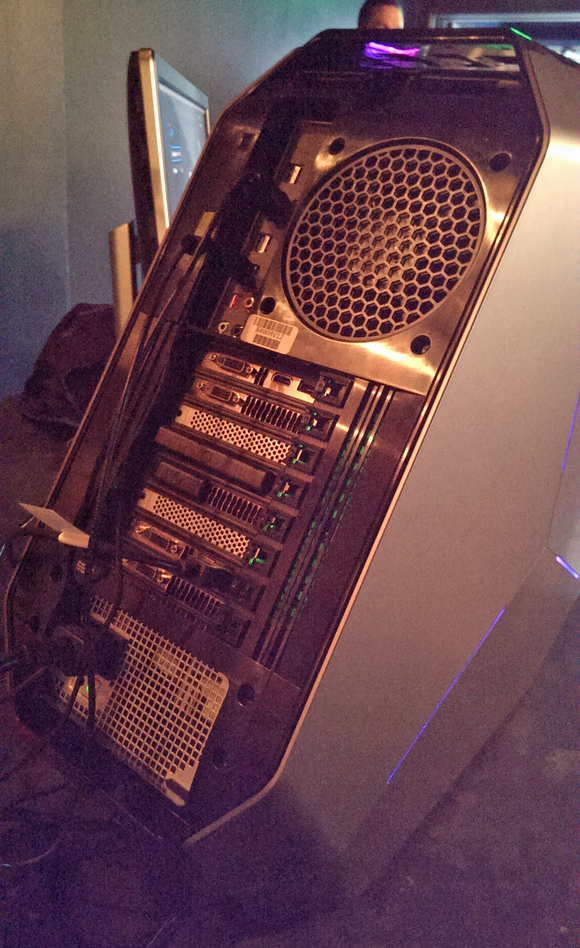 Fans pull in air from the front-bottom of the machine and jet up and out the rear-top. Due to the triangular shape you can place the machine up against the wall and still have it vent out adequately. There's no need to jockey it an inch or two away from the wall to ensure heat dissipation
Is anyone considering heat dissipation or access to their computer's rear panel when purchasing a case? Probably not, because big rectangular boxes are the standard. But it's things like the reborn Area-51 and Razer's audacious Project Christine concept that make me think we're just complacent. Maybe there are things we could be doing better, even after approximately three decades of computer hardware looking somewhat the same.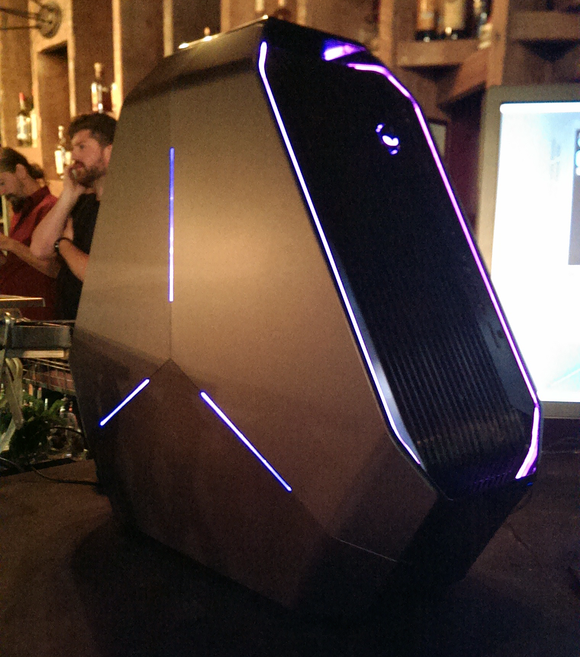 And what better to accompany this oddly-shaped computer than the first-ever 34-inch curved monitor—another new product from Dell, Alienware's parent company, featuring a 21×9 aspect ratio and a 3440×1440 resolution.
Bottom line
The Area-51 is certainly one of the oddest computer designs in recent memory, and befitting of its name. Whether the thing packs the performance you'd expect from its (undoubtedly expensive) price tag, we'll have to wait until units start shipping in October to know. If you're in Seattle for PAX this weekend, however, you can swing by Alienware's booth and check it out.
We'll let you know more details (price, shipping date, et cetera) when we have them.