For two years, Google has quietly been developing autonomous flying vehicles that can be used to deliver packages for disaster relief or for commerce purposes, the company revealed Thursday.
The program, dubbed Project Wing, has been housed under Google X, the company's secretive facility where it created other projects like Google Glass and its self-driving cars.
"Self-flying vehicles could open up entirely new approaches to moving goods—including options that are cheaper, faster, less wasteful and more environmentally sensitive than what's possible today," the company says in a document describing the effort.
The drones are designed to follow a pre-programmed route at the push of a button, flying at 40 to 60 meters above the ground.
One goal is to have the unmanned flying robots deliver small items like medicines and batteries that can be used for disaster relief or to bring aid to isolated areas. The initial idea was to deliver defibrillators to heart attack victims.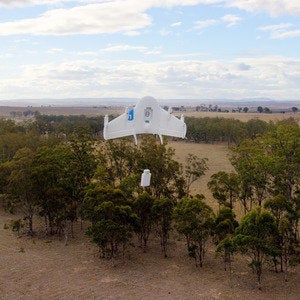 "Even just a few of these, being able to shuttle nearly continuously, could service a very large number of people in an emergency situation," Astro Teller, Google's "captain of moonshots," as it calls its big projects, told the BBC.
Prototypes have already been built and tested delivering packages to remote farms in Queensland, Australia. The country was chosen because of its more open rules about drone use, the BBC said. Farmers there received candy bars, dog treats, cattle vaccines, water, and radios.
Eventually, Google might use the drones to deliver retail items to consumers at home, said a Google spokesman. Google has been working to expand its Google Shopping Express service, which right now uses cars for deliveries.
Amazon kicked off the delivery-by-drone craze in December when it said it was testing them for its packages, though some didn't take the idea seriously at the time.
Having unmanned vehicles buzzing around towns delivering packages seems like a radical and potentially dangerous endeavor, but Google's involvement further validates the idea. The company stressed that it's early days for Project Wing and it might be years before it comes out of testing.
For the next year, Google will focus on the safety system for the drones, to teach them to navigate around each other and handle events like mechanical trouble.
Also, "we have to fly efficient delivery routes that respect constraints such as noise, privacy, and safety of those on the ground, and we have to be good enough to deliver to an exact spot the size of a doorstop," Google said.
Project Wing was reported earlier Thursday by the BBC and The Atlantic.