Smartwatches will be in the spotlight at the IFA trade show in Berlin, with LG, Motorola, Samsung, and Sony all keen to demonstrate their new products are what consumers want.
Samsung Electronics and LG Electronics announced their upcoming smartwatches, the Gear S and G Watch R, last week in advance of the show.
Samsung's Gear S is a 3G smartwatch that doesn't need a smartphone to function. It's powered by an unspecified dual-core 1GHz processor and has a curved 2-inch Super AMOLED screen with a 480 by 360 pixel resolution.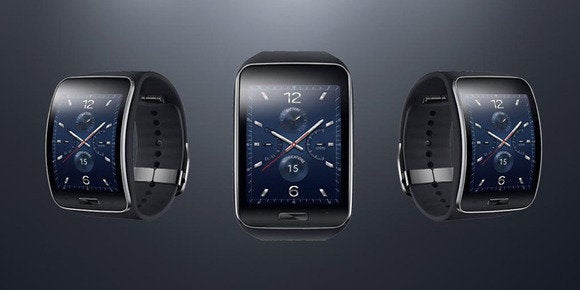 After using Android Wear on the Gear Live, Samsung is back to using the Tizen operating system on its latest model. Getting developers to customize apps for smartwatches will be a challenge for any company, particularly Samsung since Tizen doesn't have the fan base that Android and iOS have.
To help make up for the lack of apps, Samsung has teamed up with Nike on a running app and Nokia for maps.
The Gear S also has 4GB of integrated storage, 512MB of RAM and a 300mAh lithium-ion battery that lasts two days with typical use, according to Samsung. Pricing hasn't been announced, but the Gear S will start shipping worldwide in October.
Samsung has now announced five smartwatches in 12 months—the first model, the Galaxy Gear, was launched at IFA last year. The company's aim is clearly to consolidate its leading market position in smartwatches, particularly given relentless rumors about Apple's possible entry into the wearables market, research company CCS Insight wrote in its IFA preview.
The tactic is similar to what Samsung has done in the past—try out a number of different ideas and see what sticks. Given this approach, it's somewhat surprising the company hasn't put out a smartwatch with a round face, which LG and Motorola Mobility are expected to do soon.
Motorola's round Moto 360 has been a long time coming. It was announced along with Android Wear in March and will finally be introduced this week. Motorola has promised the smartwatch would ship in the summer and since it's already September the company has to deliver in the next few weeks to fulfill that pledge.
The Moto 360 is also a good looking device and is expected to have a 1.5-inch screen, be water and dust resistant, and have an integrated heart-rate monitor.
It will compete with LG's Android Wear-based G Watch R, which has a 1.3-inch screen and is powered by a 1.2GHz Snapdragon 400 processor. It has 4GB of integrated storage, 512MB of RAM and a 410mAh battery. It too has a heart-rate monitor and is water and dust resistant.
LG has provided a handful of images of the device, which looks more like a traditional watch, as opposed to the G Watch's rather bland design. The company seems intent on showing that the R is just that: an attractive wristwatch, because none of the images show the Android Wear interface.
LG and Motorola still haven't provided any details on what their smartwatches will cost. But the Moto 360 is rumored to have a $250 price tag. The G Watch R will become available in the beginning of the fourth quarter. There is no official ship date for the Moto 360.
Sony is also expected to launch a new smartwatch at IFA. The company is a veteran in the field, so far using its own version of Android. But given Android Wear's strong momentum, it's likely that Sony will use the Google platform on the new device, according to CCS Insight.
The smartwatch sector is still in its infancy, with products that have a lot of room for improvement. For example, tremendous advances across the entire component ecosystem are needed to achieve multiple days of battery life, according to Daniel Matte, an analyst at Canalys.
Wearable sales are still dominated by armbands from vendors such as Fitbit and Jawbone, which have more than a two-thirds market share.
Overall sales grew by 684 percent during the first half of the year to 6.2 million units, according to Canalys. To put that number in some perspective, about 6.3 million smartphones were sold every two days during the first six months of 2014.