At a Glance
Expert's Rating
Pros
Strong price/performance ratio
Built-in SD card reader
Light in weight
Cons
Short-ish run time
Issues with streaming high bit-rate MKV files
Our Verdict
This Wi-Fi drive works well with mainstream formats such as AVI and MPEG, but it needs a longer-running battery.
When you're late to market, you'd better have more features or a lower price tag than your competitors. Western Digital's My Passport Wireless has both. It's significantly less expensive per gigabyte than most competing drives, and it has a built-in SD card reader. On the downside, it could use a more substantial battery.
The WD My Passport Wireless is slightly chunkier than a standard external 2.5-inch hard drive, which is par for the course with battery-powered Wi-Fi drives. But it's light for its ilk, with the $130, 500GB version weighing 8.8 ounces; the $180, 1TB version tested here coming in at 9.6 ounces; and the $220, 2TB model at 12.32 ounces.
Other wireless portable hard drives we've reviewed: Seagate's Wireless Plus, Corsair's Voyager Air, Samsung's Wireless Mobile, Patriot's Aero, and Toshiba's Canvio AeroMobile.
The drive has a USB 3.0 interface and it will charge its battery off that bus when attached to a computer. The female USB connector at one end is bordered by an on/off switch and a Wi-Fi Protected Setup/battery status button. The left side sports an SD card slot for uploading multimedia content from digital cameras and camcorders. It can be configured to do this automatically when you insert a card, which is a handy trick. The top of the unit is home to power/battery and Wi-Fi status lights. The Wi-Fi is 802.11 b/g/n (2×2).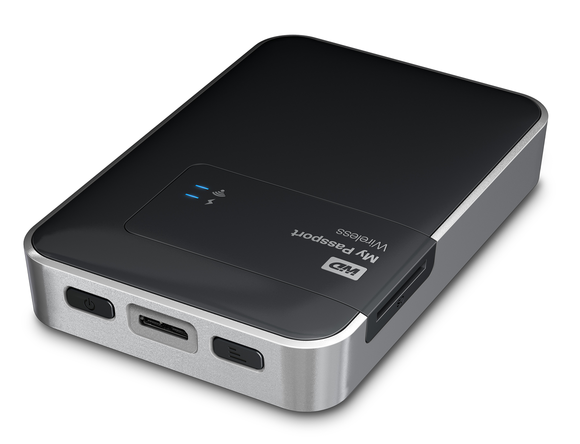 The WD My Passport Wireless's default IP address is 192.168.60.1, which is where you surf to configure the device. You can also check the storage, upgrade the firmware, and change the Wi-Fi security settings here. Connect the drive to another network that has Internet access, and you can pass that access through to any devices connected to the My Passport Wireless's portal. The device and any media on board are also accessible via WD's MyCloud apps for Android and iOS.
The My Passport Wireless's repertoire is shy a feature or two when compared to some of its competitors. Unlike Samsung's device, for instance, it can't serve as a battery backup for other portable devices. And while it does have UPnP and DLNA servers on board, it doesn't have an iTunes server. (Although to be fair, Samsung's drive has no support for iOS devices at all.)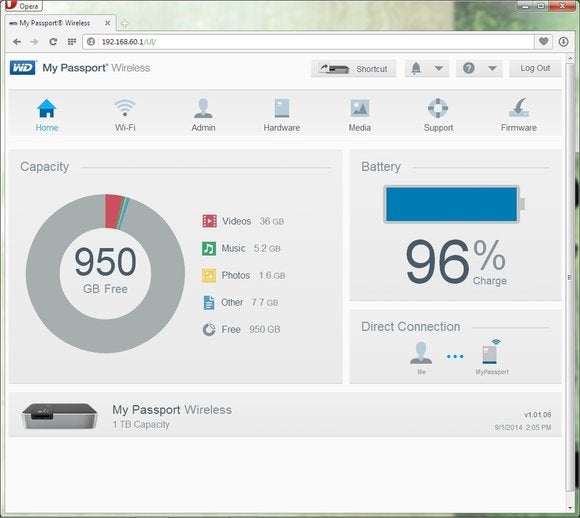 The WD My Passport Wireless's streaming performance seemed to suffer some of the same issues as the aforementioned Samsung drive. It streamed a high-bit rate, 1080p MKV rip of Master and Commander to a laptop sitting right next to it smoothly—for the most part—it periodically stalled for up to 10 seconds to refill the buffer. I noticed no such stalls with lower bit-rate MPEG and audio files, but I have a lot of large MKV rips and I'd rather not be forced to convert them. The network would also occasionally disappear if the hot spot was not constantly in use. Pressing the WPS button would bring it back. For those reasons, I give the WD My Passport Wireless middling marks on the streaming front.
WD claims the drive's battery should deliver around six hours of run time; my experience was more like four to five hours—and that was without streaming anything. I'm guessing WD achieved its weight win by deploying a smaller battery than the competition. The trade-off is probably worthwhile, though; this drive is easier to carry, and four hours of runtime is adequate for most scenarios.
Attached directly to a computer as a USB 3.0 drive, the WD My Passport Wireless performed very well on most counts. It read our 10GB collection of small files at 92.6MBps, and it read a single 10GB file at 109.3MBps. It wrote that same file just as quickly (109.3MBps). The only test where it fell down was writing our 10GB collection of small files. Its 51.1MBps was considerably faster than the Samsung Wireless Mobile's plodding 26.9MBps, but far slower than the Corsair Voyager Air and the Seagate Wireless Plus. But USB file transfers aren't the most important use case for a wireless hard drive, so that doesn't factor much into my final verdict.
If your usage scenario jives with WD's design criteria—light in weight, mainstream format support, and four to five hours of battery life—then the affordable capacity and solid basic feature set of the My Passport Wireless make it worth considering. If you're looking for something with longer run time, then check out Corsair's Voyager Air or Toshiba's SSD-based Canvio AeroMobile.