Lenovo is slimming down its new ThinkPad Helix 2 tablet/laptop and extending the battery life of this hybrid device, which is one of the first detachable tablets with Intel's new Core M processor.
The Helix 2 is primarily an 11.6-inch fanless tablet that can latch on to a keyboard base to become a laptop. The hybrid is 12 percent lighter and 15 percent thinner than the original Helix that shipped last year.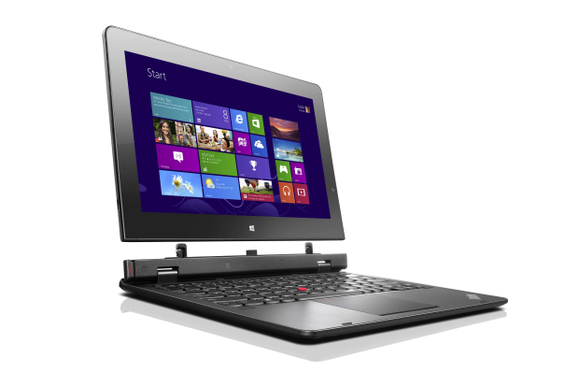 Priced starting at $999, the Helix 2 will start shipping in late October. With the keyboard dock, the hybrid offers 12 hours of battery life, a 2 hour improvement over its predecessor.
In addition to the size and battery advances, Helix 2 comes with the Core M processor, which is based on the latest Broadwell architecture. Intel has tuned Core M processors to draw as little as 4.5 watts of power, which can extend battery life on tablets and laptops. The chip is also the first made using the 14-nanometer process, which is the most advanced manufacturing process for chips today.
The Helix 2 comes with Windows 8.1. It was among a handful of PCs, tablets and desktops announced by Lenovo at the IFA trade show held this week in Berlin.
Lenovo also slimmed down its Flex 2 Pro, which has a 15.6-inch screen and will be called Edge 15 in the U.S. The laptop is 19.9 millimeters thick, and has a unique hinge that allows the screen to be pushed back by 300 degrees. The laptop can be placed in a tent-like shape on a table to watch movies.
The Flex 2 Pro will succeed the Flex 2, which is 22 millimeters thick and weighed 2.3 kilograms. Lenovo said the Flex 2 Pro is lighter, but did not provide weight.
The Flex 2 Pro is priced starting at $699 and will ship in September. It offers eight hours of battery life, and can be configured with Intel's Haswell processors, 8GB of RAM and Nvidia's GT840M graphics card.
The company also announced a slim all-in-one called Horizon 2S, which looks more like a supersized 19.5-inch tablet. The computer—touted by Lenovo as its "thinnest and lightest tabletop PC"—is 15.5 millimeters thick, and can be placed flat on a table for multiplayer computer games like monopoly or air hockey. A kickstand lets users position the Horizon 2S like a regular all-in-one PC.
The 2S is a smaller version of the Horizon 2 tabletop PC, which has a 27-inch screen, but both share many features. A smartphone can be placed on the Horizon 2S surface to share pictures and files. The computer can also be hooked up wirelessly with mobile devices through NFC or Bluetooth. The screen displays images at a resolution of 1920 x 1080 pixels.
The Horizon 2S weighs 2.5 kilograms and offers battery life of around three hours. The PC can be configured with an Intel Core processor based on the Haswell microarchitecture. The PC will start shipping in September starting at $899.
Lenovo also announced its first modular desktop called the ThinkCentre Tiny-in-One 23. The computer is essentially a monitor with one slot in the back where a mini-desktop—the size of Lenovo's existing Q190—can be inserted so that the Tiny-in-One 23 can boot up and run full PC applications. A few years down the line, when the mini-desktop is out of date, it can be removed from the slot and replaced with an upgraded unit.
The Tiny-in-One PC uses only one wire for multiple extensions to run the keyboard, monitor, mouse, and other connectors. It is targeted at enterprises looking for ways to upgrade computers easily and inexpensively, a Lenovo spokesman said.
The PC starts at $279, but Lenovo didn't say if the price includes a mini-desktop. Lenovo will supply all the components. The company could not immediately provide a shipping date for the product.
Updated at 2:22 p.m. PT with a video report from IDG News Service.
Note: When you purchase something after clicking links in our articles, we may earn a small commission. Read our affiliate link policy for more details.