At a Glance
Expert's Rating
Pros
Good read/write performance
SimplyRAID technology allows mixed-capacity arrays without a penalty
Dual gigabit Ethernet ports
Cons
Cannot lock drive trays
Pricey IP camera licenses
Our Verdict
Solid performance, an attractive feature set, and Seagate's SimplyRAID technology render its 4-bay NAS a good deal for most small businesses, but the absence of locking drive trays could be a deal breaker for companies that don't have a secure location to install it.
Seagate's new NAS line is clean and focused. Clean, as in having a minimalist, but good-looking countenance and an easy-to-navigate HTML interface. Focused, as in a feature set aimed squarely at the business workgroup. It's also a bit cheaper than the competition, although Seagate could make it even more so (being a hard-drive manufacturer and all that).
The Seagate NAS's appearance is austere in the best possible meaning of the word. Matte-black, square and flat, white LEDs, and backlit buttons add up to a very classy appearance. Along with some of Synology's boxes, it's the best-looking I've seen.
The front of the unit is home to four drive status/activity indicator lights, a power button, and a copy button to facilitate transfers from USB media inserted into the USB 3.0 port directly underneath them.
There's another USB 3.0 port on the back, along with two ethernet ports that can be linked for load balancing and automatic failover. The only feature some might miss is the ability to lock the drive trays. They're easily removed by pressing a release, then pulling a lever—easy enough that you should keep the box in a secure location.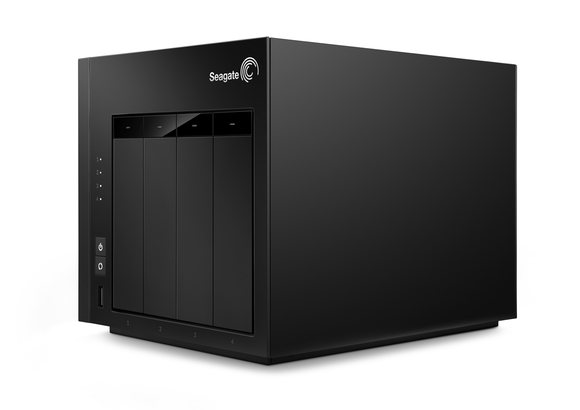 Seagate's new software features are focused on business basics: RAID, file sharing, user management, and so on. But support for media streaming via DLNA and iTunes servers mean consumers aren't left out. Seagate is also trying to jump-start an application environment to further extend its capabilities.
The pickings here are currently rather slim, but useful: anti-virus, BitTorrent Sync, ElephantDrive backup, and WordPress content management. In addition, ownCloud remote access augments the existing Seagate Sdrive portal-based sharing and standard HTTP/FTP remote access.
There's also a surveillance application, which out-of-the-box supports a single camera. But Seagate is playing the same game many NAS vendors are, selling you licenses for additional cameras. And they're as pricey as the competition's: $70, with mild discounts in bulk. By way of comparison: QNAP charges $55 per camera, Synology charges $66, and Iomega charges $70 for a MindTree license.
My standard advice for NAS surveillance is to skip it, unless you need only one or two cameras. A better approach is to build your own Linux server and leverage one of the available free apps such as ZoneMinder. It will cost much less, and you won't continually grind drives that might have something important stored on them.
Seagate's 4-bay NAS with a dual-core Intel Atom C2338 CPU proved to be a good performer. It wrote our 10GB mix of files and folders at 31.6MBps, and it read the collection back at 87.2MBps. With a single 10GB file, its performance jumped to 35.8MBps and 110MBps respectively.
We used a single ethernet port/connection and the four 4TB NAS HDD drives that Seagate provided set up in SimplyRAID mode, which enables complete data recovery if a single drive fails. A second SimplyRAID mode enables complete data recovery if two drives fail, but this mode requires an 8-disk array which is of course not possible with a 4-bay enclosure.
SimplyRAID allows multiple volumes to span/share a drive, which makes it easy to expand the array without losing data even when the array contains mixed-capacity disks. Seagate's 4-bay NAS also supports RAID 1, 5, 6, and 10 as well as JBOD (just a bunch of drives accessed sequentially).
In short, the Seagate 4-bay NAS is a good-looking, good-performing box offered at a competitive price.