At a Glance
Expert's Rating
Pros
Low purchase price
Stunning output quality
High-yields inks are economical
Cons
Tiny display can be hard to read
The lack of a 'Back' button makes control panel navigation a little confusing
Our Verdict
The Epson Expression Premium XP-520 is one of the few low-priced printers we've tested that's worth recommending. Its high-yield inks are surprisingly affordable, and it also delivers gorgeous output at a decent speed.
If something does what it does really, really well, and doesn't cost you and arm and a leg, you tend to forgive, or even forget its foibles. That's what you have with Epson's new Expression Premium XP-520 color inkjet multifunction, which offers copy/scan/print capabilities for $130. The output from its five-ink Claria system is so good, it's easy to overlook its squinty little display and less-than-intuitive controls. And, get this: You can print a four-color page for 12.5 cents. Not as cheap as a business inkjet, but practically unheard-of cheap for a low-volume, low-cost multifunction.
The XP-520 is also decently fast and sports two-sided printing, a feature not always found at this price point. If you're reading this on your phone while shopping low-volume home MFPs at your local box store, you can stop reading now—this is the one you want.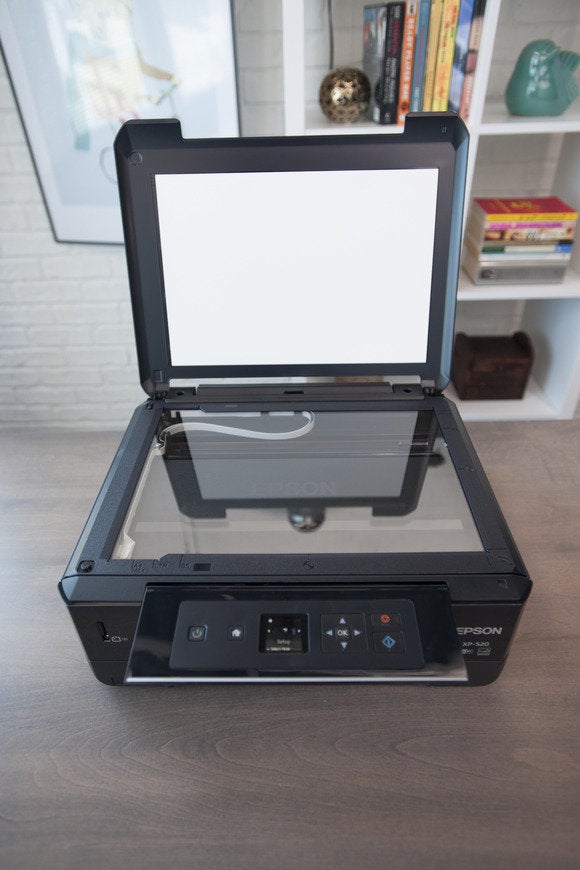 But I don't get paid if I don't give you the particulars. The XP-520 sports both Wi-Fi and USB connectivity. There's no ADF, so you're limited to one-off scans using the A4/letter-sized platen, and the paper capacity is a mere 100 pages. But this is an occasional-use printer designed for the home, and for that, the capacity is more than sufficient. My only, extremely minor gripe is that every time you close the bottom cassette after adding paper, you bump the output tray and must re-extend it before the printer will operate.
The XP-520 also supports Wi-Fi direct printing, as well as the usual host of email and remote printing features. The always-capable Epson software bundle leverages all the MFP features. There's also an SD media card slot in front for printing photos and other data directly.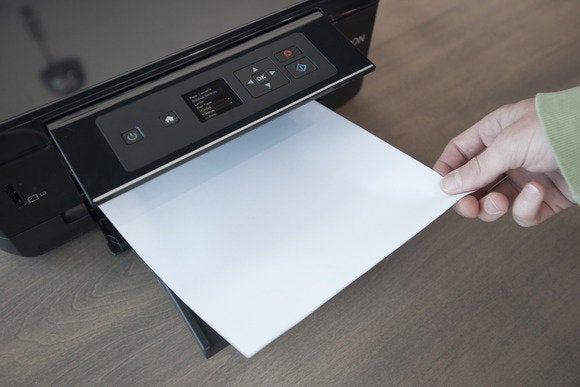 The XP-520 renders some of the finest, most realistic photos we've seen from any printer at any price. The color palette is a little cool, but flesh tones are life-like, subtle sweater patterns show up, and the overall contrast is marvelous. They're perhaps not as dramatic at the default settings as the output from some other photo printers, but you want the colors you capture reproduced accurately on the paper. There's Photoshop and the like if you want to add drama. Text is very sharp, just shy of laser quality.
Ink costs are a tad pricey if you opt for the XP-520's $12.99, standard-sized cartridges. The black tank lasts for 250 pages or 5.2 cents per page, and the colors last for 300 pages or 4.3 cents per color, per page. What you really want are the $18.99 high-capacity cartridges which last for 500 pages (black) and 650 pages (cyan, magenta, and yellow) respectively. That lowers the cost of black pages to 3.7 cents, and four-color pages from 18.1 cents to only 12.6 cents. We've seen similar MFPs that cost you upwards of 20 cents per four-color page.
There's also a photo-black cartridge, which is good for 200 (standard-size cartridge) and 400 (high-capacity) pages. As this replaces the regular black in photos, it doesn't affect the cost of normal printing. Note that photos use a lot more ink than the ISO standard four-color page we quote, so expect lower mileage.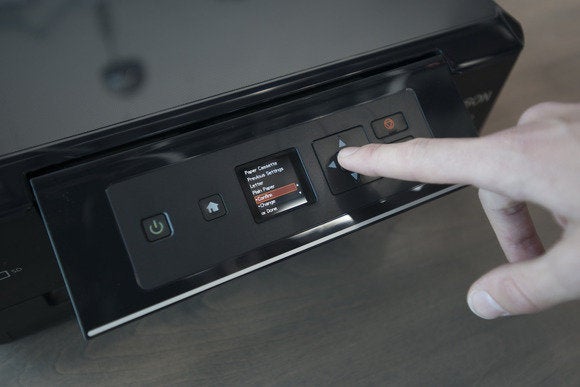 I go back and forth about the XP-520's tiny, 1.44-inch display. It's really usable only if you have young eyes, or get really close to it. For me that meant removing my three-quarter strength computer glasses. Honestly, I didn't mind it too much, but I didn't like using the Home key for backspacing, etc. A Home key should take you to the homepage, period. As the XP-520 has a rocker cursor control, I'm not sure why this was done. Those are minor gripes and piddling concerns considering the quality of the output.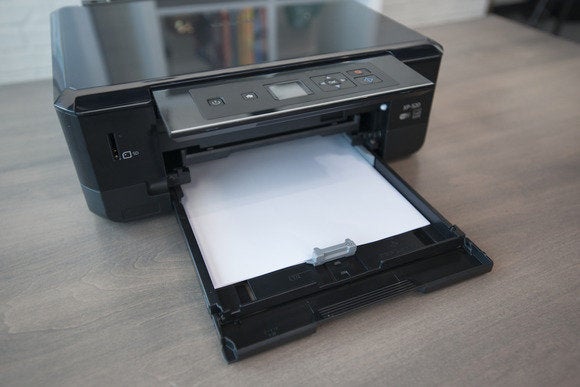 The XP-520's speed was also a pleasant surprise. It printed text and mixed pages at 7.4 per minute on the PC and 7.2 on the Mac. Full-page photos printed to plain paper at 3.2 per minute, and to glossy photo stock in a little over two minutes on both the PC, and Mac. Scans were tolerably fast at two per minute at 600dpi and slightly under one per minute at 1200 dpi. Previews took only 10 seconds.
Okay, I'd like it if the XP-520 had a larger display and a couple more buttons to make navigating the menu system more intuitive. Its higher-end cousins, the $150 XP-620 and $200 XP-820, have nicer screens and add CD/DVD printing and an ADF. But, the XP-520 is workable as-is and provides sterling output, decent speed, and affordable inks that involves only a moderate initial cash outlay. For that I'd be willing to live with cranks, levers and potentiometers.