When you're competing for the attention of almost a quarter of a million visitors, it helps to have a gimmick or two. The big names of the consumer electronics industry know this and each year at Germany's IFA electronics show, they try to outdo each other with the latest and greatest technology they have.
Five years ago, it was all about 3D TV, then OLED TVs with their brilliant images and vibrant colors took the limelight a year later. In 2012 the big thing was 4K television, with screens boasting four times the resolution of today's high-def sets, and last year was all about curved televisions.
At IFA 2014, taking place this week in Berlin, the future has arrived again and this time it's bendable.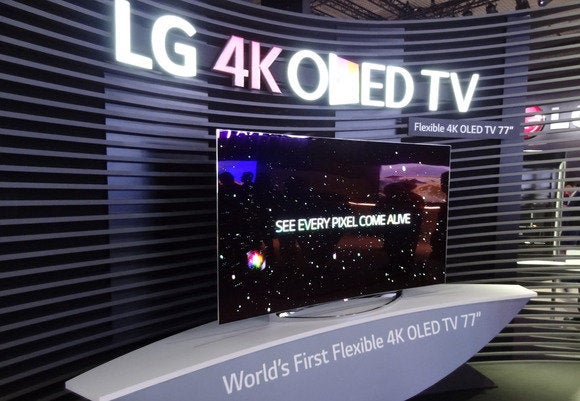 Both Samsung and LG have TVs that have been enabled with motors that move the display panel from the conventional flat position into one that's curved toward the viewer.
Last year, companies pushing curved TVs said they offered a more natural viewing environment because all parts of the screen would be an equal distance from the viewer.
What was largely missed was that the radius of the curve was a gentle 4- to 5 meters and few people sit that far from their televisions. And to truly be equidistant at all points from the viewer, the screen would also have to be curved in both the horizontal and vertical axes.
This year's bendable TVs seem to hint at a little indecisiveness: Should the screen be flat or curved? You decide!
From a purely technical viewpoint, the TVs are impressive. Technology has gotten to the point where screens can be fabricated on glass so thin that it can be bent without disastrous consequences.
Samsung proclaimed "the power of the curve" alongside its TV sets and Sony, which had curved but not bendable TVs, pushed "curved for comfort."
But does a curved or bendable TV really bring a better picture?
"Many companies say it's all about the viewing distance being the same," said Tatsuhiro Nishioka, a senior manager at Toshiba's visual solutions business group. "But we think it's just about making the TV look better."
Toshiba was showing a 65-inch curved TV that, like many others on show here, had 4K resolution.
Sets with the high resolution, dubbed "Ultra HD" by the TV makers, are slowly coming to market and consumers seem to agree that more resolution is better, but the price of the TVs is still high and there's little 4K content available.
It's too early to tell the future of curved or bendable TV but one thing's for sure: There'll be something even better at IFA 2015.