Intel may not have a reputation for being cool along the lines of, say, Apple, but its developer forum next week will showcase wearables, robots and other innovative electronics indicative of the markets it wants to break into.
To help it make inroads into new markets, Intel is tapping into the maker community for ideas, said Nathan Brookwood, principal analyst at Insight 64. "They are trying to show that … this is not your grandfather's Intel that did PCs and servers," Brookwood said.
Enthusiasts are turning concepts into practical products with Intel's developer boards. Many devices will fail, but Intel wants to ensure its chips are in the next big devices.
But just as with last year, the Sept. 9 opening of IDF coincides with an Apple event, where the iPhone 6 and a wearable device are expected to be announced. The Apple event is "shaping up to be one of the biggest in recent memory," said Morgan Stanley analysts in a research note last Friday.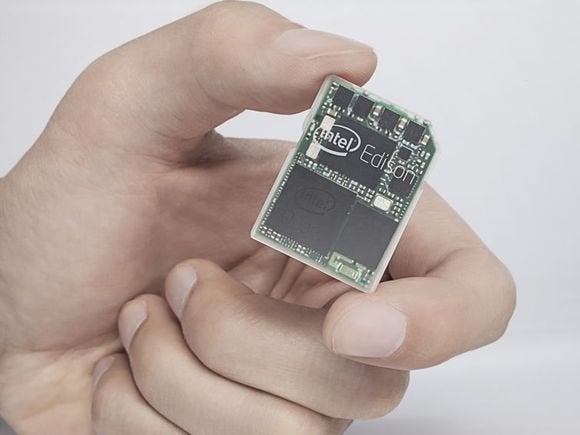 The 64-bit iPhone 5S was a hotter conversation topic among some of last year's IDF attendees than Intel's new Quark chip. This year, Intel hopes to engage attendees by highlighting opportunities in the embryonic markets of wearables and the Internet of things. New wearables may be shown during Intel keynotes, and in addition to mobile chip and PC processor news, the chip maker will also reveal hardware updates for speedier creation of Internet of things devices.
Intel plans to give updates on Edison, the SD-card sized development board used by makers to develop wearables and low-power electronics. Intel will explore development opportunities around Arduino, a popular hardware and software development kit, for Galileo, a developer board for robots, drones and home appliances. Galileo is also being used by Microsoft to push Windows into more IoT devices.
The public demonstration area at IDF is likely to show an array of eye candy, including PCs for gamers that use liquid cooling, which generates vapor, creating a cool visual effect. Besides such displays, though, Intel will emphasize mobile—a market that has thus far eluded the company, with its chips used in just a handful of tablets and smartphones.
Intel will share its 2015 tablet and smartphone road map in one IDF session. Sofia, the company's first smartphone chip with an integrated 3G modem, is expected to be a highlight of that session. Originally, plans called for a chat about Broxton, a mobile chip with an all-new design, but Intel has since removed that information from public materials about the session.
It may also show the first tablets based on Intel's latest Atom chip code-named Cherry Trail, which are expected to become available later this year. Cherry Trail will succeed the current Bay Trail batch of chips.
Intel will also talk about software development for the Android 64-bit OS code-named L. Intel already ships 64-bit smartphone and tablet chips, and is developing an x86 version of Android L.
PCs won't be ignored at IDF. The company will talk about its fifth-generation Core processors code-named Broadwell, which will reach laptops and desktops in the first quarter next year. Intel surprisingly announced its new Core M based on Broadwell at the IFA show in Berlin this week, just days ahead of IDF. So Intel could throw a surprise and shed some light on chips beyond Broadwell.
The company is hosting a data-center event the day before IDF to unveil its newest Xeon E5-2600 v3 server chips code-named Grantley-EP, based on the Haswell architecture. Grantley-EP will replace the successful E5-2600 v2 chips code-named Romley, which have accounted for more than 80 percent of Intel's server chip shipments in recent quarters. All the top servers makers will announce servers based on Grantley-EP, which will support the new DDR4 memory.
There could also be some interesting non-Intel activity at the show. USB Implementers Forum will show off the USB Type C connector, which is generating excitement with its identical end connectors, alleviating user confusion over plug orientation when compared to current cables that have different connectors on the ends.