For years, businesses and employees alike have wrestled with the problem of bringing personal phones into the workplace. Now, Dell's enterprise team has created a Virtual Smartphone app that provides secure calls, texts, and apps for Android and iOS alike.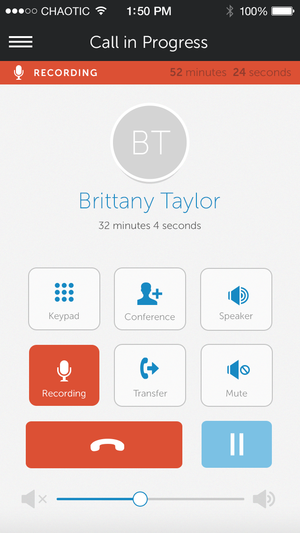 The Virtual Smartphone app (also known as Dell Business Phone powered by Vonage Business Solutions) is provided in conjunction with Vonage, whose VOIP services will power the phone.
Neither Google nor Apple has really addressed the fundamental problem of the so-called BYOD movement: providing a secured data store to keep business data safe while preserving user contacts and photos. Employees that bring personal phones to work and use them to access business data risk having them remotely erased if they're fired or leave the company.
Instead, apps like Touchdown HD for Android and the Knox application for Samsung-branded smartphones have stepped in. But those apps are restricted to their respective platforms; Dell isn't. (Microsoft's Windows Phone has made separating business and personal data a priority with Windows Phone 8.1 and above.)
"We're device agnostic, enabling any compatible tablet or smartphone, and we're also form-factor agnostic, as we run on on any range of display sizes," said Neal Foster, the general manager of mobility solutions at Dell.
How Dell's Virtual Smartphone works
According to Foster, employees will be asked to download the provisioning app from either the Apple or Google Play app stores. The app will then load, assigning the user a virtual Vonage Voice over IP (VOIP) number that is automatically added to the contact list of their colleagues via Microsoft Exchange and Active Directory.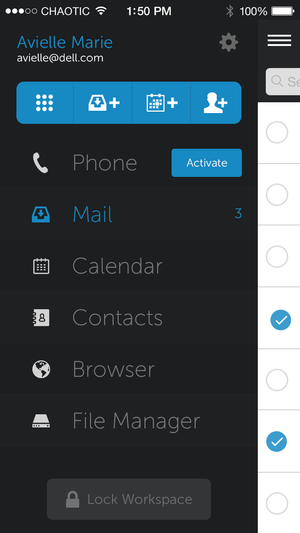 The key, according to Wain Kellum, president of Vonage Business Solutions, is that competing BYOD solutions like Knox don't distinguish between business and personal calls. Vonage does, and it provides value-added services such as call recording. The Dell-Vonage solution also allows major companies to manage their communications, a key compliance requirement at some companies. Admins can set detailed policies, such as pushing voice calls to an available Wi-Fi network, or locking out a user's personal number during business hours.
"[VOIP] can dramatically reduce the burden of upgrade cycles," Kellum added. "One of the things that's hard with legacy telecommunications infrastructure is adding new, enhanced capabilities, when available, and so the move toward cloud-based communication, embracing your employees' mobile activities, is hugely beneficial."
Foster promised that the app will respect the employee's personal space, even when it it is running in the background. As an example, he said that an employee could take a business call using the app while shooting a photo. The photo would be stored to the employee's personal camera roll, he said.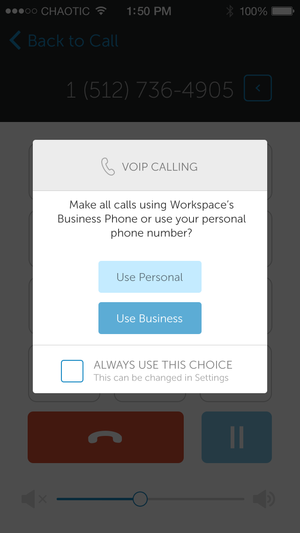 App is due in October
Dell's Virtual Smartphone will be available in October, supporting Android phones running Android 4.0 and above. Dell's app can run on Apple phones running iOS 6 or 7, with support for both iOS 8 and Windows Phone 8 coming soon, Dell executives said.
Virtual Smartphone will be included as part of four separate plans, starting at $19.99 per line per month for up to 1,000 voice minutes with unlimited texts. Users will also have the option of signing up for storage with Box as well as Microsoft's Office 365, both of which will integrate into the Dell app.
In general, both users and administrators should find things to like in Dell's announcement, as it seemingly preserves user and corporate data alike, and adds another option for those wishing to bring their personal devices into the workplace. The catch, of course, is that it's exclusively tied to Dell's services.