Intel plans to make the wire-free future of the PC a reality as early as the first quarter of 2015, when the first "Skylake" reference designs ship to hardware makers.
Kirk Skaugen, the senior vice president and general manager in charge of the PC Client Group at Intel, began laying out more details of its "wire-free" PC vision at the Intel Developer Forum on Wednesday. The company also showed off a wire-free PC to prove what hardware partners could accomplish.
All that will be tied to Skylake, the next-generation chip that Intel will launch after the first Broadwell chips begin shipping in the fourth quarter of 2014. The first incarnation of Broadwell chips, known as the Core M, were delayed about six months. But Skaugen said Tuesday that he is "incredibly excited about the health of Skylake."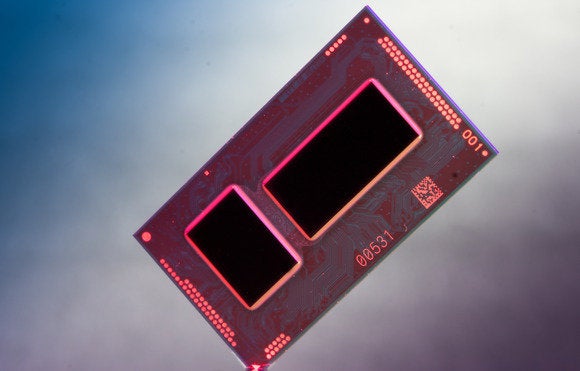 Intel believes that PCs will eventually connect to monitors just as they do to routers: wirelessly. Intel's latest Core M platform for tablets and two-in-one hybrid devices includes support for WiDi, or Intel's Wireless Display, which uses a standard called WiGig. Intel's Core M platform also supports 802.11ac Wi-Fi connections. By the first half of 2015, WiGig will be built into wireless charging platforms, with transfer speeds that approach wired speeds.
"Imagine transferring a file from a tablet to a PC, ten times faster than Wi-Fi," Skaugen said.
Intel plans to integrate WiGig into a docking station for Core M and business Core PCs using vPro by the first half of 2015. Skaugen also demonstrated a reference laptop beaming 4K video wirelessly to a high-definition LG TV set.
But it's the third component, wireless charging, that's the tricky bit. At Computex last year, Intel showed laptops wirelessly charging via a pad based on A4WP's Rezence magnetic resonance technology. Skaugen said that Intel will be working with tablet and phone makers to add covers that could double as a wireless charging pad, on models including the Samsung Galaxy 4. Similar phone covers will arrive in the first quarter of 2015, he said, and covers for tablets before the end of the first half of 2015.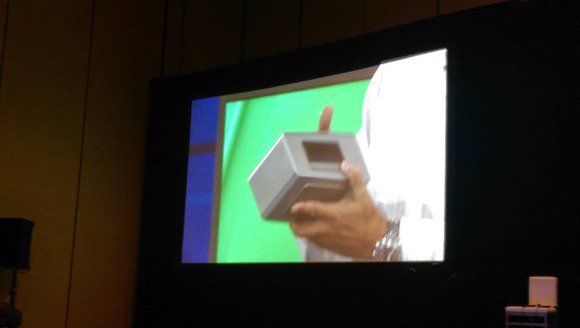 Full-fledged, wire-free reference designs, including Skylake and the wireless charging technology, will be available before the end of 2015, Skaugen added. That likely means that wire-free PCs won't hit store shelves until early 2016.
Intel's commitment to wireless charging will have a side effect. Like so many modern technologies, Intel's support of Rezence will become a platform. To be truly effective, wireless charging will need to be embedded into everything from coffee shop furniture to airplane tray tables. Sanjay Sharma, an executive at Emirates Airlines, appeared on stage at IDF to note that Emirates had pledged to "be a leader in wireless charging," but he did not explicitly commit to Rezence or give a timetable for including the technology.
RealSense 3D cameras come into focus
Skaugen also released a few more details on its first RealSense depth cameras, which use a pair of lenses to gauge depth. Dell will apparently be the first tablet maker to use the technology, as part of the Dell Venue 8 7000 Android tablet, which Michael Dell showed on stage during IDF's opening keynote. Not only do RealSense cameras allow for Lytro-like post-exposure focusing effects, but they also can be used to measure distance accurately. Plae, a designer of custom kids shoes, showed off an application that used the RealSense cameras to measure the size of a user's foot to within 2 millimeters in three dimensions, allowing people to buy accurately-sized shoes online, executives said.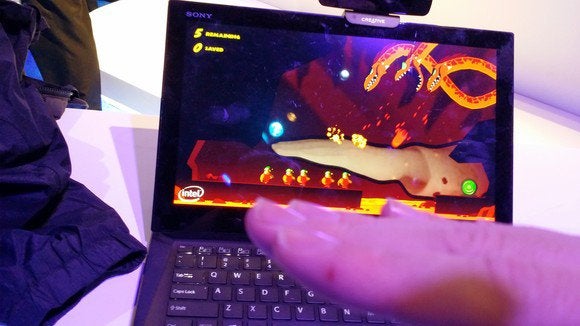 The RealSense cameras will include three models: a front-facing F200 camera for all-in-ones, notebooks, and certain two-in-ones, and lower- and higher-resolution rear-facing models, the R100 and R200. The F200 will begin rolling out during the fourth quarter, supporting facial and gesture recognition, while the other R-series cameras will debut in tablets, Skaugen said.