At a Glance
Expert's Rating
Pros
Understated design
Tons of lighting options
Comfortable design (for righties)
Cons
Only six buttons
6500CPI sensor might not be high enough for your needs
Thumb buttons too far forward for claw- and fingertip grippers
Our Verdict
The Rival is perfect if you just want a comfortable, bare-bones mouse instead of a 15-button behemoth.
The SteelSeries Rival is about as bare-bones as a gaming mouse can be. Only six buttons and a scroll wheel? Madness!
And yet I found myself returning to the Rival as my daily driver while I had my pick of several high-priced, feature-packed alternatives. The Rival is a workhorse. It's comfortable, powerful, and because it doesn't scream "Gamer mouse!" I can use it in public without attracting unwanted attention. Just as there are times when the Razer Naga's panoply of buttons is just the ticket, so are there occasions when a simple and unadorned tool is all that's needed.
I'm not saying the Rival is simplistic. Its optical sensor tracks from 50- to 6500 CPI, and it comes with a programmable CPI-switch button that lets you swap between two sensitivity levels on the fly. And as with all SteelSeries products, the Rival comes with a host of adjustable settings via the downloadable SteelSeries Engine 3 client software. Polling rate, CPI, buttons, mouse acceleration, and angle snapping can all be adjusted within this app. The front and rear LEDs illuminating the manufacturer's logo can also be adjusted independently (or simply turned off).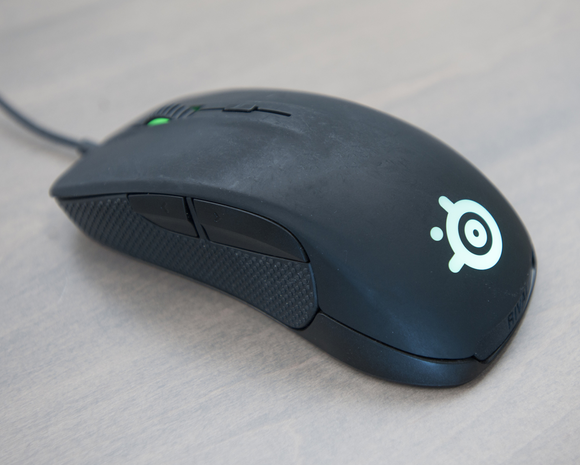 Sorry, lefties, but the Rival is definitely a right-handed mouse. Its elongated oval shape renders it best suited to palm-grip users. Claw- and fingertip grippers might be able to use the Rival, but the thumb buttons are placed so far forward that they're difficult to hit unless you palm the whole mouse. The Rival is extremely comfortable to use with a palm grip, even if it was a little narrow for my large hands. The rubberized grip on either side is soft and tactile, and allows you to lift and adjust the mouse with minimal effort.
The Rival is a solid (if stripped down) mouse on the lower end of the price spectrum. Will it redefine what you know about how a mouse works? Not in the least. But if you just need a really good mouse that can double as a competent gaming peripheral, the Rival is a solid option.