At a Glance
Expert's Rating
Pros
Good price-to-performance ratio for its display size
DVD burner
Operates in stand and laptop modes
Cons
Disappointing battery life
Dim display
Limited to 2.4GHz Wi-Fi
Our Verdict
The Lenovo Flex 2's perks include a roomy touchscreen on a 300-degree hinge, plus a DVD burner and a hybrid hard drive, all for a reasonable price. The trade-offs: poor battery life, a dim display, and no 5GHz Wi-Fi.
With its roomy, touch-enabled, 15.6-inch display; built in DVD burner; and sleek black chassis, the latest Lenovo Flex 2 looks like a pretty good deal for $680. But its poor battery life, uninspiring performance, a somewhat pale display and reliance on 2.4GHz Wi-Fi will be deal-breakers for some.
Like others in Lenovo's Flex series, the Flex 2 offers two configuration options: You can use it as a standard laptop, or you can bend the display back to balance it on two edges in stand mode. That's useful for watching movies—especially on an airline tray table—or to present information to someone sitting across from you. The unit weighs a hefty 5.7 pounds, but it at least feels sturdy.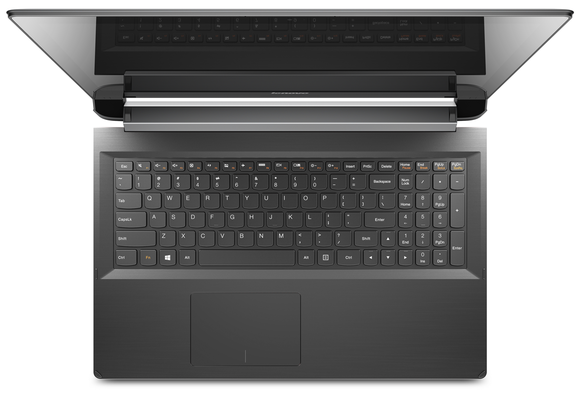 The Flex 2's easily large enough to support a full keyboard with a numeric keypad, but the island-style keys are disappointingly flat and slippery—not much fun for a touch typist. The touchpad below the keyboard can be sluggish.
Connectivity options are fairly standard for a budget portable: Two USB 2.0 ports, but just one USB 3.0 port; HDMI out; gigabit ethernet; a memory-card reader; and headphone/mic jack. The DVD-RW drive is on the right side, and stereo speakers are located on the underside of the case (a couple of large, rubbery feet lift them slightly above the surface when in laptop mode). The 720p webcam captured pretty good images, compensating for poor lighting in my tests making Skype calls.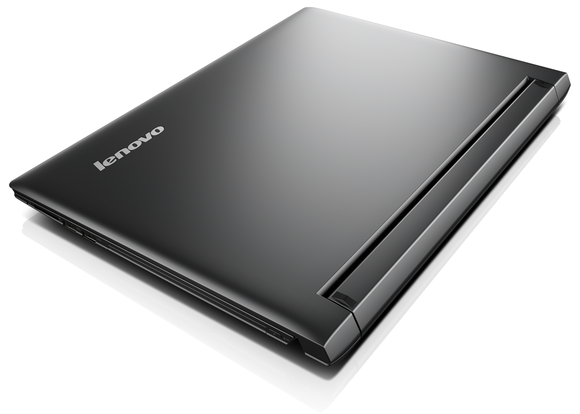 The Flex 2 is outfitted with an Intel Core i5-4210U and 6GB of DDR3/1600 memory; a 500GB hybrid hard spinning at 5400 rpm (with 8GB of solid-state memory helped boost startup performance). These aren't top-of-the-line components, and the unit's test scores were pretty much in line with what we expected at this price point: It eked out a 50 on Laptop Worldbench 9. That's not the worst we've seen from a budget portable, but it's half the score of our baseline comparator: a Dell XPS 15 outfitted with a Core i7-4702HQ, 16GB of memory, and discrete graphics.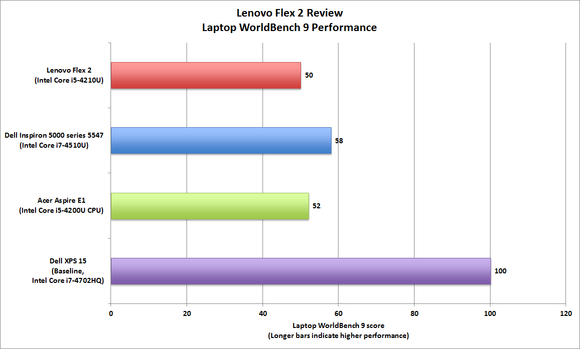 Gaming scores were similarly mediocre to poor, but the real downer was the battery life. Lenovo's marketing literature pegs it at 7 hours; but in our demanding test, the unit lasted only about three hours. It's worth noting that the unit might have run down even more quickly had we been able to set the display's brightness to the 200 candelas per square meters (cdm2) we normally use during battery life tests: At its maximum setting, the Flex 2 achieved a brightness of just 180 cdm2. That's a bit pale compared to most portables these days. Turn down the brightness even a little, and it looks downright anemic.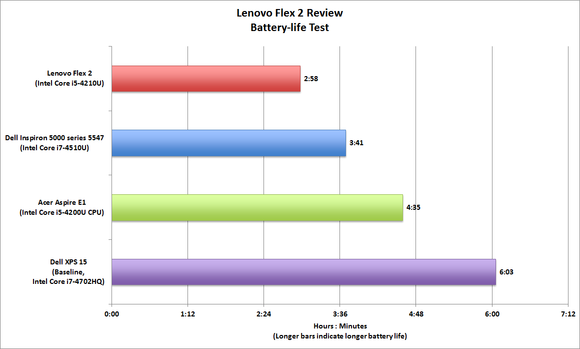 It's also disappointing that Lenovo outfitted this laptop with just a 2.4GHz 802.11n Wi-Fi adapter. It's one thing not to support the very latest 802.11ac standard, but connecting to overcrowded 2.4GHz Wi-Fi networks is just bad news for people who live in environments where lots of devices are fighting for bandwidth: cities and dorms, for example. You might want to consider buying a USB Wi-Fi adapter.
The Flex 2 holds some appeal to people on a budget who want a portable with a good-sized display for limited travel (perhaps a home-to-office commute) and routine business tasks. Real travelers should seek out a laptop with better battery life, 5GHz Wi-Fi, and a better display.