At a Glance
Expert's Rating
Pros
High-res display
Good audio subsystem
Moderate price tag
Cons
Mediocre performance and battery life
No support for 5GHz Wi-Fi
Our Verdict
The HP Envy x360 delivers good multimedia features and flexible display options at a moderate price, but its mediocre performance and battery life and MIA 5GHz Wi-Fi support will give some buyers pause.
Like some other moderately priced 15-inch-class touchscreen laptops we've seen of late, the HP Envy x360 is too heavy and too slow to be a road-warrior's dream machine. But the handsome high-res display and acrobatic 360-degree hinge on this $770 unit will appeal to multimedia aficionados.
Weighing in at about 5.3 pounds—typical bulk for a mainstream laptop with a 15.6-inch display—the silvery Envy x360's sturdy hinges let you use it as a standard laptop; fold back the lid and balance the unit on two edges in a tent configuration; place the keyboard face down and keep the display facing you in stand configuration; or fold the display back completely onto the back of the keyboard to create a thick and bulky tablet.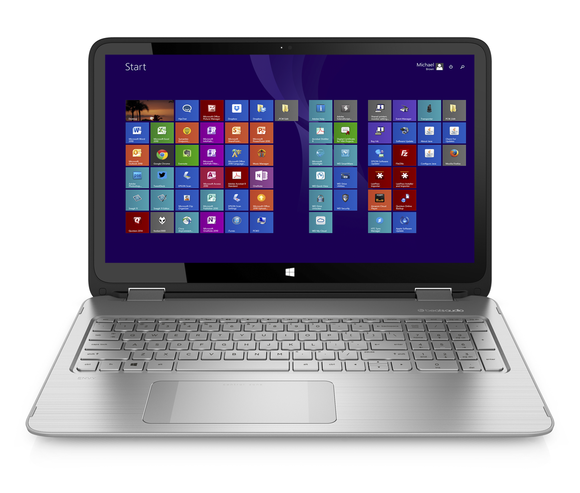 Options lifted this unit's price $90 higher than the starting price of $680 for the base config. The extras included an additional 2GB of RAM (bringing the total to 8GB) and a 1920-by-1080 multitouch display (versus the base unit's 1366-by-768 resolution). Other key components include an Intel Core i5-4210U mobile CPU and a 500GB hard drive spinning at 5400 rpm.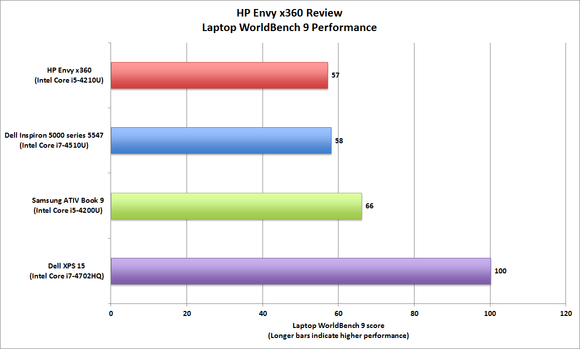 Performance was about what we'd expect given those specs, which means they weren't particularly impressive. The pokey hard drive combined with the integrated graphics are largely responsible for the Laptop WorldBench 9 score of 57 and lousy gaming scores. The high-res display probably dragged down the battery life to a disappointing 3 hours and 15 minutes.
But for users who will be relying on AC power and a hard-wired network connection, that display—framed in black with a thin bezel and accompanied by better-than-average speakers—makes for a pleasant media-streaming experience. The integrated high-def webcam produced good images for Skype video calls, too.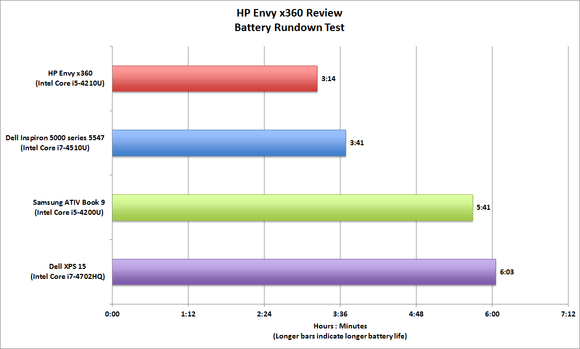 I specify streaming using the gigabit Ethernet because the unit lacks 5GHz Wi-Fi support—something I'm sad to see in a number of budget laptops lately. The 802.11b/g/n support on the 2.4GHz band won't cut it in crowded environments, where multiple network compete for scarce non-overlapping channels. In my experience, media streams were prone to freezing, stuttering, and disconnecting.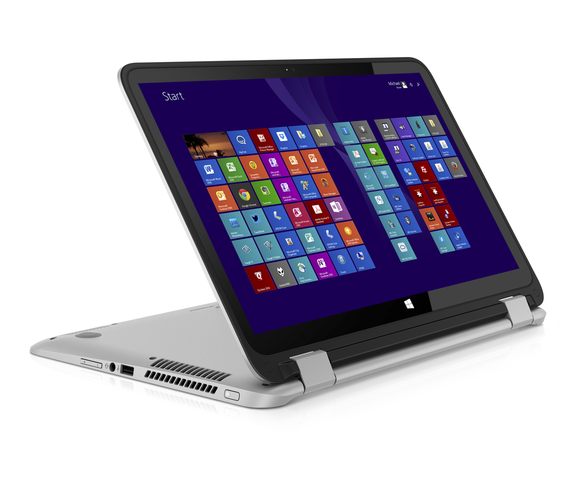 The Envy X2's other connectivity options were more impressive: Three USB ports (two of them USB 3.0), HDMI, a memory-card reader, the aforementioned gigabit ethernet, and a combo headphone/mic jack. As with many notebooks, the stereo speakers are located on the underside of the unit where it slopes upwards towards the front edge. Rubber discs on the bottom help keep some distance between the speakers and the work surface, so that the audio isn't excessively muffled.
The keyboard and platen are the same silver color as the case. The key caps on the island-style keyboard are reasonably spaced, but flat, slippery, and a tad mushy. As with most units of this size, you get a numeric keypad to the right of the QWERTY layout. However, HP's new Control Zone touchpad, offering both mechanical and touch sensitivity, is unusually wide, which actually is helpful in navigating the wide screen.
As all-purpose laptops go, the Envy x360 does a pretty good job with multimedia, and general business users who can benefit from its multiple display options should take a look. But the absence of 5GHz Wi-Fi and a slow hard drive are definite drawbacks. In its $770 price range, buyers may well find units with less onerous tradeoffs.