At a Glance
Expert's Rating
Pros
Good media-streaming performance
Internet pass-through
Storage syncs with Dropbox and Google Drive
Cons
Internal battery can't charge other devices
Unable to stream very high-definition video (e.g., Blu-ray rips)
Our Verdict
The Voyager Air 2 improves on a winning formula by slimming down its enclosure and adding Dropbox and Google Drive syncing.
Corsair is getting good at the Wi-Fi streaming game. The Voyager Air 2, a mobile hard drive that creates its own wireless hotspot to stream files and multimedia, is a distinct improvement over the original product; in fact, it's a contender for best in class.
This latest rendition offers the same 1TB of storage for the same $179, but the case has improved ergonomically and you'll find several new features in its firmware. The new industrial design is svelter, and the power and Wi-Fi on/off buttons are now part of a recessed rocker switch on the top front of the unit. This setup is less likely to snag on your pocket or backpack than the original's slide switches.
Found on the same panel/switch are the charging and battery life indicator lights. The former is blue when the Wi-Fi is enabled, while the latter starts green when the battery is fully charged, turns amber when it's less than 50 percent of capacity and finally, turns red when you're about to run out of juice.
My test Voyager Air 2 came with a USB 3.0 cable, an AC/USB wall charger and an USB/AC cable that plugs into the unit's AC receptacle. Corsair says a pure AC adapter that will provide faster charging times will accompany shipping units. The Voyager Air 2 will also run and charge as a direct-attached drive using strictly USB 3.0 bus power. Note that as with others of its ilk, the drive will only function as DAS (Direct Attached Storage) when using the USB port. Wi-Fi shuts off in that scenario.
Cloud storage syncing
The neatest new trick in the Voyager Air 2's repertoire is syncing with Dropbox and Google Drive. To set it up, click on the link the Voyager Air 2 provides, enter your online login info for the services, then copy and paste the generated access code. This is all dependent upon having Internet pass-thru enabled and being connected to Web-enabled Wi-Fi network. Hopefully, Corsair will soon work other common services into the mix, such as OneDrive. You can access these settings via the Voyager Air 2's nicely rendered HTML interface (default address: 192.168.77.1).
The Voyager Air 2 is both DLNA- and AirPlay-compatible. The drive is also fully functional as a wireless NAS, so you may, of course, open a file from a folder using Windows Explorer (or the Finder on a Mac).
Equipped with an 802.11b/g/n radio, the Voyager Air 2 streamed medium bit-rate 1080p files smoothly in my hands-on. I didn't have much luck with a full-on 30GB Blu-ray rip, which proved unplayble via DLNA in Windows Media Player and jerky even when opened by WMP from a folder. Any two-hour file in the 1GB to 10GB range will stream fine.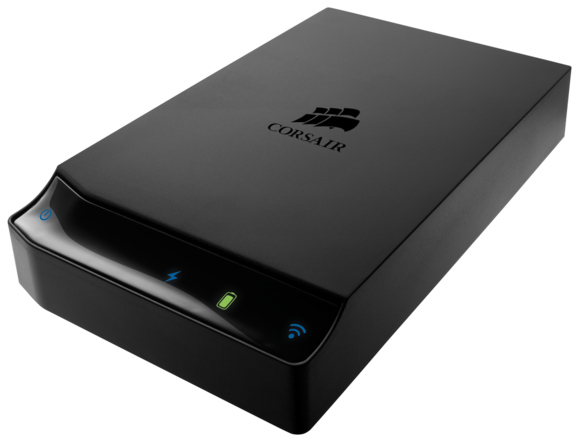 The Voyager Air 2 is fairly fast. Direct-attached, the drive read and wrote large files at around 40MBps. Drop that to 23MBps reading and 35MBps writing with smaller file types. Battery life in my ad-hoc streaming tests was right around five hours.
The Voyager Air 2, like the original, can't charge other mobile devices. True, only a handful of its competitors can (Samsung's Wireless Mobile and Kingston's MobileLite being two examples), but it's a shame to have such a large battery and not be able to use it to extend the life of your cell phone. If you're looking for ethernet connectivity, that will be available on the Voyager Air 2 Plus sometime later in October.
A worthy redesign
Corsair has delivered a reliable portable wireless streaming solution with good battery life and performance in a more travel-worthy package. The Voyager Air 2 is as good or better than the competition in most regards. That said, it would be nice to see vendors, including Corsair, pick up on 802.11ac, which is capable of streaming high bit-rate Blu-ray smoothly in the right environment.
Note: Owners of the original Voyager Air can acquire the Dropbox/Google Drive syncing capability merely by upgrading the firmware. Corsair's responsive when it comes to that kind of stuff. Good on 'em.