At a Glance
Expert's Rating
Pros
Handles the basics well
Very good price-to-performance ratio
Versatile
Cons
Keyboard deck flexes too easily
Under-responsive keyboard
No RJ-45 port for Ethernet
Our Verdict
If the design suits you, the Inspiron 11-3147 fills both its tablet and laptop roles well at an attractive price.
Dell's Inspiron 11 3000 series is a hybrid whose obvious competition is the extremely similar Lenovo Yoga 2 11. Both are touchscreen tablet/laptop hybrids whose two halves pivot 360 degrees to achieve multiple configurations. But while they closely resemble each other in many ways, the Inspiron 11 series 3000 outperforms and outlasts the Yoga 2 11, and it does so for a bit less money.
The Inspiron 11 3000's specs are capable, but configured for the entry-level market. The Inspiron 11-3147 we tested retails for $450 with an 11.6-inch, 1366×768 resolution touch display; a Pentium N3530 CPU; 4GB of DDR3L/1600 memory; and a 500GB, 5400rpm Seagate Momentus Thin hard drive.
Dell also sells an otherwise identical model with a slightly slower Celeron N2830 processor for $399. You'll find two other models on Dell's website, but the only differences are the bundling of an external Bluetooth speaker on one, and a longer service contract/warranty on the other.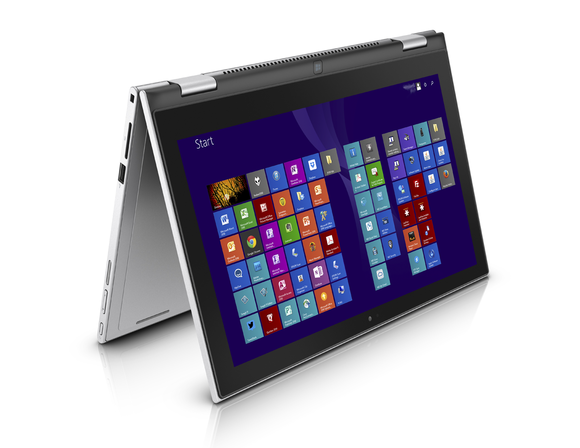 No matter the price point, the real decision you need to make is whether the design is right for you. The 2-in-1 form factor fills both the laptop and tablet roles, and this one is big enough to house a larger battery that can drive faster components. The downside is that you're saddled with the weight of the keyboard when you use it as a tablet.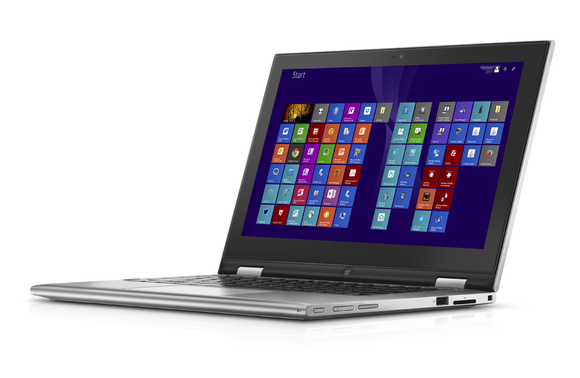 That isn't much of an issue when you're lying on the sofa, but a detachable solution, such as Toshiba's Satellite Click 2, would let you lose the keyboard at will. A dedicated laptop and an actual tablet would be a more expensive alternative, but one that removes the compromises.
Using a hard drive, versus an SSD, is part of the way Dell keeps the price of the Inspiron 11 3000 series low, but it also results in slower performance. I immediately checked how easy it would be to swap in an SSD, as well as replace the internal 43-watt-hour battery. The unit's bottom panel comes off to reveal both, as well as the other slots, after the removal of nine screws.
You might think the three across the middle are captive. They're not, so remove them before you pull the panel off or risk watching them fly across the room. There are also pressure-fit tabs, so a bit of energetic spudging (that's a technical term for prying with a plastic tool or fingernail along the seams) is required to pop the panel off.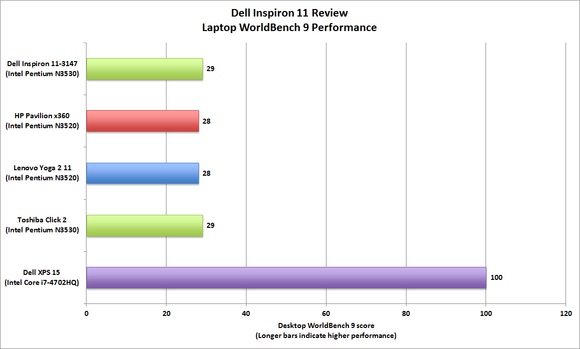 The Inspiron 11 3000 delivers a good mix of ports and connectivity: Three USB ports (although only one of them is USB 3.0), HDMI video output, a headset jack, and an SD card slot. Wi-Fi is 802.11 b/g/n, and there's Bluetooth on board.
I found the Inspiron 11 series 3000 keyboard to be at least as good as the one on the Yoga 2 11 (which despite being a Lenovo, is no great shakes). There is an inordinate amount of flex in the Inspiron's keyboard deck, however, including the area immediately surrounding the keys. It doesn't affect typing or swiping on the touchpad, but it might give one pause about the overall build quality. Also, the touchpad's responsiveness varied: Clicking was fine, but it didn't react well to my calloused fingertips at all times. The response of the touchscreen display, on the other hand, was smooth as silk.
The Inspiron 11 series 3000 edged out a similarly-configured Yoga 2 11 by a single point in our WorldBench 9 benchmark: 29 to 28. Subjectively, it feels agile enough once the Windows 8.1 operating system is up and running. Audio through the speakers is surprisingly loud and clear, and 1080p video renders smoothly.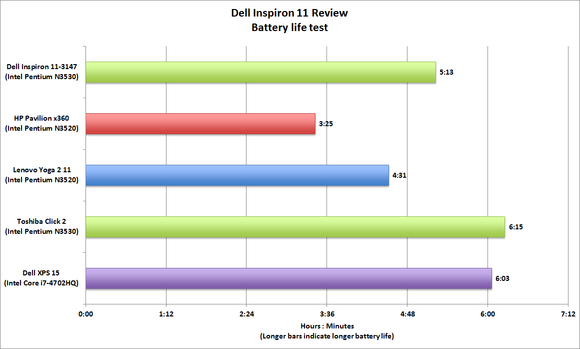 Gaming-wise, the Inspiron 11-3147 might do okay with simple HTML types, but it won't handle modern standalone titles. It managed only 11 frames per second in BioShock Infinite at 1024×768 using low image detail. But you don't buy a convertible to game, and you probably don't want the kids wasting time with such pursuits when they should be studying.
They will be able to hit the books for a while sans cable: Dell wrings 5 hours and 13 minutes of run time from the Inspiron 11-3147's battery, 42 minutes longer than what we saw with the Yoga 2 11. That's still an hour short of the run time turned in by the Toshiba Click 2, the aforementioned 2-in-1 powered by same processor.
Even though the Dell Inspiron 11 3000 series is a better deal overall, the Lenovo Yoga 2 11's somewhat sleeker design will likely win its share of buys. I always recommend kicking the tires in person before deciding which you want to own. If you want something faster or with greater screen resolution, shop the Pro variant of the Yoga 2, with its Core processors.