Curved TVs were all the rage at CES last January. Now Samsung is hoping to entice PC gamers to pay a hefty premium for a 27-inch curved computer monitor. Where conventional consumer-oriented 27-inch displays with native resolution of 1920×1080 sell for as little as $220, Samsung thinks it can fetch $430 for its curved model SD590C.
Quoting from Samsung's press release, Samsung marketing VP Ron Gazzola says that the SD590C's curved design was "carefully engineered to draw you into the display and truly make you feel a part of the content." Samsung says the curvature not only gives the display a wider field of view that makes the display seem bigger than it actually is, but that it also reduces visual clutter in the viewer's peripheral vision.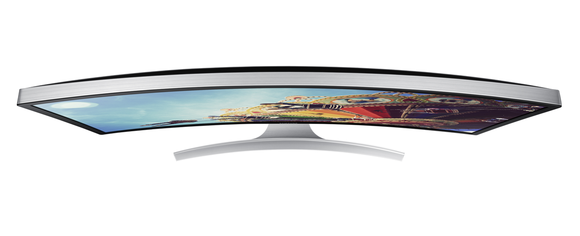 Critics who have reviewed curved TVs report that pictures seem to have more depth, and that objects at the edges of the screen look sharper because the curve of the display tracks the curve of your eye. But those reviews have been of TVs with screens that are at least twice as big as a computer monitor, and that are viewed across much greater distances.
On the downside, faultfinders have noted that distracting reflections—especially from ambient light sources—are much more prominent in curved displays. Potentially more troubling, many reviews have reported that the benefits from a curved display manifest themselves only on very large displays—65 inches and up. But that might not be the case with a curved display that's only two feet from your face.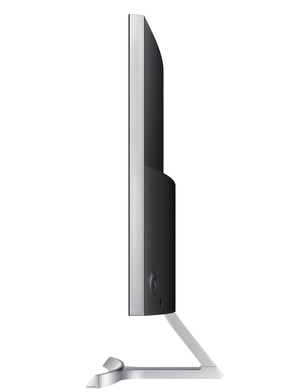 The SD590C is based on a VA (Vertical Alignment) LED-backlit LCD panel, with a modest maximum brightness of 350cd/m2 (candelas per square meter), gray-to-gray response rate of 4ms, and a maximum refresh rate of 60Hz. The display has a pair of 5-watt stereo speakers integrated into its bezel, but I imagine most gamers will ignore them in favor of headphones or their favorite powered external speakers if more than one person will be watching.
I'm happy to report that the SD590C supports DisplayPort as well as HDMI (there's a VGA port, too). There's an audio input to drive the aforementioned speakers, and a headphone output. The display is mounted on T-shaped stand that allows the panel to tilt from -2 to +20 degrees, but it doesn't swivel or—no surprise—pivot.
Enabling Game Mode on Samsung's new monitor is said to enhance color and automatically adjust contrast to render darks darker and lights and lighter as the display detects changes in scenes. Game Boost promises to do something similar for a game's soundtrack, adjusting the equalization to elevate sound effects and voices above background music.
I'm intrigued by this new form factor and am looking forward to reviewing the SD590C, but $430 is a lot of lettuce for a 27-inch display. The curved display goes on sale in the U.S. on October 1.