It's been a full year since Lenovo announced it had signed up Ashton Kutcher as a "product engineer," and Lenovo is apparently happy with the partnership. The actor/investor is to appear via satellite at a Lenovo event in London on Thursday to introduce several new products, including the new Yoga 3 Pro and ThinkPad Yoga 14 notebooks. (Two new Android Yoga tablets were also announced.)
Moving parts are usually the first things to break on a computer, so conventional wisdom is the fewer, the better—especially on a notebook that must withstand the rigors of travel.That renders the hinge design Lenovo's engineers have come up with (I can't imagine Kutcher had much to do with this) as audacious as it is beautiful. Dubbed the "watchband" hinge, it consists of more than 800 individual pieces of steel and aluminum.

Lenovo says the hand-assembled hinge enabled its engineers to render the Yoga 3 Pro thinner and 14 percent lighter than last year's model. And it certainly looked that way based on a preproduction sample Lenovo showed me last week: The laptop measures just 0.5 inches high and weighs only 2.62 pounds.
The Yoga 3 Pro will be one of the relatively few laptops powered by Intel's latest (and very late) mobile processor, the long-delayed Core M-70. That chip's integrated graphics will support a 13.3-inch, 3200×1800 IPS touchscreen. The new model boasts twice as much memory and solid-state storage as the Yoga 2 Pro we reviewed late last year: 8GB of DDR3L memory and a 256GB SSD.
It also moves up to 802.11ac Wi-Fi connectivity, compared to 802.11n on the older model. This is an important feature, because it can be difficult or impossible to update a laptop's Wi-Fi adapter without resorting to a USB dongle.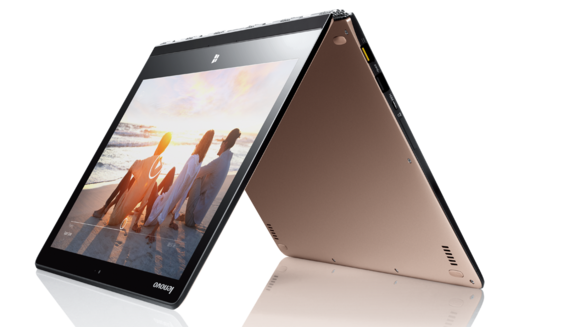 And rather than use a separate power connector that's useless when running on battery power, Lenovo came up with a new design that has you plugging its AC adapter into a USB 2.0 port (the Yoga 2 Pro also has two USB 3.0 ports and a 4-in-1 memory card reader). Lenovo claims up to nine hours of battery life for its new laptop.
ThinkPad Yoga 14
Lenovo launched Yoga as a consumer brand in 2012, and it introduced the first ThinkPad Yoga to the business-notebook market one year later. The model we reviewed last year featured a unique "Lift 'n Lock" mechanism that raised the frame surrounding the keyboard so that it's flush with the keys when the laptop is in tent or tablet mode. The appeal is that you don't feel the keys when the keyboard is flipped around and the bottom of the chassis makes contact with the top of the lid.
This design has been carried over to the new, larger ThinkPad Yoga 14, but this machine won't be getting the fancy hinge treatment or the Core M processor the consumer model has. And while its 14-inch IPS display is larger than last year's 12.5-inch model, the Yoga 14 will remain limited to resolution of 1920×1080 pixels.

The new ThinkPad is powered by a Haswell-class Intel Core i5 processor, with integrated graphics in the base model. An Nvidia GeForce 840M mobile graphics processor is available as an option. Both configurations come with 8GB of DDR3L memory, a 1TB hard drive supplemented by a 16GB solid-state memory cache, a 4-in-1 memory card reader, two USB 3.0 connectors, and one USB 2.0 connector that serves double duty as a power port.
Being a business-oriented laptop, the ThinkPad Yoga 14 has a docking connector adjacent to this power port, so you can connect it to one of Lenovo's desktop docking stations using a single cable.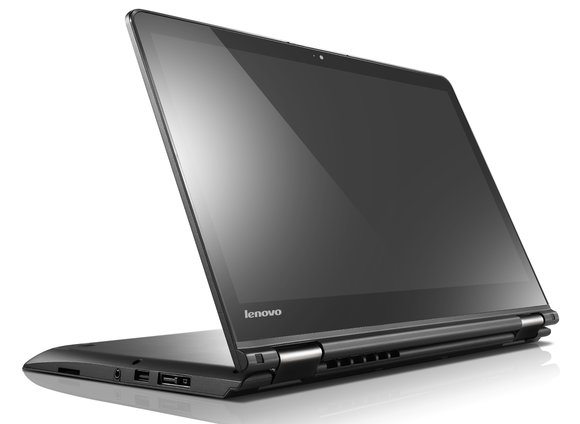 The ThinkPad Yoga won't be a super thin-and-light machine, measuring 0.7 inches thick and weighing 4.1 pounds without the discrete graphics processor option. Lenovo says buyers can expect to get up to 8 hours out of its battery.
Pricing and availability
Lenovo says the Yoga 3 Pro will be available in three colors—Clementine Orange, Platinum Silver, and Champagne Gold—when it goes on sale at Best Buy and Lenovo.com at the end of October. Prices start at $1349. The ThinkPad Yoga 14 will also be available at the end of October, but in basic black and exclusively at Best Buy, with prices starting at $1199.
What do you think of Lenovo's designs? Are you enamored with the hybrid laptop/tablet idea? Do you prefer hybrids with detachable displays? Do you think the whole hybrid concept is silly, and that laptops should be laptops and tablets should be tablets? Should Ashton Kutcher go back to looking for his car? Let us know in the comments section, below.