If you don't fancy a smartwatch-style wearable device on your wrist, how about on your finger?
16Lab is a small Japanese company that's latched onto a potentially big idea—it wants sensor-equipped smart rings to be a new kind of gesture-control device.
At the Ceatec 2014 tech fair outside Tokyo on Tuesday, the Kamakura-based startup exhibited a prototype version of its ring.
The prototype looks like a chunky metallic ring with a triangular part that houses electronics. It contains a touch sensor, gyroscope and accelerometer to track its position.
It also has a Bluetooth connectivity module produced by Alps Electric, whose booth at Ceatec hosted a display for the ring. It's also waterproof.
The ring can be used as a gestural controller. During a demonstration, staffers were waving it in the air to manipulate animated rings on a display.
Gaming interfaces are one potential application. Using the ring is a bit like playing with a Nintendo Wii Remote, which uses motion sensing to control video games.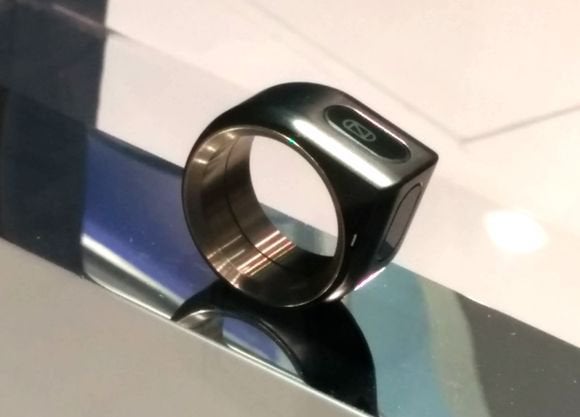 The ring can also be used as an alert tool that vibrates, as well as a contactless key or an electronic wallet, 16Lab said. The latter feature could be like Apple Watch and its Apple Pay function.
The 16Lab ring isn't the first of its kind. Earlier this year, California-based Nod unveiled a gesture-control ring that can be used for applications such as typing with an on-screen keyboard or controlling a smartphone's music player.
It's part of a larger wearables move away from touchscreens as a user interface, with the aim of freeing people from the need to look at and touch a mobile device to control it.
"We want to carry computing power to something outside the display," said 16Lab CEO Ko Kijima, who believes his ring is more accurate than that of Nod.
"Our ring has exclusively custom-made components that are built for safety and reliability. That's going to be a great differentiator compared with other startup companies."
The company will start preorder sales this year and plans to begin shipping the rings in 2015, mainly targeted at developers.
They will be available in Japan and seven other countries. 16Lab has not announced other details about the ring, including its official name or a price.