I have a confession to make: While I've been singing the praises of 802.11ac Wi-Fi routers for more than two years, I have personally been making do with an old 802.11n model. This weekend, I finally upgraded my home network with a Linksys WRT1900AC. And I didn't really upgrade to get more speed. I switched so I could put the router on top of the new WRT SE4008 8-port Gigabit Switch Linksys announced today.
"A switch?" you say. "This guy is geeking out over a new Ethernet switch?"
Hey, I get it. For many, installing a Wi-Fi router all but eliminates the need for hardwired Ethernet connections. And since every consumer Wi-Fi router has at least a built-in 4-port switch for those situations you do need a few hardwired connections, many people will never need to buy an additional switch.
But if your network is like mine and you need to hard-wire more than four devices, a multi-port switch is a necessity. And the Linksys WRT SE4008 is the only one I've seen that's designed to complement a router.
I have two somewhat lame excuses for my heretofore lackadaisical attitude about upgrading my router. First, the vast majority of my networked devices are hardwired to my network. When I built my home in 2007, I had Ethernet dropped into every room (several rooms have more than one drop). So I figured I didn't really need high-speed wireless because it could never touch my wired network's speed. My second, and less-excusable, reason for dragging my feet was that I didn't want to bother reconfiguring the few wireless IP cameras in my home-security system (I have 10 cameras, but only two of them are wireless).
"If it ain't broke, don't fix it," I rationalized. "I'm at home only three days a week, and two of those days are the weekend," I'd tell myself. "I should finish this other project first," I'd reason. And so on, ad nauseam.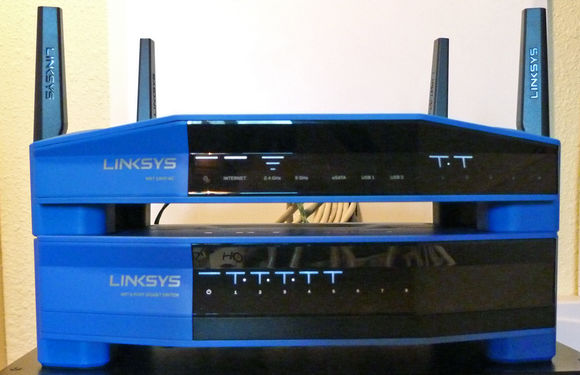 But then Linksys dropped the WRT switch at my door. I'd outgrown my 24-port switch when I added various devices to my home-run closet, including a WD My Cloud Mirror NAS box and a DirecTV Genie. So I'd already added a 5-port switch to my menagerie. My closet looked so cluttered, and the WRT switch looked so cool sitting under the WRT router.
Linksys, by the way, emphasizes that the switch should go under the router and not the other way around. The switch is designed to dissipate heat from the sides of its enclosure, so as not to overheat the router. Besides, putting the switch on top of the router would block the router's antennas.
So over the weekend, I yanked my old router and the 5-port switch, hooked up the WRT1900AC, and slid the WRT switch underneath it. There's really nothing particularly special about this switch, apart from its industrial design. It's an unmanaged model with eight auto-sensing ports. The switch automatically switches between Fast and gigabit Ethernet depending on the speed of the connected client, and it automatically puts unused or inactive ports into a power-saving mode.
It does have built-in quality-of-service that enables it to assign higher priority to lag-sensitive network traffic, such as media streams and games, and lower priority to traffic such as file downloads. Front-panel LEDs indicate power status and connections on each port. That could describe any number of dumb switches.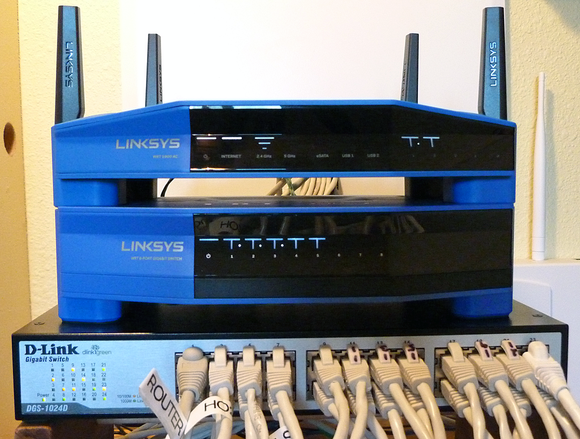 The Linksys WRT SE4008 is not inexpensive, with a suggested list price of $70. On the other hand, the more mundane-looking Linksys SE3008 8-port switch has a list price of $80 but is available at the Linksys online store for just $55, so perhaps we'll see similar discounts for this model. Or Linksys could just be counting on finding more suckers for design. Like me.
As for reconfiguring my IP cameras? It took me all of 10 minutes for one and much less than that for the other (it's a newer model that supports Wi-Fi Protected Setup). I should have bit the bullet months ago.
How many switches are in your network? Have you ever upgraded components almost entirely for aesthetic reasons? How often do you delay an upgrade because you feel what you already have is good enough? Tell us about your home network in the comments section, below.