At a Glance
Expert's Rating
Pros
Quad HD display with great viewing angles
Modern, metal-fied chassis
Takes fantastic rear- and front-facing photos
Cons
Single speaker on the back sounds tinny
Our Verdict
Yes, the Note 4 is bigger than some of the other flagships out on the market, but when you factor in its beautiful screen, powerful internals, and the utility of the S-Pen, it's a worthy buy.
The Galaxy Note 4 is quite possibly one of the best smartphones Samsung has ever concocted.
It's outfitted in a seriously stylish metal outfitting and faux-leather backing, features a Quad HD display for a high-resolution viewing experience, and comes bundled with the ever-so-useful S-Pen stylus. It's also a bonafide replacement to carrying around a small-sized phone and mid-sized tablet with you when all you want is a better screen for reading and watching movies.
But the best thing about the Galaxy Note 4 is that it feels like Samsung took every little comment stuffed into its cobweb-covered suggestion box and actually listened to what its users want.
A brand spankin' new body
If you've read my previous reviews, you know that I haven't always been too fond of large phones because they've been difficult to wield. But something snapped in me when I picked up the 6.04 inch by 3.09 inch by 0.33 inch Galaxy Note 4. I'm not sure if it's because I've been carrying both a tablet and a smartphone with me on my commute for months now, or because I've finally realized how much work I can get done on a bigger screen. Or, maybe it's simply the fact that I can type faster with two thumbs on a wider display versus a smaller, narrower one. Either way, I found that the Note 4's size, in addition to its multitasking features, made me forget all about my tablet.
Whereas the Note 3 was merely a minor improvement over its predecessor, this year's Note 4 feels like an entirely new product. The phone's faux-leather backing actually feels leathery, while the metal trim—that beautiful metal trim that I fell in love with when I first laid eyes on the Galaxy Alpha—gives the Note 4 that modern GQ-like business aesthetic that Samsung has attempted to achieve with the Note series since generation one. The metal chassis does add a little bit more heft to the device, but at least now it feels like a sturdy, premium piece of hardware. I sincerely hope this design refresh sets the precedent for all of Samsung's forthcoming devices.
The Note 4 continues on with Samsung's storied tradition of placing a physical Home button between Android's two other navigational buttons. It also doubles as a fingerprint scanner.
Android purists may find issue with the fact that the Note 4 switches the multitasking and back-buttons—and that they're stuck that way, since the buttons are embedded in the chassis. I'd rather that Samsung switch over to using stock Android's on-screen navigation controls, even if they do take up a bit of screen space. Also, double-pressing the Home button still brings up S-Voice, which seems redundant when you have Google's superior Google Now already available at your fingertips.
Is that a TV in your pocket?
The Galaxy Note 4 employs a 5.7-inch Quad HD display—that's a 2560×1440 screen, giving it a density of 518 pixels per inc. This puts it in second place for exorbitant amount of pixels in a smartphone, right after LG's G3. The two displays are decidedly different, however, due in part to the fact that they both utilize different display technologies—Samsung uses Super AMOLED and LG uses IPS LCD—but also because Samsung's Note 4 is just a tad bigger.
While movies, games, and other extremely colorful applications appear bright and vivid on the Note 4's Super AMOLED display, there's still that noticeable color over-saturation that appears in certain applications. When you're browsing stark white websites, for instance, there's a bit of a blue-hued tint. It's obvious when you place the device alongside another type of display technology, but it's not so apparent that it'll ruin your entertainment experience. And with Super AMOLED, at least you'll get the blackest blacks.
Battery life is of the essence
Samsung offers two versions of the Galaxy Note 4: one with an octa-core Exynos 5433 processor, and one with a quad-core 2.7GHz Qualcomm Snapdragon 805. Both are paired with 3GB of RAM, but the latter is the version that is sold here in the United States, and the one that we used throughout testing.
The Note 4 is quite speedy—multitasking is that much better when you have so much power throttling behind you. It also helps that interface doesn't feel as weighed down as it has in previous generations. As a day-to-day driver, the phone will do just fine running in and out of applications, dealing with hoards of notifications, and getting you to work with the help of memory intensive apps, like Google Maps. I'm more curious to see how the Galaxy Note 4 will perform with Samsung's Gear VR, since it's meant to be used with the virtual reality headset accessory. Even if you don't plan on using that device, you can rest assured that the Note 4 features some of the most powerful components on the market.
I watched the phone for a few days to gauge how much life the Note 4 squeezes out of its 3200mAh battery pack. It lasted two and a half days—from Saturday morning to Monday afternoon—before it hit 14 percent and started screaming for a charge. Annoyingly, the Note 4's camera app won't snap a photo with the flash on if it's below 16 percent battery, so keep that in mind. I know when I'm at a music festival or a night out, I try to squeeze every last dying bit out of my phone before it's totally out of juice.
Our review unit was an AT&T variant, and it struggled to maintain 4G speeds throughout New York City, Las Vegas, and San Francisco—my HTC One (M8) on Verizon Wireless fared better in the same locations. Of course, your mileage may vary where you live.
I'm still annoyed that Samsung chose to beef up every other part of the phone, but won't opt for front-facing stereo speakers. I hope you have a nice pair of earbuds or a Bluetooth speaker to pair with this thing, because anything you listen with the phone's pitiful rear speaker sounds tinny.
Wait—let me take a selfie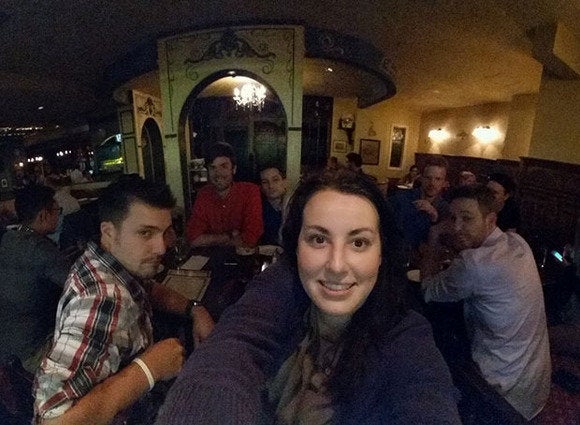 This year has definitely been the year of the "selfies." No matter where you turn, there's another device manufacturer claiming to have the very best front-facing camera.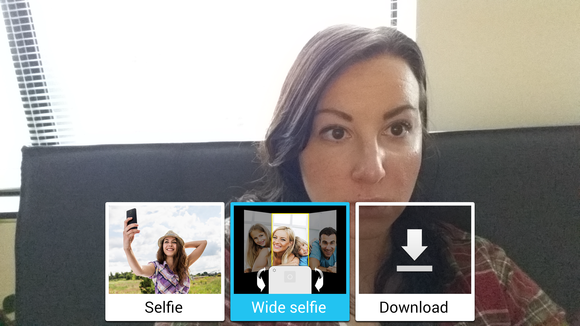 Samsung's on the same bandwagon: its front-facing 3.7-megapixel camera sensor exists to help you take the great selfies. It also has a neat feature called the Wide selfie, which essentially lets you take panoramic photo of you and your crew or the scenery surrounding you. For higher resolution shots, you can also take selfies with the rear-facing camera; aim it at your face, and the Note 4 will beep when you're in focus. It's the perfect set of features for the narcissist in you.
The Galaxy Note 4's 16-megapixel rear-facing camera is a vast improvement over its predecessor. In addition to a better camera sensor, better low-light performance, and a better flash, it also features Advanced Digital Zoom.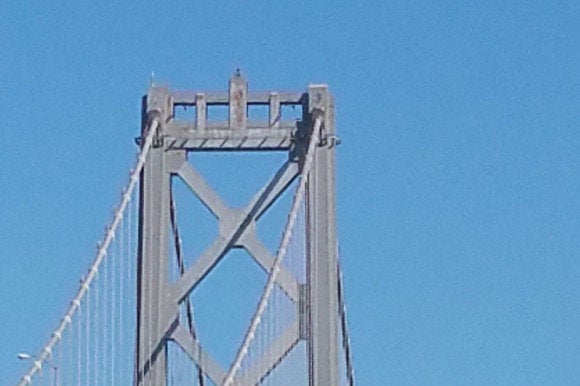 The Note 4's Advanced Digital Zoom will never be a replacement for true optical zoom, but it works much better than some of the other smartphones out there.
Write it out
My biggest gripe with the last three generations of S-Pens is that the stylus felt stiff and offered no tactile feedback whatsoever, but this year's Note S-Pen offers a similar drag to what you might experience while writing a note on a piece of actual paper. It makes it easier to write notes and doodle, no matter how sloppy you are with a pen.
Like last year's version, the S-Pen features a small button you can click to bring up Air Command, which has been pared down to four essential features: Action Memo, Smart Select, Image Clip, and Screen Write. S-Finder was nixed from the Air Command menu, while Pen Window was converted to Smart Select.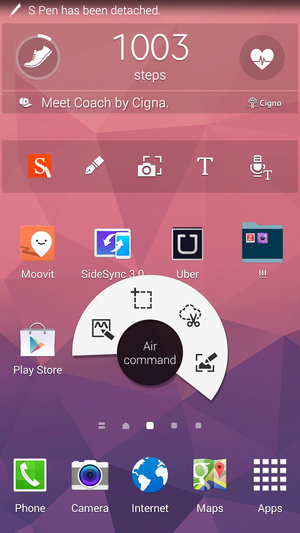 All four of Air Command's mini-apps have been given a minor feature makeover. Action memo now enables you to pin a note to your Home screen as a sticky note; it functions just like a widget, and you can pin multiple notes as you see fit.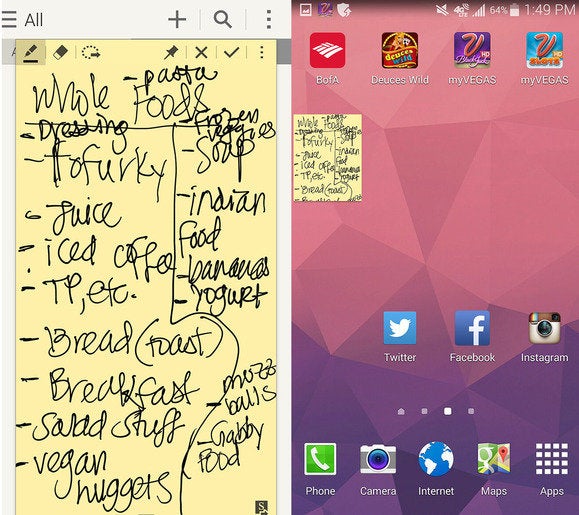 Smart select and Image clip work similarly: they each clip a selected area, but the former will save to an S-Note scrapbook page while the later will enable you to either save it as an image or share it across various apps.
As for Screen Write, it just blatantly does what it describes: allow you to write on top of a screenshot of your choosing. When you save it, it will be filed away in the Gallery application.
Still Touchwiz…
The Galaxy Note 4 features the same TouchWiz Nature UX 3.0 interface that's standard on all of Samsung's latest mobile devices, including the Galaxy S5. It comes with a few helpful interface-specific perks that you don't get on other Android devices, like One-handed operation, which offers options for reducing the screen size or placing controls in easier-to-tap spots so you can more easily use the phone one-handed, and increased touch sensitivity, which lets you use the device with gloves on.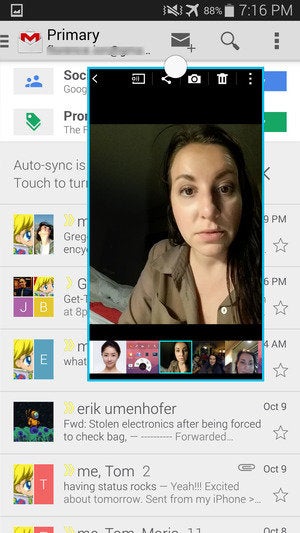 My personal favorite is Pop-up view, a part of MultiView, which open up apps in their own individual windows, allowing you to essentially multitask like you would on a PC or a Mac. It's a creative addition on Samsung's part to attract the business-minded crowd, who might find that moving windows around feels a little more natural than tapping in and out of apps to get things done.
If you absolutely have no use for some of the features described, you can opt out of them entirely, though you're mostly stuck with Samsung's TouchWiz Nature UX even if you do spend some time attempting to customizing the interface.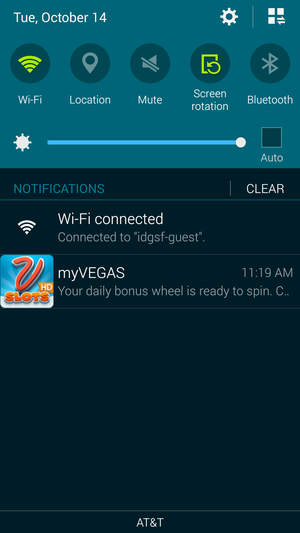 Both Samsung and AT&T bundled a bunch of applications with the Note 4 that I never ended up using. Most of Samsung's apps live behind the Galaxy Apps icon, though apps like Milk Music and Flipboard come pre-loaded on the device. Also, Samsung did away with My Magazine and instead offers the ability to enable Flipboard as the default app that lives all the way to the left of the Home screen—makes sense, considering that the service was just a modified version of Flipboard in first place.
A phab-ulous phablet
Yes, the Note 4 is bigger than some of the other flagships out on the market—it's even bigger than the LG G3 and HTC One (M8), which are both rather large phones. But when you factor in its beautiful screen, powerful hardware, and the utility of the S-Pen, it becomes a worthy consideration.
But as I said in the beginning: it's not merely the fact that Samsung debuted another phone-tablet hybrid device, it's that it feels like the company is actually starting to listen to what its users want. The Google Apps are displayed front and center, Samsung's apps are mostly opt-in, the chassis feels more premium than ever, and even Touchwiz is becoming less gaudy with every iteration. Maybe it's because of Google's iron-fisted demands that we're starting to see this significant change, or maybe it's just because Samsung will do anything to stay on top as long as it possibly can. Whatever the motivation, it's working. This is Samsung's best phone ever, and one of the best phones of the year.