It's time to get excited, Raspberry Pi enthusiasts. Pretty soon, you'll be able to pick-up an official touch screen to connect to your Raspberry Pi. Plus, a beefier new Raspberry Pi Model A+ is incoming, according to Eben Upton, CEO of Raspberry Pi Ltd.
Upton made the announcements during a recent interview at TechCrunch Disrupt Europe in London.
The impact on you at home: The biggest deal is the display. Serious Raspberry Pi DIY fans have already been making tablets and other touch screen devices with the Raspberry Pi. But having an official product specifically designed for the Pi will make it far easier for more people to experiment with Raspberry Pi and touch. Plus, an official display accessory means you don't have to worry about whether it will work with your Raspberry Pi.
Raspberry rising
Upton didn't provide a ton of information about the new touch panel. It's slated to come out either before the holidays or early 2015. It will also most likely be compatible with the B and B+ boards, but that's just speculation.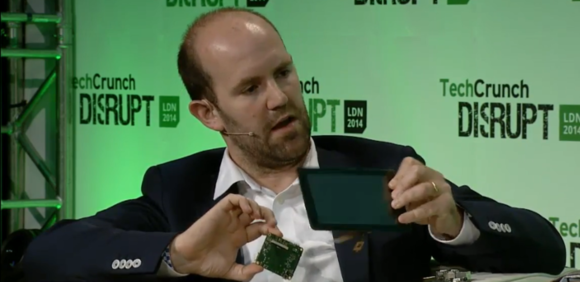 The panel will be a 7-inch WVGA capacitive touch display and the Raspberry Pi will snap onto the back of it. There's also another specially designed PCB that comes with the display to connect to the Pi.
From the looks of the new display set-up, the official Pi screen isn't so much about creating your own personal tablet as it is about creating mini kiosks and other embedded projects. With two cards stacked on the back, the display is pretty bulky, and it looks like you'll be on your own when it comes to figuring out a case—although you can bet some accessory makers will start looking at creating tablet cases once the new display rolls out.
As for the A+, all Upton would say is that there'll be an announcement about it very soon. Raspberry Pi decided to design a new board to replace the A since it doesn't sell very well. Upton said the $35 B and B+ models have already topped 4 million unit sales, while the $25 A model has only hit around 100,000.
Upton hopes the upgraded A board will be a bigger hit than its predecessor. "We think we've actually managed make something that's really going to capture people's imagination," Upton said
Note: When you purchase something after clicking links in our articles, we may earn a small commission. Read our affiliate link policy for more details.
Ian is an independent writer based in Israel who has never met a tech subject he didn't like. He primarily covers Windows, PC and gaming hardware, video and music streaming services, social networks, and browsers. When he's not covering the news he's working on how-to tips for PC users, or tuning his eGPU setup.