One of the painful realities of buying a gaming laptop is that no matter how close to the bleeding edge you get, its graphics processor will be practically obsolete in a year or two. That's great for laptop manufacturers, but it sucks for gamers. Alienware has a solution: The Alienware Graphics Amplifier.
The $299 Graphics Amplifier is basically a PCIe x4 slot in a box, with an integrated 460-watt power supply. Plug in just about any desktop video card, connect the box to an Alienware 13 laptop (the only laptop on the market equipped with the required proprietary interface), and you get desktop gaming performance.
The idea is that you can have a good gaming experience on the road, depending on the Nvidia GeForce 860 GTX graphics processor built into the laptop, and then have a desktop-equivalent gaming experience with whichever video card you choose when you get back home.
That's great for Alienware and its fans, but it sucks for the gamers who don't want to buy a 13-inch Alienware laptop. Still interested? Here are the details.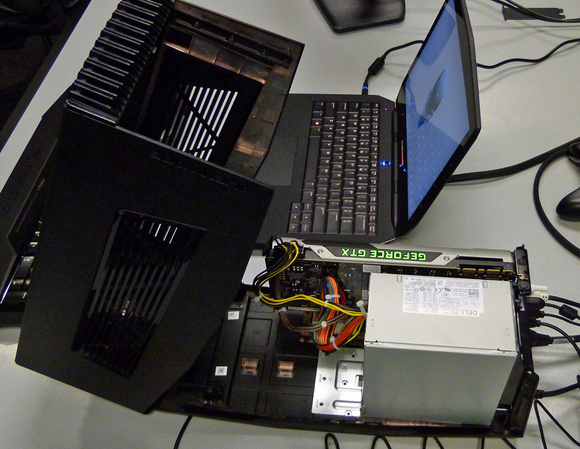 The Graphics Amplifier can support nearly any single video card (up to full-length, dual-width, PCIe x16, needing up to 375 watts of electrical power). That rules out Nvidia's monstrous Titan, but it includes just about everything else (Alienware claims a baseline of Nvidia's GeForce GTX 600 series and AMD's Radeon HD 5000 series).
The box also has four powered USB 3.0 ports, so you can plug your keyboard, mouse, and other peripherals into the box, reducing the laptop's hardwired connections to two: Power and the Graphics Amplifier.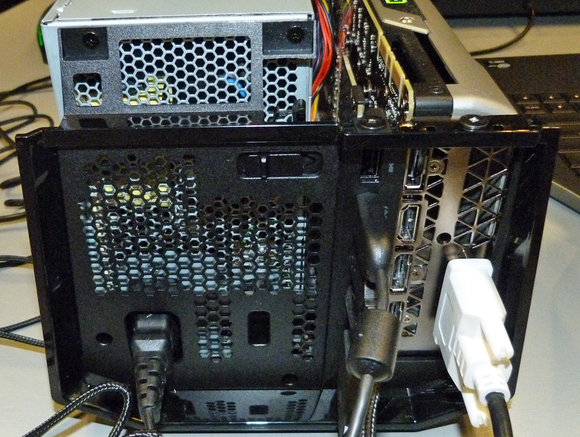 Connecting the Graphics Amplifier shuts down the discrete GPU inside the Alienware 13 (so no, you can't rock a mobile SLI setup), but it leaves the integrated graphics in the Intel Core CPU fully functional. So between the laptop and the Graphics Amplifier, Alienware says you'll be able to drive up to eight displays.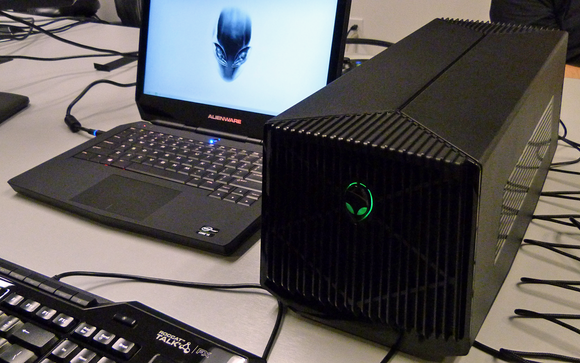 There's nothing new under the sun
Connecting an external PCIe video card to a laptop is not a novel concept. AMD had the idea way back in 2008, and I don't know that they were the first. Magma Technology Group has a whole family of products on the market today, although they're not designed for the consumer market.
And that's where Alienware does break new ground. The Graphics Amplifier is reasonably priced at $299, considering that it's a niche-within-a-niche product. Compared to how much it would cost to upgrade your laptop every couple of years, it could prove to be a bargain over time.
The hitch, of course, is that it works only with Alienware laptops. Perhaps this announcement will be the catalyst that sparks some other company to bring a more universal solution to market. MSI and Gigabyte have shown prototypes in years past, so it's clearly possible.
The Alienware Graphics Amplifier can be ordered now, as can the previously announced Alienware 13 laptop and Area 51 desktop gaming machines.
Alienware 13 and Area 51
Measuring just one inch thick and weighing less than 4.5 pounds, the Alienware 13 is the thinnest laptop Alienware has ever built. It will be available with your choice of three 13.3-inch displays: The base model will have a 1366×768 TN panel with 45-percent color gamut. You can step up from there to a 1920×1080 IPS panel with 72-percent color gamut, and the top-shelf model will be outfitted with a 2560×1440 touchscreen IPS panel (also with 72-percent color gamut).
All three models will have Intel Core processors, up to 16GB of DDR3 memory, support for up to two SSDs, and 802.11ac Wi-Fi adapters from Qualcomm's Killer Technology.
All Area 51 configurations include Intel Haswell-E processors, liquid cooling, and your choice of AMD or Nvidia video cards. Prices for the desktop gaming rigs start at $1699.