Nintendo has been stimulating people with video games for decades, but now it wants to help them sleep better.
The Japanese gaming giant on Thursday gave a few details of its plan to enter the healthcare business with a device that can sense how well users sleep.
The Quality of Life (QOL) Sensor sits by a user's bedside and monitors body movements, heart rate and breathing via radio waves. The non-contact unit then sends the data it gathers to cloud-based servers for analysis. Users can then access results that show their sleep and fatigue levels.
The system will also automatically make recommendations such as getting more exercise or changing one's diet. The information would be made available on "smart devices," Nintendo said, without elaborating whether that would include smartphones. However, dedicated video game systems could also be used to improve users' quality of life, it said.
"Fatigue and sleep are themes that are rather hard to visualize in more objective ways," Nintendo president Satoru Iwata told a management policy meeting. "At Nintendo, we believe that if we could visualize them, there would be great potential for many people regardless of age, gender, language or culture."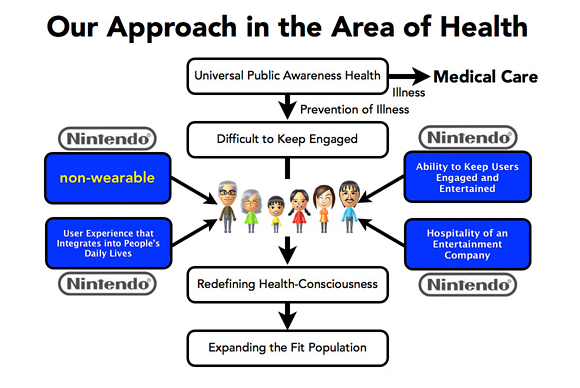 The company is partnering with ResMed, a U.S.-based manufacturer of machines to help treat sleep apnea, to help represent sleep and fatigue data in a meaningful way for users.
While it won't be available until 2016, the QOL Sensor would be part of a services-based health business that Nintendo hopes could be even larger than its gaming empire, which has drawn criticism for failing to embrace the popularity of smartphone gaming over traditional consoles.
Nintendo suggested its games and QOL businesses could benefit from synergies such as making health monitoring enjoyable.
"We have various kinds of know-how in making experiences fun and something that users want to continue, so we'd like to put efforts into this," a Nintendo spokesman said.
On Wednesday, the 125-year-old Kyoto-based company reported a surprising net profit of ¥14.3 billion ($132 million) for the six months to Sept. 30, up from a profit of ¥600 million a year earlier.
It attributed the strong performance to the global rollout of "Mario Kart 8" and improved sales of its Wii U console, leaving unchanged its forecast from May that sees a net profit of ¥20 billion for the year to March 31, 2015.