Facebook knows how to get you to pay attention: Just put information at the top of your News Feed. From updates about engagements and births to this week's voter megaphone, if it's right in front of your face, you're more likely to interact with it. So the social network is raising awareness about Ebola with the same strategy: A Donate button you'll see as soon as you navigate to your News Feed.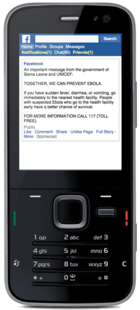 Tapping that button will let you send money to three nonprofit organizations working to end Ebola in West Africa: the Red Cross, Save the Children, and International Medical Corps.
For Facebook users living in West African countries devastated by Ebola, the network is partnering with UNICEF to provide information about how to protect yourself from Ebola, how to spot symptoms, and where to get treatment. That information will appear as a message from UNICEF in the local language and will be optimized for feature phones.
That's not all. Facebook is also donating 100 Broadband Global Area Network devices, small satellite terminals that will bring voice and data coverage to medical workers in Sierra Leone, Liberia, and Guinea. NetHope, a coalition of NGOs working in the region, will figure out where to place the devices to bring telecommunications coverage to areas that need it most.
Fighting Ebola is a high priority for Facebook CEO Mark Zuckerberg, who recently made a $25 million donation with his wife Priscilla to the Centers for Disease Control Foundation.
Why this matters: This isn't the first time Facebook has rallied support for a cause by putting a Donate button at the top of your News Feed, but it's also not a common occurrence. Facebook introduced its Donate button for nonprofits last year after a major effort to help the Red Cross fundraise in the wake of Typhoon Haiyan in the Philippines. Though Facebook users may not be able to match Zuckerberg's $25 million donation, the network knows that it can galvanize support for the cause by putting it in front of your face.