That guy you haven't talked to since you graduated college appears in your News Feed a lot. Too much. You don't even interact with his posts, but you don't want to unfriend him altogether. Now Facebook has a setting you can experiment with to prune your feed without unfriending everyone en masse.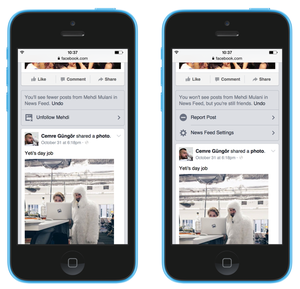 The new controls give you a way to see fewer posts from certain people without cutting them out of your life completely. Facebook has long allowed you to hide posts in your feed, even letting you hide a user forever without unfriending them. Now the hide tool allows you to banish a specific post from your feed by tapping, "I don't want to see this." Then you can opt to see less from a particular friend. The tool also allows you to quickly unfollow the person, which would hide all of their updates. You can refollow them later.
The News Feed settings section now tells you whose posts are appearing the most in your stream and how many times you've seen their updates in the last week. The new setting gives you more control over your feed by helping you lower the importance of some friends' updates. You can elevate others by engaging with their posts more.
Why this matters: Facebook is constantly experimenting with its News Feed algorithm to show you stories it thinks you'll want to read, but now it's giving you more of that power. The network has made major changes in the last year to clean up the News Feed, including banishing clickbait, likebait, and pages that try to game the system. While many of its billion-plus users won't be happy until they have a chronological feed filled with every possible update, Facebook's yearlong effort to improve the quality of your feed proves at least the company cares about your experience.
The changes are rolling out to desktop and mobile on Friday.