Facebook CEO Mark Zuckerberg wasn't always comfortable speaking in public. He still trips over his words sometimes and he tends to stick to his talking points. But after years of weekly Q&As with Facebook employees, he decided to open up the floor so the social network's users could ask their own questions.
Zuckerberg invited people to submit their questions on his Facebook page and then answered the most-liked questions in a Thursday night town hall-style livestream. The most popular questions were obvious ones: "Why did you force us to install Facebook Messenger?" and "What happened to my business's organic page reach?" Zuck cleared up some confusion, but also spilled details about products that Facebook never released and why he wears the same outfit every day.
On Facebook Messenger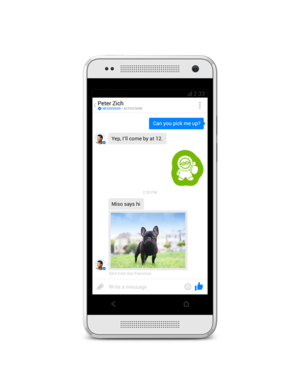 Zuckerberg: Asking everyone in our community to install another app, Messenger, was a big ask. I appreciate that that required work and was a bunch of friction. The reason why we wanted to do this is because we really believe that this is a better experience. Messaging was this behavior that people were doing more and more—there were more than 10 billion messages being sent each day on Facebook. In order to get to your messages, you had to open the app and go to a separate tab. All of the messaging apps that people relied on the most were these dedicated, focused experiences.
Even though it was a short-term, painful thing to ask folks to install a separate messaging app, we knew we could never deliver the quality of experience inside the tab in the main Facebook app, and we knew that to focus on serving this well, we had to build a dedicated and focused experience. We have a lot to earn in terms of trust and proving this stand-alone Messenger experience will be really good, and we're committed to doing that.
On unreleased Facebook products
Zuckerberg: Last year we were getting a lot of feedback that the design of News Feed on our desktop website felt really outdated. We try to focus on showing the best content and giving people the tools to share what they want with their friends. People would say, "This looks like a website from 1990." That hurt.
We were happy with the new design. People who used this just did not like it. They used it less. They were able to learn less about what was going on with their friends. We realized that we at Facebook design our products for big monitors. It gave us a blind spot to the computers that most people are actually using in the world. We designed this version of News Feed that was very spaced out. It had a lot of white space.
We ended up not rolling it out, then ate our pride on it.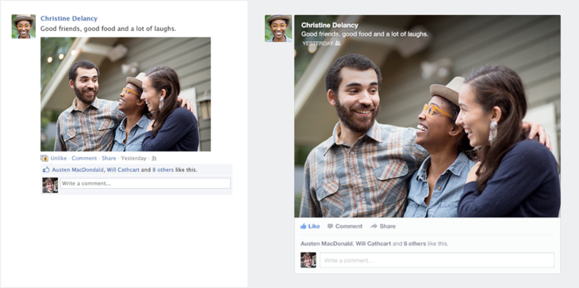 On organic reach in News Feed
Zuckerberg: Our goal is to build the perfect personalized newspaper for every person in the world. Are we trying to optimize News Feed to give each person the best experience when you're reading? Or are we trying to help businesses reach as many people as possible? In every decision we make, we optimize for the first. If a business is sharing content that's useful to them, then we'll show that. If the business is sharing content that isn't going to be useful to them, we aren't going to show that because it's probably more important that their friend had a baby.
On The Social Network
Zuckerberg: It was a very interesting experience to watch a movie that was supposedly about my life. The reality is that writing code and building a product and building a company isn't a glamorous enough thing to make a movie about.
They made up this whole plotline about how I decided to create Facebook to attract girls. One important piece of context: The woman who I'm married to, who I've been dating for more than 10 years, I've been dating her since before I started Facebook. If I was trying to start Facebook to find more women, that probably wouldn't have gone over too well in my relationship.
But we had some fun with it. We took the whole company to see it the day it came out. There's this scene in the movie where we're drinking appletinis. No one had ever heard appletinis before this movie. For awhile, everyone around the office was drinking appletinis making fun of me in the movie.
On Facebook's cool factor
Zuckerberg: Is Facebook getting less cool? It's an interesting question to me because my goal was never to really make Facebook cool. I am not a cool person. I've never tried to be cool. Our model for Facebook has never been to try to make it particularly exciting to use. We just want it to be useful. The services we aspire to be like in the world are these basic things that you rely on that are there. You go home and turn on the lights. You're not like, "Yeah! Electricity!" It just needs to work. The same thing with water. The ability to communicate and connect with people should be that. It should be something that people rely on. It just should work.
On wearing the same gray shirt every day
Zuckerberg: There are multiples of the same shirt. I want to clear my life so I make as few decisions as possible about anything other than how to best serve this community. There's a bunch of psychology theory that even making small decisions about what you wear, what you eat for breakfast, etc., can make you tired. I'm in this very lucky position where I wake up every day and help serve more than a billion people. I feel like I'm not doing my job if I spend any of my energy on things that are silly or frivolous about my life so I can dedicate all of my energy to the best products and services to help us reach our goal of connecting everyone in the world.
You can watch the entire hour-long Q&A with Zuckerberg here.