At a Glance
Expert's Rating
Cons
Not as fast as we expected
Our Verdict
It's the thinnest convertible laptop to date with a beautiful screen, and packs Intel's new Core M chip too.
Ahh, how the PC world turns so quickly. A year ago, the industry would have pondered whether the Yoga 3 Pro was a MacBook Air killer. Today, we have to wonder whether Lenovo's new super-bendable computer is actually a Surface Pro 3 killer.
You might question the comparison, but I think it's fair. Both the Yoga 3 Pro and Surface Pro 3 are ultra-portable, fairly powerful for their size, and priced rather similarly when spec'd similarly.
I went into my Yoga 3 Pro testing with high expectations. After all, in our review of the Yoga 2 Pro roughly a year ago, we described that machine as damn near close to the "perfect laptop/tablet combo." And now with this update, Lenovo sticks with what worked well last time, and even makes the Yoga 3 Pro thinner and lighter than its predecessor.
Then there's the new hinging mechanism, which you just have to see in person to appreciate. You won't find anything like this on another PC.
One gorgeous display
First, the really good news: The 13.3-inch, 3800×1200 IPS touch panel looks amazing. In this day and age of 4K laptop displays, that resolution may not sound like a lot, but the size of the screen puts this Yoga's 299 pixels per inch near the top of the pixel density heap for thin-and-light computers. For comparison, the current 13-inch MacBook Air display has 127 ppi, while the Surface Pro 3 hits 216 ppi with its 12-inch screen.
There are still scaling issues in Windows 8.1 on high-res displays, but dropping a 36.3-megapixel image onto the Yoga 3's desktop will make you remember why high-res panels are so damned beautiful. You'll poke your face to within inches of the Yoga 3's screen to check out where the detail stops. On our test image, a publicly available press shot from Nikon, the detail didn't stop.
And the display isn't even what's new in the Yoga 3 Pro—the Yoga 2 Pro essentially had the same screen. The real conversation piece is the watchband-inspired hinge that connects the display to the computer. It looks like someone broke into a jewelry store, absconded with a dozen Speidel watchbands, and machined them together for the new Yoga's hinge. But unlike a watchband that's made to bend to and fro without resistance, the hinge on the Yoga 3 Pro holds its place in familiar Yoga fashion.
The new design is based on six hinges instead of the previous two. This adds rigidity, and it lets the unit fold completely flat against a surface. I'm not sure why you'd really want the entire unit flush against a tabletop, but I suppose when you're doing Yoga and your drill sergeant is screaming at you to do the downward dog properly, you'd better do it.
Thinner and lighter
Lenovo says the Yoga 3 Pro is 17 percent thinner and 15 percent lighter than its predecessor. It's officially 2.62 lbs, 13 inches wide, 9 inches deep and 0.5-inch thick. It's so thin, in fact, Lenovo claims it's the thinnest convertible notebook in ze vorld!
That's technically true, I suppose, but I'll point out before the peanut gallery does that the Surface 3 Pro is 0.36-inch thick. However… the problem with that Microsoft spec is it doesn't include the Type Cover keyboard. And, I'm sorry, without the keyboard, the Surface Pro 3 is essentially useless for most real work. So the Surface Pro 3's effective width (keyboard cover and all) is 0.55-inch, and thus the Yoga 3 Pro is ze vinner!
Lenovo has made a few other nip-tucks to the Yoga 3 Pro. There's now one more USB 3.0 port than the Yoga 2 Pro, plus a handy combo USB 2.0 and charging jack. Lenovo also moved the power button back, responding to complaints from people who hit the old button by mistake, putting the machine to sleep.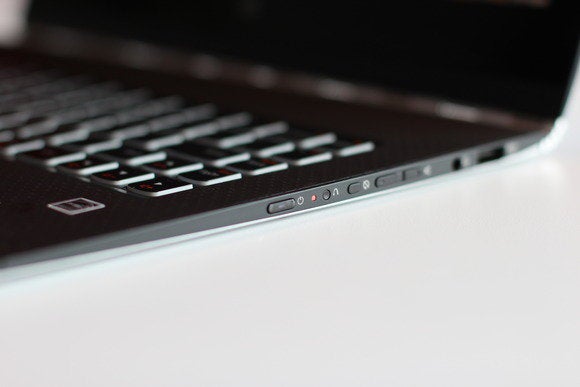 In my experience, though, the new power button placement isn't enough—the button protrudes slightly and is still too easy to hit. At this point, it might be wiser to recess the button more, or move to a slide switch. I also had issues with the Windows button integrated into the display: It requires so much pressure, the laptop slides back half an inch when I try to activate it. I suspect it's a problem with my review unit, as others haven't reported similar issues.
In our review of the Yoga 2 Pro, we dinged the unit for having a shallow keyboard with insufficient key travel. The problem persists in the Yoga 3 Pro. The machine's thin profile certainly presents challenges for keyboard design, but nonetheless, typing on the backlit keyboard takes some getting used to. It's always a bit jarring when the keys bottom out too soon. The trackpad, fortunately, offers the same silky-smooth experience that Lenovo delivered in the Yoga 2 Pro.
Other specs? For those keeping score, the review unit I received featured a 256GB Lite-On M.2 SSD, 8GB of low-power DDR3 RAM, a 720p web cam, 802.11ac and Bluetooth 4.0 radios, and Windows 8.1.
Enter Intel Core M
Besides the watchband hinge, the real big news is the CPU: Intel's new Core M 5Y70, aka Broadwell. This 5th-generation chip's main claim to fame is lower power consumption. In fact, Intel says the Core M 5Y70 in the Yoga 3 Pro is rated at 4.5 watts versus the 15 watts of the Haswell-based Core i5 chips in the Surface Pro 3 and the previous Yoga. The Core M 5Y70 in the Yoga 3 Pro features an upgraded graphics core (Intel's HD 5300) and a base clock of 1.1GHz, with the ability to crank up speeds to 2.6GHz when needed.
Most convertible machines are about productivity and browsing, so a lot of people dismiss performance. But they do so at their own risk. If performance didn't matter, the world would still be happily driving the same Netbooks with the original sucktastic Atom CPUs. So to measure the performance of the Yoga 3 Pro, I tapped PCMark 8 and 3DMark. PCMark 8 runs simulated browsing, photo editing, video chat and light gaming to measure performance. 3DMark, meanwhile, is a gaming and graphics benchmark. You can see how the Yoga 3 Pro fared in this test in the chart below.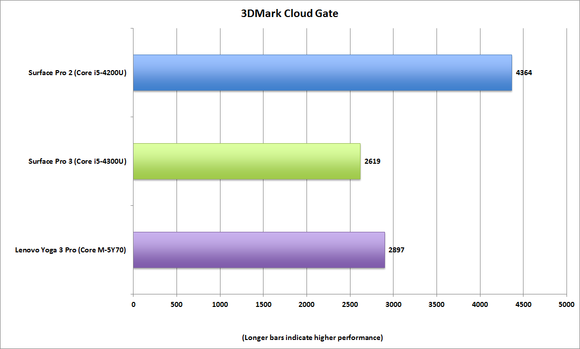 Uninspired performance, but it may not matter
Compared to a Surface Pro 2 with a Core i5-4200U and a Surface Pro 3 with a Core i5-4300U, the Yoga 3 Pro isn't very inspiring. As you can see in the chart above, the oldest of the three convertibles won our graphics battle. Why? The reason is mostly due to physics. The Surface Pro 2 is about as thick as half a stack of pancakes and you could probably beat a zombie to death with it. Its entire design is built to endure high temperatures under heavy loads. But with the Surface Pro 3, Microsoft opted for a thinner machine, and a more refined experience. Under heavy workloads, the Surface Pro 3 throttles down to control excessive heat.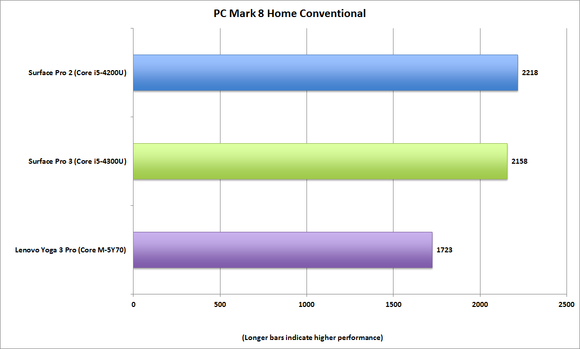 Once we get to the Yoga 3 Pro we're looking at an even thinner notebook. In fact, if Lenovo is to be believed, it's the thinnest convertible ever made. To help accommodate this thinness—and not burn your lap—Lenovo also throttles down CPU clock speeds to help keep heat under control.
As you can see in the chart above, the fifth-generation Core M in the new Yoga is slower than the fourth-gen Core i5 parts in PCMark 8's Home Conventional test, which uses a mix of web browsing, casual gaming, word processing and video conferencing to measure performance. If you plan on using the Yoga 3 Pro for hardcore Photoshop or video editing work, think twice before pulling the trigger. But you probably won't notice any performance deficits during normal productivity use. Afterall, this isn't a Netbook that has problems typing the letter A.
Cool like Fonzie
Unlike the Surface Pro 3, which get warm under loads, the Yoga 3 Pro runs surprisingly cool. There's a small 1×4-inch strip on the bottom and rear of the Yoga 3 Pro that gets warm during heavy use, but other than that, it's cool to the touch.
Interestingly, Intel touted the Core M as enabling fanless designs, but Lenovo chose to embed a small fan. You can hear it on occasion, but it's very quiet. The fans in the Haswell-based Surface Pro 3 definitely make themselves known, so score a win for the Yoga 3 Pro on acoustics.
Besides low temperatures, another benefit of performance-reducing CPU throttling is increased battery life. It's always odd for a next-generation CPU to give up performance, but at least the Yogo 3 Pro delivers in the longevity department.
Using PCMark 8's battery run-down test, the Yoga 3 Pro easily beat the Surface Pro 2 and Surface Pro 3, as you can see in the chart below.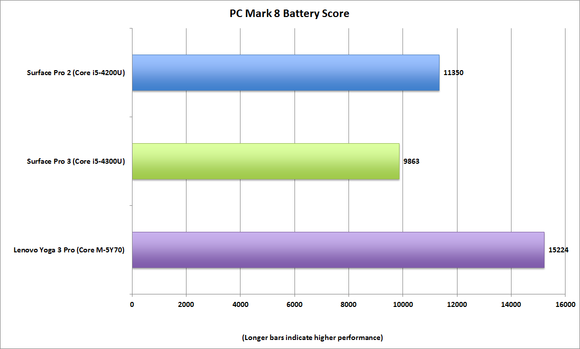 In PCMark 8, the Surface Pro 3 gave me about 141 minutes of run time with 18 percent of battery life remaining, for a final battery score of 9,863. The Surface Pro 2 was next up with 175 minutes of run time; 12 percent of battery life remaining; and a score of 11,350. The Yoga 3 Pro's final score was 15,224 after running the test for 208 minutes with 19 percent of battery life remaining. Basically, the Yoga 3 Pro and Core M somewhat vindicate themselves against the older Haswell-equipped Core i5 chips.
The bottom line
In the end, the Yoga 3 Pro is a worthy upgrade to the the Yoga 2 Pro and amazingly thin. But is it a Surface Pro 3 killer?
Although it's a tad heavier, it has better battery life and a larger and even more pixel-dense display. While I'm a big fan of the pen support in Surface Pro 3, I've never been happy with using it on my lap. The Yoga 3 Pro, on the other hand, with its more traditional laptop mode, works far better. So, yeah, maybe it is the Surface Pro 3 killer. Now we just have to wait for the Surface Pro 4.
Note: When you purchase something after clicking links in our articles, we may earn a small commission. Read our affiliate link policy for more details.