Samsung has given a sneak peek at a new 3D camera that can capture 360-degree panoramic video and stream it live to its virtual reality headset.
Dubbed Project Beyond, it was the "one last thing" Samsung pulled out of its hat at the start of its developer conference in San Francisco Wednesday, though the live demo could have gone more smoothly.
The camera is a black disc about six inches across, with stereoscopic cameras around its edges. Mounted on a tripod, the cameras capture the surroundings in 3D and beam the images wirelessly to Samsung's Gear VR virtual reality headset.
The combination basically allows you to "experience" any location in the world from your living room, as long as there's a wireless broadband connection there and someone willing to set up the Project Beyond camera for you.
Samsung showed it set up on a beach capturing a sunset, for instance, but it could as easily be placed in a busy Turkish market or a museum in Paris. By turning left to right or up and down, the person wearing the VR headset gets the impression they are at the location.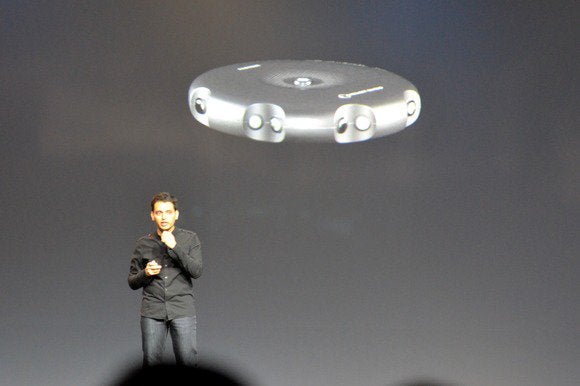 Pranav Mistry, Samsung's vice president for research, said it opens the door to "a new type of exploration." He didn't say when it might go on sale or how much it would cost, but he called it a "real product."
It captures a gigabit of data every second, he said, and the images it captures include the sky. The video can be streamed to several VR headsets at once, and also saved for viewing later.
The livestream requires a lot of bandwidth, which could explain why the demonstration didn't go so well. The image of the beach displayed on a big screen appeared quite pixelated and jumpy, and eventually it cut out.
Mistray said the problem was with the wireless connection carrying the image from the headset to the giant display, though it was hard to be sure. Connectivity problems often plague live demonstrations in large auditoriums.
Mistry also introduced Samsung Flow, a technology that lets users shift activities between different-size Samsung devices. You can look up directions in a mapping app on a tablet, for instance, then "flow" that information to a smartwatch when you're ready to hit the road.
It can also transfer phone and video calls between devices, and it looks similar to Apple's Continuity introduced with iOS 8.