"Italian made Ray Bay, Oakley sunglasses :)" reads the Emoji-riddled iMessage sitting in your iPhone's Messages inbox. "Pick up Your New RayBan Sunglasses Here before they run out!"
If you're using iMessage on an iPhone or iPad, there's a pretty decent chance one of these blaring spam messages has flashed on your screen, although I'm sure plenty of frustrated Android users have seen their fair share of SMS spam.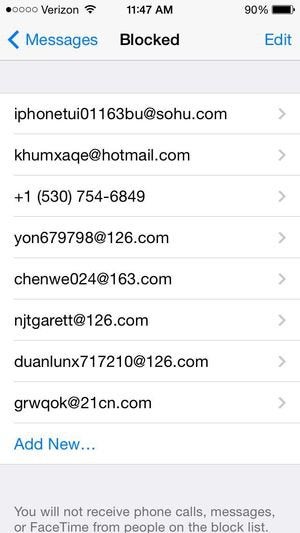 The bad news is that mobile spam—either the iMessage variety or plain-old SMS spam—appears to be on the rise, and tracking down the spammers is about as easy as quelling a hive of hungry cockroaches.
The good news, though, is that the latest iPhones and Android phones will let you block unwanted callers and texters—including mobile spammers—with a fair amount of ease.
For iPhone, all you need is in Settings
Got a spammy-looking message in your Messages inbox? As long as you have iOS 7 or later installed on your iPhone, the steps are pretty simple.
Open the message, tap Contact, then tap the little "i" button that appears.
Next, you'll see a (mostly blank) contact card for the spammer who sent you the message. Scroll down to the bottom of the screen and tap "Block this caller." C-ya, spammer.
Want to see all the numbers and iMessage users you've blocked? Tap Settings, Messages, scroll all the way down to the bottom of the screen, then tap Blocked. To remove someone from the list, swipe the number or address from right to left, then tap the red Unblock button.
Of course, just because you've blocked one spammer doesn't mean you've blocked 'em all, but hey—it's a start.
For Android, it's a little more complicated
The SMS-blocking situation for Android is a bit more complex than for iOS—although to be fair, it wasn't possible to block text messages on the iPhone at all until iOS 7 came around.
While the "stock" Messaging app won't let you block SMS spammers, there's a plethora of apps on the Google Play store that'll do the job…or used to, anyway.
Working in tandem with the standard Messaging app, third-party SMS-blocking apps (like SMS Filter or Mr. Number) let you create and manage what's called a "blacklist"—that is, a list of phone numbers that you don't want to hear from again. Other anti-spam apps, like Postman and Spam Blocker, will go ahead and flag suspected SMS spam.
But thanks to a new restriction in the latest version of Android—namely, that only one app at a time may tap into your SMS messages—many of these handy SMS spam-blocking apps have been rendered useless.
Now, it's very possible that your particular Android phone hasn't been updated to Android "KitKat" yet, in which case you're free to shop around for a dedicated SMS blocking app.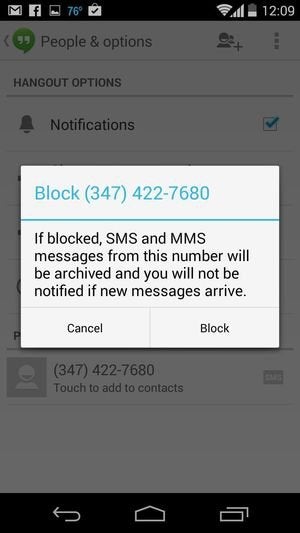 To find out, tap Settings, "About phone," then check the number that's listed under "Android version." If the number is 4.3 or below, your phone isn't running on KitKat yet.
Is your phone's Android version listed as 4.4 or above? If so, you're using KitKat, and your device will need a new default messaging app that's capable of blocking SMS spam.
Luckily, there are plenty of third-party messaging apps on Google Play that fit the bill, such as EvolveSMS (a slick app that boasts its own blacklist feature) and the aptly named SMS Blocker (which automatically detects and block "suspected" SMS spam).
Another alternative is Google's own Hangouts app, which not only sends and receives standard SMS messages but lets you place spammers on a "blocked" list.
Here's how to block SMS spam with Hangouts on your KitKat-enabled phone.
If it isn't sitting on your phone already, download and install Hangouts from the Play Store.
Tap Settings, tap "More" under the Wireless & Networks heading, then tap "Default SMS app."
You should now see a list of apps on your phone (including Hangouts) capable of handling your SMS messages. Tap Hangouts, then head back to your phone's home screen.
Launch Hangouts—and as you do, you should notice that the app automatically imports all your old text messages. See a rogue, spammy-looking SMS in your inbox? Open it, tap the three-dot menu button in the top corner of the screen, then tap "People & options."
Tap "Block [number]" under the Hangout Options heading. Done!
Want to see all the numbers that you've blocked? Tap the three-dot menu button again, tap Settings, SMS, then tap "Blocked numbers" to see the blacklist. Change your mind about a specific caller on the list? Tap the "Unblock" button next to their name.